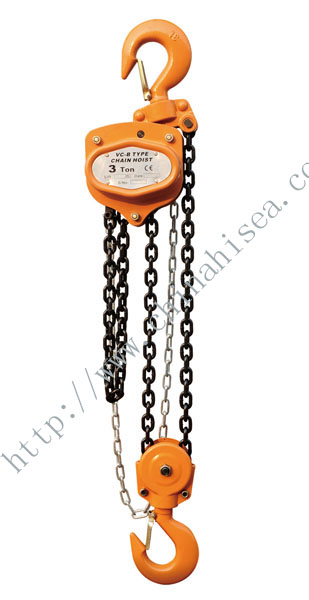 VC-B Type Chain Hoist
VC-B Type Chain Hoist
Product Name:
VC-B Type Chain Hoist
Material:
Steel
Spec:
1. Double pawls supporting fail-safe brake mechanism for secure operations.
2. Wet friction disc with longer life.
3. Unique chain guide.
4. Heat treated steel side plates, gears and shafts for enhanced strength.
5. Quenched and tempered high tensile alloy steel chain and hooks.
6. Forged upper and bottom hooks with forged steel safety latches.
7.Powder coated finish.
Technical Drawing For VC-B Type Chain Hoist:

Parameters For VC-B Type Chain Hoist:
Model
Capacity(t)
Standard lift(m)
Running test load(t)
No. of falls of load chain
Load chain diameter(mm)
Dimensions(mm)
Net weight
(kg)
A
B
C
VC-A 0.5T
0.5
2.5
0.75
1
5
129
136
270
8.4
VC-A 1T
1
2.5
1.5
1
6.3
149.5
145
317
12
VC-A 1.5T
1.5
2.5
2.25
1
7.1
157.5
164.5
399
16.2
VC-A 2T
2
3
3
1
8
161.5
187
414
20
VC-A 3T
3
3
4.5
2
7.1
151.5
164.5
465
24
VC-A 5T
5
3
7.5
2
9
163
211
636
41
VC-A 10T
10
3
15
4
9
207
398
798
79
VC-A 20T
20
3
30
8
9
215
650
890
193
VC-A 30T
30
3
45
12
9
350
680
1380
220
VC-A 50T
50
3
75
22
9
406
960
2580
1092