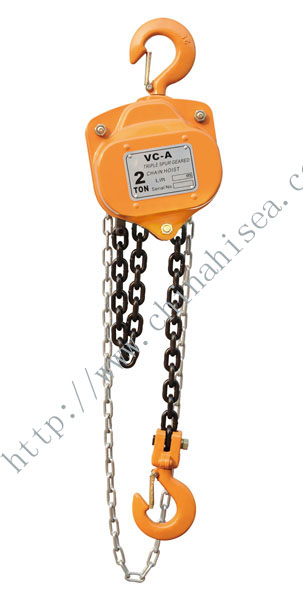 VC-A Type Chain Hoist
VC-A Type Chain Hoist
Product Name:
VC-A Type Chain Hoist
Material:
Steel
Spec:
1. Gear case and hand wheel cover resistant to external shocks.
2. Double enclosure to keep out rain water and dust.
3. Sure and reliable braking functions(mechanical brake).
4. Double pawl spring mechanism to further increase sureness.
5. Hooks for easy work.
6.Gear with natures of high preciseness and tenacity.
7. Load chain guide mechanism, finely fabricated from wrought iron.
8. Ultra strong load chain.
Technical Drawing For VC-A Type Chain Hoist:

Parameters For VC-A Type Chain Hoist:
Model
Capacity(t)
Standard lift(m)
Running test load(t)
No. of falls of load chain
Load chain diameter(mm)
Dimensions(mm)
Net weight
(kg)
A
B
C
VC-A 0.5T
0.5
2.5
0.75
1
5
129
136
270
8.4
VC-A 1T
1
2.5
1.5
1
6.3
151
145
317
12
VC-A 1.5T
1.5
2.5
2.25
1
7.1
150.5
164.5
399
16.2
VC-A 2T
2
3
3
1
8
161.5
187
414
20
VC-A 3T
3
3
4.5
2
7.1
150.5
164.5
465
24
VC-A 5T
5
3
7.5
2
9
161.5
211
636
41
VC-A 10T
10
3
15
4
9
207
398
798
79
VC-A 20T
20
3
30
8
9
215
650
890
163
VC-A 30T
30
3
45
12
9
350
680
1380
220
VC-A 50T
50
3
75
22
9
410
965
1950
1092