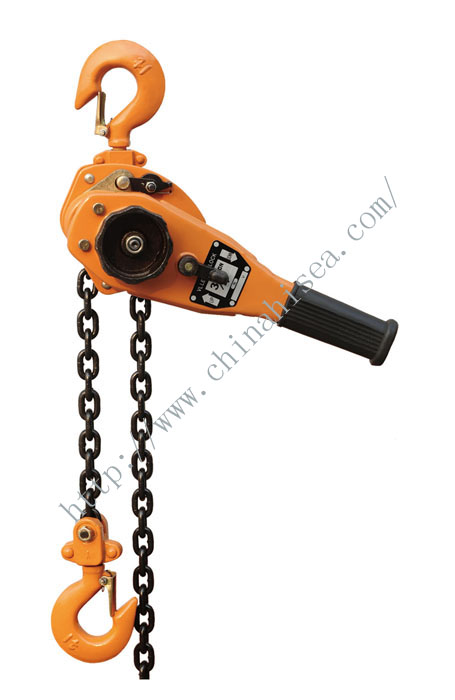 VL Type Lever Hoist
VL Type Lever Hoist
Product Name:
VL Type Lever Hoist
Material:
Steel
Spec:
Features:
1. Light weight and robustly constructed.
2. High tensile alloy chain and hooks.
3. Minium headroo required and very versatile in operation.
4. 360°rotating hanle of sase of use in confined space.
5. Power coated finish, very durable against knock and abrasion.
6. Automatic Weston Brake with unique twin pawls is well protected.
7. Rubber grip for non-slip handing.
Application:
VL Type Lever Hoist is a kind of portable and versatile hand-operated loading and pulling appliance, which is capable of being applied inelectricity, mines, shipbuildings, construction-sites, transports, post and telecommunication for installing equipment, lifting goods, pulling mechanical parts, bulk strapping and fastening, tightening fittings of wires, assembling and welding etc, it has exceptional advantages particularly for pulling in every limited narrow places, in the upper air high above the ground and at any angles.
Technical Drawing For VL Type Lever Hoist: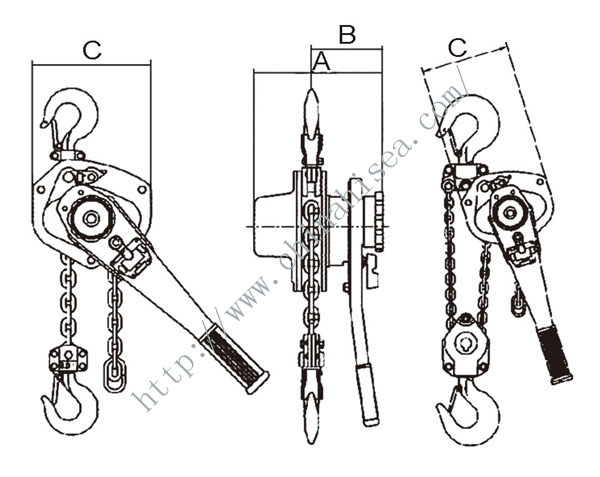 Parameters For VL Type Lever Hoist:
Model
Capacity(t)
Standard lift(m)
Running test load(t)
No. of falls of load chain
Load chain diameter(mm)
Dimensions(mm)
Net weight
(kg)
A
B
C
VL 0.5T
0.5
1.5
0.75
1
5
102
80
95
3.5
VL 0.75T
0.75
1.5
1.125
1
6.3
155
88
135
6.6
VL 1.5T
1.5
1.5
2.25
1
7.1
170
110
162
11
VL 3T
3
1.5
4.5
1
9
198
120
211
17
VL 6T
6
1.5
9
2
9
198
120
254
27.5
VL 9t
9
1.5
13.5
3
9
198
120
319
47