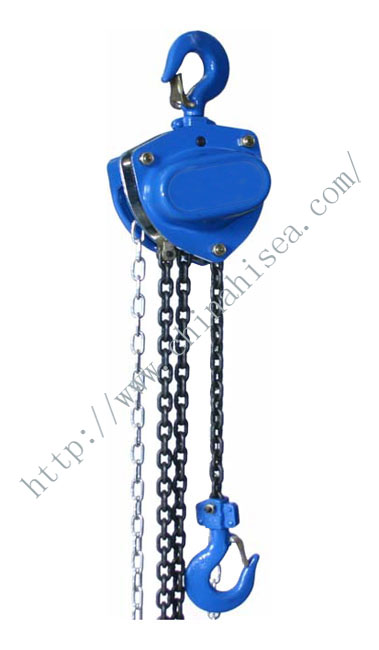 Hand Chain Hoist with capacity 0.5-20tons
Hand Chain Hoist with capacity 0.5-20tons
Product Name:
Hand Chain Hoist with capacity 0.5-20tons
Material:
Steel
Spec:
Features
 Capacity range from 0.5 to 20 tons.
 Lightweight, robust construction.
 One piece suspension frame.
 Low effort to lift maximum load.
 Fully machined lift wheel.
 Fully enclosed gear train.
 Fully forged hooks are fitted with safety
swivel hook latches as standard.
 Automatic double pawl braking system,
screw and disc type load brakes.
 Double cover protection.
 Anti-friction ball bearings.
 ISO high grade alloy load chain.
 Unique hand wheel cover for guiding
hand chain at any angle.
 Zinc plated hand chain as standard.
 Each hoist is proof at 1.5 times of WLL.
 Slip clutch type load limiting device.
he frame and covers of the hoist are made from stamped steel construction.
The cast hand chain wheel and load activated break will provide smooth, precise spotting of loads.
Application:
This hand chain hoist is an efficient means of lifting freely
suspended material loads within its load rating.
Technical Drawing For Hand Chain Hoist with capacity 0.5-20tons:

Parameters For Hand Chain Hoist with capacity 0.5-20tons:
Model
HCH-010
HCH-020
HCH-040
HCH-060
HCH-100
HCH-200
HCH-400
Capacity (ton)
½
1
2
3
5
10
20
No. Of load
chain falls

1
1
1
1
2
4
8
Load chain
diameter (in)
0.2
0.24
0.32
0.39
0.35
0.35
0.35
Hand pull
chain rated
load (lbs)
54
56
75
84
81
86
86
Dimensions
(in)
A
5.8
6.8
8.3
10
11
18.2
35.4
B
5.2
6
6.9
8.1
7.4
7.4
7.4
C
0.98
1.06
1.4
1.54
1.77
2.13
3.15
D
1.24
1.48
1.97
2.17
2.6
3.35
4.17
H
13.58
14.8
18.5
21.57
27.1
30.11
37.4
Net weight
including 10 ft
lift/8 ft hand chain
(lbs)
24.3
32
43
77.2
91.1
173.1
419
Extra weight
per foot extra
lift chain (lbs)
0.98
1.14
1.61
2.28
3.29
5.51
10.08
Extra weight
per foot extra
hand chain
(lbs)
0.6
0.6
0.6
0.6
0.6
0.6
0.6