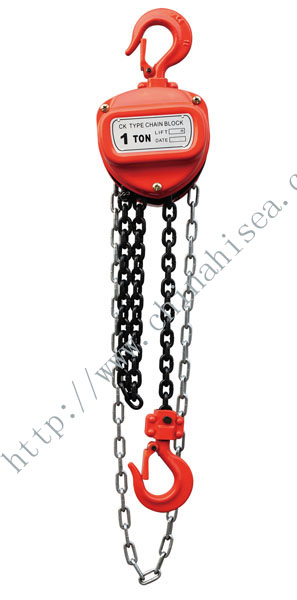 CK Type Chain Hoist
CK Type Chain Hoist
Product Name:
CK Type Chain Hoist
Material:
Steel
Spec:
Features:
1.Compact size, light weight and durable life.
2. High efficiency and small pulling effort at full load
3. Reliable, safe in operation and low maintenance.
4. Very low headroon allows optimal use of available space.
5. Bearing mechanism to increase mechanical efficiency.
Application:
CK series chain hoist is improved on the basis of HS-C series, after absorbing the advanced technology in the world.Besides the traditional characteristics of HS-C series chain hoist, it needs less hand-pull force, and it is safe, more beautiful and applicable.
Technical Drawing For CK Type Chain Hoist: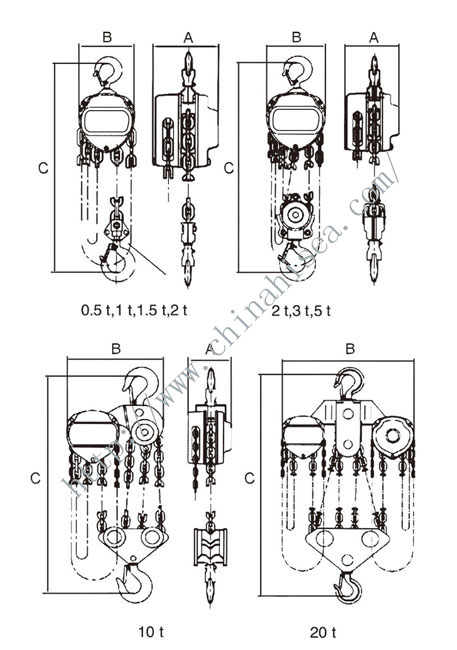 Parameters For CK Type Chain Hoist:
Model
Capacity(t)
Standard lift(m)
Running test load(t)
No. of falls of load chain
Load chain diameter(mm)
Dimensions(mm)
Net weight
(kg)
A
B
C
CK 0.5T
0.5
2.5
0.75
1
6
113
125
270
9
CK 1T
1
2.5
1.5
1
6
131
150
317
11.5
CK 1.5T
1.5
2.5
2.25
1
8
146
183
398
17.5
CK 2T
2
3
3
1
6
131
150
414
16
CK 3T
3
3
4.5
2
8
146
183
465
27
CK 5T
5
3
7.5
2
10
169
213
636
43
CK 10T
10
3
15
4
10
169
405
750
75
CK 20T
20
3
30
8
10
191
595
1000
185