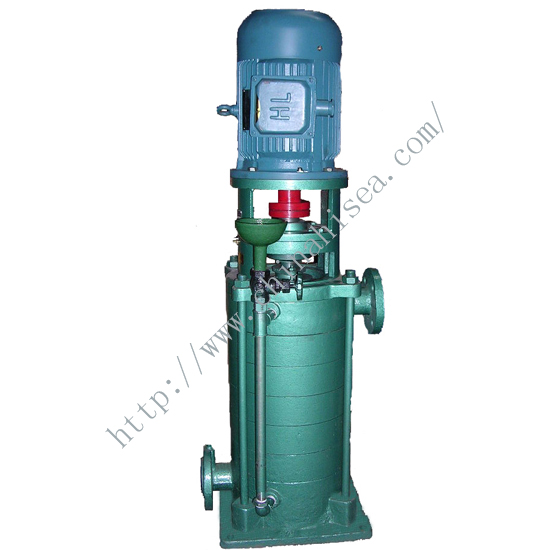 CLG Multi-stage Single-suction Pump
CLG Multi-stage Single-suction Pump:
CLG, CDL Service Marine Vertical Multi-stage Single-suction Centrifugal Pump
Overview
CLG, CDL Series marine vertical multi-stage single-suction centrifugal pump, for pumping clear water and physical and chemical properties similar to liquid water. CLGR, CDLR type water pump transmission medium temperature of 130℃ below the water. Pump is for the vertical installation, and has the advantages of compact structure, low noise, small occupation area characteristics, mainly used in shipbuilding industry, high-rise building water supply, fire water supply, water supply and drainage, factories and enterprises of low pressure boiler water circulation, centralized heating system.
Model Explanation 25CLG(R)3-10×9 40CDL(R)8-10×9
25/40-Inlet diameter 25/40mm
CLG-Marine vertical pump
CDL-Marine sub-vertical multi-stage centrifugal pumps
R-Indicated that hot water
3/8-Capacity 3/8m3/h
10-Single-stage Head 10 m
9-Series 9
Performance Parameter
50HZ/2900RPM
60HZ/3500RPM
50HZ/60HZ
Type
Capacity
Head
Motor power
Weight
Capacity
Head
Motor power
Efficiency
(NPSH)r
Impeller dia.
Inlet/out dia.
(m3/h)
(m)
(kW)
(kg)
(m3/h)
(m)
(kW)
(%)
(m)
(mm)
(mm)
25CLG(R)
2.4
20.8
0.75
70
2.88
30
1.1
38
1.8
98
25
3-10×2
3
20
3.6
28.8
42
2
4.7
15.4
5.64
22.2
44
2.2
25CLG(R)
2.4
31.2
1.1
74
2.88
44.9
1.5
38
1.8
98
25
3-10×3
3
30
3.6
43.2
42
2
4.7
23.1
5.64
33.3
44
2.2
·························
100CDL(R)
60
168
75
986
72
241.9
110
67
2.5
256
100/80
100-20×7
100
140
120
201.6
72
3
120
119
144
171.4
65
3.5
100CDL(R)
60
192
75
1039
72
276.5
110
67
2.5
256
100/80
100-20×8
100
160
120
230.4
72
3
120
136
144
195.8
65
3.5