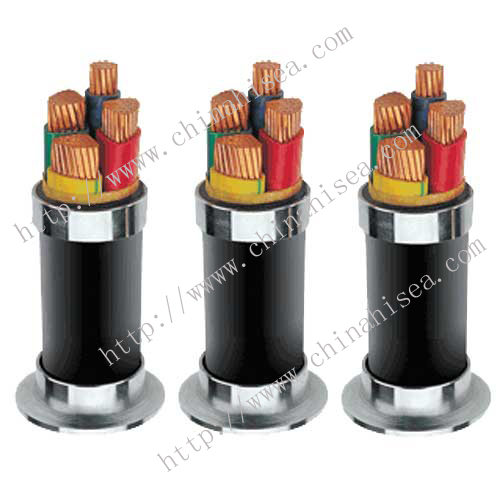 Concentric Conductor Power cable
Concentric Conductor Power cable application and features
1.This product is intended for power transmission system of rated voltage 0.6/1KV and below.
2.low and uniform positive (inverse) and zero sequence impedance will help to improve quality of power supply.
3.concentric conductor layer is much lower than the fourth reactor core value of the ordinary four-core cable in the zero-sequence work state is conducive to short-circuit protection device automatically sensitive actions, so as to ensure the safe operation of cable-related equipment.
4.It has a strong anti-electromagnetic interference and anti-lightning performance.
5.five core concentric conductor cables applies for three-phase five-wire power distribution system.
Concentric Conductor Power cable service condition
1, the maximum allowable operating temperature long conductor: PVC insulated 70 ℃; XLPE 90 ℃.
2, cable short circuit (the longest duration of no more than 5s), does not exceed the maximum temperature of the conductor: PVC insulated cable 160 ℃; XLPE insulated cable 250 ℃.
3, when the ambient temperature under installation should not below 0 ℃.
4, cable bending diameter: Single cable not less than 40 times the cable diameter; multi-core cable is not less than 30 times the cable diameter.
5, flame retardant, fire-resistant cables conform to the appropriate flame retardant, fire resistance requirements.
Concentric Conductor Power cable Model
Model

Name

Copper

Alminum

VV-T
YJV-T
VLV-T
YJLV-T
PVC(XLPE) insulated concentric conductor PVC sheathed power cable
VV22-T
YJV22-T
VLV22-T
YJLV22-T
PVC(XLPE) insulated concentric conductor steel tape armored PVC sheathed power cable
VV32-T
YJV32-T
VLV32-T
YJLV32-T
PVC(XLPE) insulated concentric conductor thin steel wire armored PVC sheathed power cable
VV42-T
YJV42-T
VLV42-T
YJLV42-T
PVC(XLPE) insulated concentric conductor thick steel wire armored PVC sheathed power cable
ZR-VV-T
ZR-YJV-T
ZR-VLV-T
ZR-YJLV-T
Flame retardant PVC(XLPE) insulated concentric conductor PVC sheathed power cable
ZR-VV22-T
ZR-YJV22-T
ZR-VLV22-T
ZR-YJLV22-T
Flame retardant PVC(XLPE) insulated concentric conductor steel tape armored PVC sheathed power cable
ZR-VV32-T
ZR-YJV32-T
ZR-VLV32-T
ZR-YJLV32-T
Flame retardant PVC(XLPE) insulated concentric conductor thin steel wire armored PVC sheathed power cable
ZR-VV42-T
ZR-YJV42-T
ZR-VLV42-T
ZR-YJLV42-T
Flame retardant PVC(XLPE) insulated concentric conductor thick steel wire armored PVC sheathed power cable
NH-VV-T
NH-YJV-T

-

PVC(XLPE) insulated concentric conductor PVC sheathed fire resistant power cable
NH-VV22-T
NH-YJV22-T

-

PVC(XLPE) insulated concentric conductor Steel tape armored PVC sheathed fire resistant power cable
NH-VV32-T
NHYJV32-T

-

PVC(XLPE) insulated concentric conductor Thin Steel wire armored PVC sheathed fire resistant power cable
NH-VV42-T
NH-YJV42-T

-

PVC(XLPE) insulated concentric conductor Thick Steel wire armored PVC sheathed fire resistant power cable
Concentric Conductor Power cable Specification
Model

Cores Number

Nominal Cross-section area
mm2

Copper Conductor

Aluminum Core

VV-T YJV-T
NH-VV-T NH-YJV-T
ZR-VV-T ZR-YJV-T
VV22-T YJV22-T
NH-VV22-T NH-YJV22-T
ZR-VV22-T ZR-YJV22-T
VV32-T YJV32-T
NH-VV32-T NH-YJV32-T
ZR-VV32-T ZR-YJV32-T
VV42-T YJV42-T
NH-VV42-T NH-YJV42-T
ZR-VV42-T ZR-YJV42-T

VLV-T YJLV-T
- -
ZR-VLV-T ZR-YJLV-T
VLV22- T YJLV22-T
- -
ZR-VLV22-T ZR-YJLV22-T
VLV32-T YJLV32-T
- -
ZR-VLV32-T ZR-YJLV32-T
VLV42-T YJLV42-T
- -
ZR-VLV42-T ZR-YJLV42-T

3+1(T)

4+1(T)

4~300
Concentric Conductor Power cable construction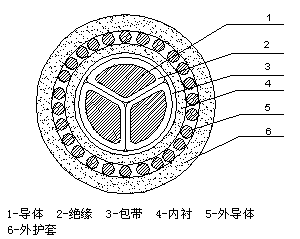 1-Conductor
2-Insulation
3-Tape
4-Inner liner
5-Outer conductor
6-Outer sheath