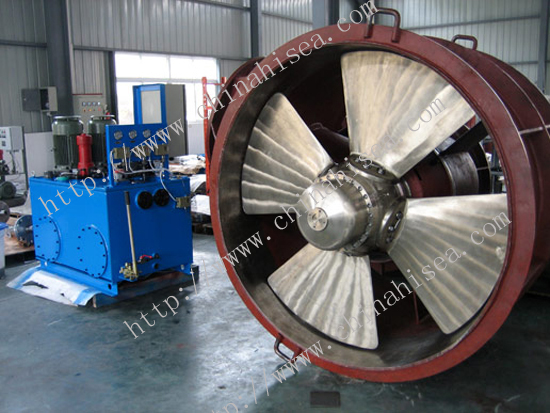 CPP Bow Thruster
CPP Bow Thruster:
Bow thruster with fixed pitch propeller(FPP) and controllable pitch propeller(CPP).
Controllable pitch propeller bow thruster advantages:
1, The main engine can keep srated power any sailing condition, improving the speed of the ship or thrust increases.
2,At part load by adjusting the host speed n. And pitch ratio H / D can obtain higher efficiency and lower fuel consumption oars, the ship under the high-speed economy, improve endurance.
3, The main engine speed n. Constant, changing H / D to obtain different speed,slow speed of the ship can sailor inverted flight. So the host does not have touse the gearbox or reversing device.
4,It conducive to driving the auxiliary load the ship.
CPP bow thruster consist:
Tunnel thruster,Drive motor,Hydraulic unit with electric pump and control valve,Drive motor starter with built-in load sensing device,control panel,central control unit.
Bow thrusters make docking easier, since they allow the captain to turn the vessel to port or starboard side, without using the main propulsion mechanism which requires some forward motion for turning.
Hi-sea Group supply power from 50KW---1000KW bow thruster .Quality management and product strict according to IACS requirement. ABS,BV,LR,RINA,CCS etc certificate supply
CPP bow thruster ,when power bigger than 600KW the cost will be less than FPP bow thruster.So ,it is mainly apply on large vessels.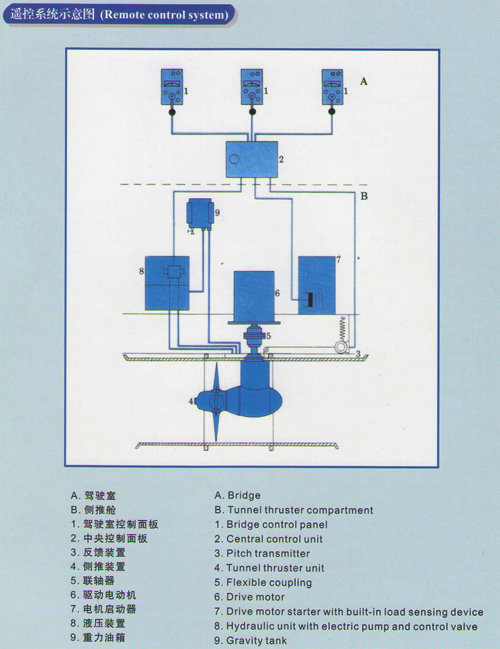 CPP bow thruster system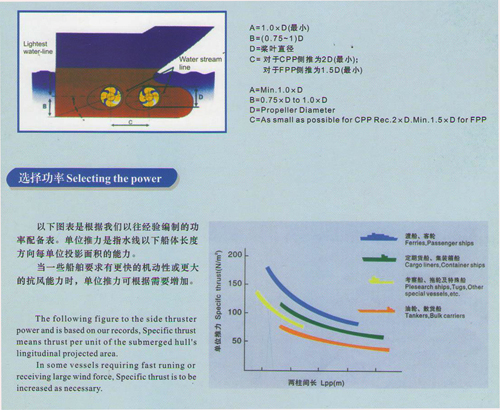 Bow thruster power selection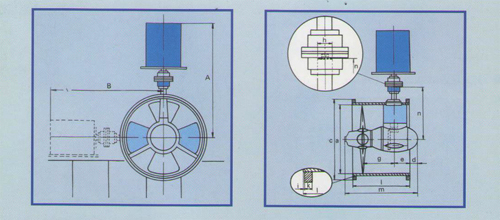 Controllable pitch propeller tunnel thruster parameters

Model

CP-1000

CP-1100

CP-1300

CP-1650

CP-2000

CP-2400

CP-2800

Max input power

280

315/335

445/480

680/730

1050/900

1580/1720

2000/1910

Ratio

3.09

3.09

3.78

4.72

4.82

4.645

4.395

Max input speed

1450/1750

1450/1750

1450/1750

1450/1750

1450/1190

980/1190

980/880

Propeller speed

469.1/560

469/566

384/463

307/370

301/247

211/256

223/200

Propeller diameter

1000

1100

1300

1650

2000

2400

2800

Max thrust

43

46/47

66/67

97/105

155/144

239/242

298/297

Cylinder length

1045

1045

1190

1446

1680

1990

2280

Cylinder internal

1020

1120

1328

1680

2030

2430

2836