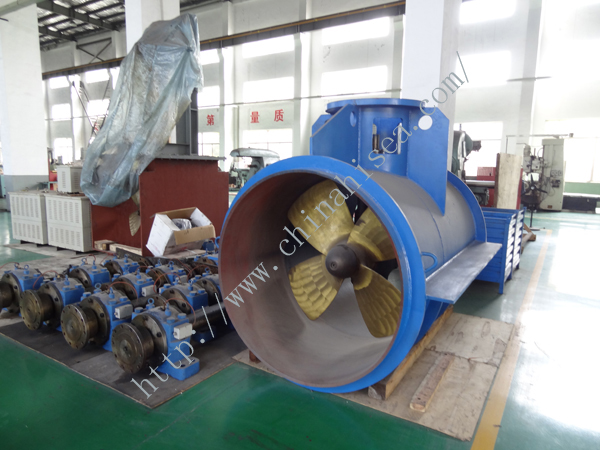 Vessel Bow Thruster
Vessel Bow Thruster:
Bow thrusters usually have one or more tunnels built into the bow, below the waterline in order to improve manoeuvrability.
BowThrusters can be powered by diesel engines, electric motors or hydraulic motors.We special at design and manufacture.
Electric motors are included optionally in the scope of supply. The prime mover can be connected either horizontally or vertically and thus incorporated optimally into the naval architectural design.
When fixed-pitch propellers are used, electric and hydraulic motors allow the direction of thrust to be reversed.
An additional reversing gearbox is required if the thruster is powered by a diesel engine.
Advantages
•For extreme load conditions, e.g. in the offshore sector
•For continuous and short-time service
•Low noise emission
•Available with either fixed or controllable-pitch propellers
•Compact design due to horizontal, vertical or inclined arrangement of the power input flange
•Combinable with diesel, hydraulic or electric drive
Fixed pitch propeller tunnel thruster parameters
Model
FP-500
FP-600
FP-700
FP-800
FP-900
FP-1000
FP-1100
FP-1300
FP-1480
FP-1650
FP-2000
FP-2400
Max input power
63/72
90/105
135/165
180/190
200/235
280/290
315/340
445/480
560/620
680/730
1050/900
1580/1720
Ratio
1.52
2.071
2.07
2.417
2.42
3.09
3.09
3.78
4.364
4.73
4.82
4.63
Max input torque
600
900
900
1400
1400
2100
2100
3000
3800
4500
7250
15400
Max input speed
1450/1750
1450/1750
1450/1750
1450/1750
1450/1750
1450/1750
1450/1750
1450/1750
1450/1750
1450/1750
1450/1190
980/1190
Propeller speed
954/1151
700/845
700/845
600/724
600/724
469.1/566
469.1/566
384/463
332.3/401
307/370
301/247
211/257
Propeller diameter
500
600
700
800
900
1000
1100
1300
1480
1650
2000
2400
Max thrust
10/11.2
14.5/16.3
20/24.8
29.5/30.5
31/35.4
43/45.2
49/53.8
67/73
88/95
105/110
165/150
250/260
Cylinder length
600
800
800
920
920
1045
1045
1190
1320
1446
1680
1990
Cylinder internal
515
615
715
818
918
1020
1120
1328
1510
1680
2030
2430
Controllable pitch propeller bow thruster parameters
Model
CP-1000
CP-1100
CP-1300
CP-1650
CP-2000
CP-2400
CP-2800
Max input power
280
315/335
445/480
680/730
1050/900
1580/1720
2000/1910
Ratio
3.09
3.09
3.78
4.72
4.82
4.645
4.395
Max input speed
1450/1750
1450/1750
1450/1750
1450/1750
1450/1190
980/1190
980/880
Propeller speed
469.1/560
469/566
384/463
307/370
301/247
211/256
223/200
Propeller diameter
1000
1100
1300
1650
2000
2400
2800
Max thrust
43
46/47
66/67
97/105
155/144
239/242
298/297
Cylinder length
1045
1045
1190
1446
1680
1990
2280
Cylinder internal
1020
1120
1328
1680
2030
2430
2836
bow thruster transmission type: