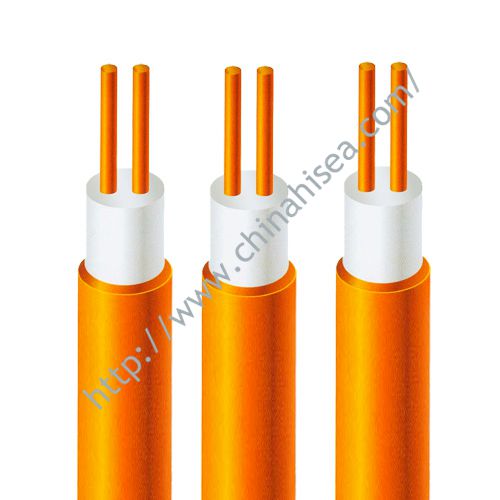 Fireproof high temperature resistant control cable
Fireproof high temperature resistant control cable
1.Fireproof high temperature resistant control cable Application
It can be used to connect the electrical appliances applied in locations such as tall building, petrol, chemical, power that needs high ability of fire-proof.
2.Fireproof high temperature resistant control cable Working temperature
The long-term working temperature allowed of the cable is -40℃~500℃,-40℃~800℃。
3.Fireproof high temperature resistant control cable Characters
KBHNRP,KFHNR fireproof cable presents high ability of fireproof, under direct burning, it doesn't show short-circuit and broken fault in the certain time, therefore, when the fire happens, it can insure the system can run safely, it is helpful for putting out fire and reducing loss.
If you feel this is not what you are looking for,please kindly check more special cable here,also you can check more cable here,or you can use the search form on the upper right corner.
4.Fireproof high temperature resistant control cable Model
| | |
| --- | --- |
| Type | Name |
| ZR-KF4BHN | F4 winding glass fiber yarn knitted & glass fiber belt and mica tape wrapping (105) & anti-flaming sheathed control cable (Fireproof) |
| ZR-KF4BHNP | F4 winding glass fiber yarn knitted & glass fiber belt and mica tape wrapping (105) & copper wire braided shield anti-flaming sheathed control cable (Fireproof) |
| ZR-KF4BHNR | F4 winding glass fiber yarn knitted & glass fiber belt and mica tape wrapping (105) & anti-flaming sheathed control flexible cable (Fireproof) |
| ZR-KF4BHNRP | F4 winding glass fiber yarn knitted & glass fiber belt and mica tape wrapping (105) &copper wire braided shield anti-flaming sheathed control flexible cable (Fireproof) |
| KFF46HN | Soluble F4 insulated and inner sheathed mica tape wrapping F4 sheathed control cable (Fireproof) |
| KFF46HNP | Soluble F4 insulated and inner sheathed mica tape wrapping copper wire braided shield F4 sheathed control cable (Fireproof) |
| KFF46HNR | Soluble F4 insulated and inner sheathed mica tape wrapping F4 sheathed control flexible cable (Fireproof) |
| KFF46HNRP | Soluble F4 insulated and inner sheathed mica tape wrapping copper wire braided shield F4 sheathed control flexible cable (Fireproof) |
5.Fireproof high temperature resistant control cables product code and structure