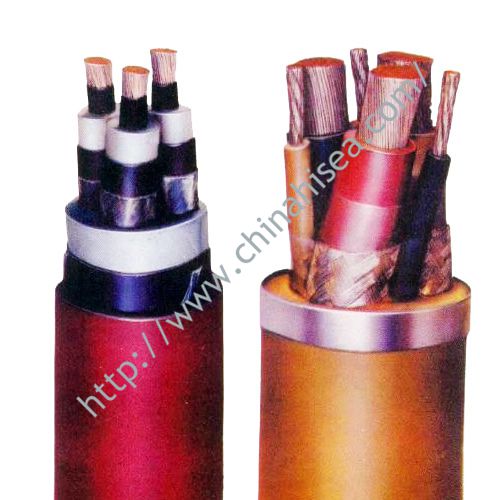 Fluoroplastic Heat resistance Contorl Cable
Fluoroplastic Heat resistance Contorl Cable
1.Fluoroplastic Heat resistance Contorl Cable Application
It is used as signal transmission wire of appliances,meters and automatis control system in petroleum,chemistry power generating and metallurgy industries undor high,low temp and acid alkali oil water and corrosive circumstancees.
2.Fluoroplastic Heat resistance Contorl Cable Service Condition
Operating temp : KFF-200,KFP1F-200,KFP1F22-200,KFF22-200, no more than 200℃;
KFF-260,KFP1F-260,KFP1F22-260,KFF22-260, no more than 200℃;
Rated voltage : Uo/U:450/750V or lower;
Mini ambient temp:fixed installation -60℃; not-fix installation -20℃;
Mini bending radius Model KFF ≥12 times of the cable dia;
Model KFF22, KFP1F, KFP1F22 ≥20 times of the cable diameter.
Insulation resistance 20℃≥500MΩ.Km
If you feel this is not what you are looking for,please kindly check more special cable here,also you can check more cable here,or you can use the search form on the upper right corner.
Fluoroplastic Insulated and Sheathed Heat-resistance control cables Model
Model
Name
Remarks
KFF-200
F46 insulated and sheathed heat-resistance control cable
Long-term working temperature 200℃

KFP1F-200
F46 insulated and sheathed shield heat-resistance control cable

KFF22-200
F46 insulated and sheathed steel tape armored heat-resistance control cable

KFP1F22-200
F46 insulated and sheathed steel tape armored shield heat-resistance control cable

KFF-260
PFA insulated and sheathed heat-resistance control cable

KFP1F-260
PFA insulated and sheathed shield heat-resistance control cable

Long-term working temperature 260℃

KFF22-260
PFA insulated and sheathed steel tape armored heat-resistance control cable

KFP1F22-260
PFA insulated and sheathed steel tape armored shield heat-resistance control cable

Fluoroplastic Insulated and Sheathed Heat-resistance control cables specification
Type

Conductor Nominal Cross-section(mm2)

0.5
0.75
1.0
1.5
2.5
4.0
6.0
10.0
Core Number

KFF-200,KFP1F-200
2~4

2~61

2~14

KFF-260,KFP1F-260
-

2~61

-


KFF22-200,KFP1F22-200

KFF22-260,KFP1F22-260

-

4~61

-

Fluoroplastic Insulated and Sheathed Heat-resistance control cables structure
Fluoroplastic Insulated and Sheathed Heat-resistance control cables show