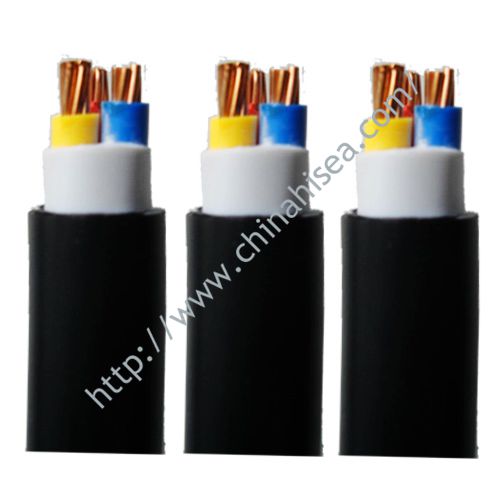 Frequency Converter Cable
Frequency Converter cables
1.Application
This product is used as power cable or electric connectios for frequency coverting systems(wit rated voltage 0.6/1kv or below).It has strong capacity to endure voltage shock,pulse voltage while converting frequency and excellent shielding performance,also counteract the negative effects electroimagnetic waves,reduces frequency conversion noises and ensure the stability of frequency converting system functioning.It is widely used in metal refining,petro-chem,power industry.
2.Service Condition
a,rated voltage Uo / U 0.6/1.0kv
b,Maximum working temperature:Silicon Rubber Insulated,180℃,F46 Insulated 200℃ and 260℃,PVC Insulated 70℃,XLPE Insulated 90℃.
c,the lowest ambient temperature ≥-40℃ fixed laying.PVC Sheathed ≥-40℃
d,Cable Laying ambient temperature ≥0℃(Fluoroplastics,Silicon Rubber,NBR sheathed Cable ≥-25℃ )
e,Cable bend radius:≥15 times of cable outer diameters
f,Finished CaIt can endure working frequency 3.5kv/5min without puncture.
g,D.C Conductor resistance comlies with stipulatons of GB/T3956
h,insulation resistance(20℃)≥100MΩ.Km for fluoroplastic and silicon rubber insulation and ≥50MΩ.Km for PVC insulation
i,The cable can undergo 50HZ 3.5KV/5Min without puncture
j,Shield layer resistance:≤100Ω/m(100MHZ),desireable restraining coefficient ≤0.7
If you feel this is not what you are looking for,please kindly check more special cable here,also you can check more cable here,or you can use the search form on the upper right corner.
Frequency Converter cables Model
Model
Name
BPGGP
Silicon Rubber Insulated and sheathed copper wire braided shield high-temperature resistance frequency converter power cable
BPGGP2
Silicon Rubber Insulated and sheathed copper tape wrapped shield high-temperature resistance frequency converter power cable
BPGGPP2
Silicon Rubber Insulated and sheathed copper wire braided copper tape wrapped shield high-temperature resistance frequency converter power cable
BPGGP3
Silicon Rubber Insulated and sheathed Aluminum-polyester wrapped shield high-temperature resistance frequency converter power cable
BPGVFP
Silicon Rubber Insulated NBR sheathed copper wire braided shield high-temperature resistance frequency converter power cable
BGPVFP2
Silicon Rubber Insulated NBR sheathed copper tape wrapped shield high-temperature resistance frequency converter power cable
BGPVFPP2
Silicon Rubber Insulated NBR sheathed copper wire braided copper tape wrapped shield high-temperature resistance frequency converter power cable
BGPVFP3
Silicon Rubber Insulated NBR sheathed Aluminum-polyester wrapped shield high-temperature resistance frequency converter power cable
BPFFP
Fluoroplastic Rubber Insulated and sheathed copper wire braided shield high-temperature resistance frequency converter power cable
BPFFP2
Fluoroplastic Rubber Insulated and sheathed copper tape wrapped shield high-temperature resistance frequency converter power cable
BPFFPP2
Fluoroplastic Rubber Insulated and sheathed copper wire braided copper tape wrapped shield high-temperature resistance frequency converter power cable
BPFFP3
Fluoroplastic Rubber Insulated and sheathed Aluminum-polyester wrapped shield high-temperature resistance frequency converter power cable
BPVVP
PVC Insulated and sheathed copper wire braided shield high-temperature resistance frequency converter power cable
BPVVP2
PVC Insulated and sheathed copper tape wrapped shield high-temperature resistance frequency converter power cable
BPVVPP2
PVC Insulated and sheathed copper wire braided copper tape wrapped shield high-temperature resistance frequency converter power cable
BPVVP3
PVC Insulated and sheathed Aluminum-polyester wrapped shield high-temperature resistance frequency converter power cable
BPYJVP
XLPE Insulated PVC sheathed copper wire braided shield high-temperature resistance frequency converter power cable
BPYJVP2
XLPE Insulated PVC sheathed copper tape wrapped shield high-temperature resistance frequency converter power cable
BPYJVPP2
XLPE Insulated PVC sheathed copper wire braided copper tape wrapped shield high-temperature resistance frequency converter power cable
BPYJVP3
XLPE Insulated P sheathed Aluminum-polyester wrapped shield high-temperature resistance frequency converter power cable
Note:"ZR" added to flameproof type,"ZR182" added to imported PFA,shield can be tinned copper wire(woven)
Frequency Converter cables Specifications
Main core cross-section (mm2)
Type
Core Number
Nominal Cross-section (mm2)
All type

3+1

3+1

1

4,6,10,16,25,35,50,70,95,120,150,185,240
Earth Core Cross-section
Main core cross-section(mm2)
Earth Core Nominal Cross-section(mm2)

4

6

1(0.75)

1.5(1)

10

16,25

2.5(1.5)

4(2.5)

35

50,70

6

10

95

120,150

16

25

185,240

35

50(35)
Frequency Converter cables Structure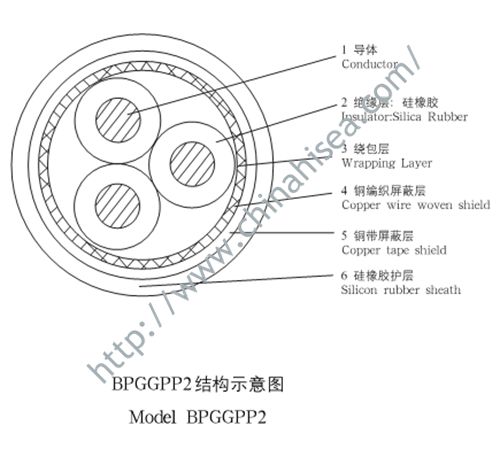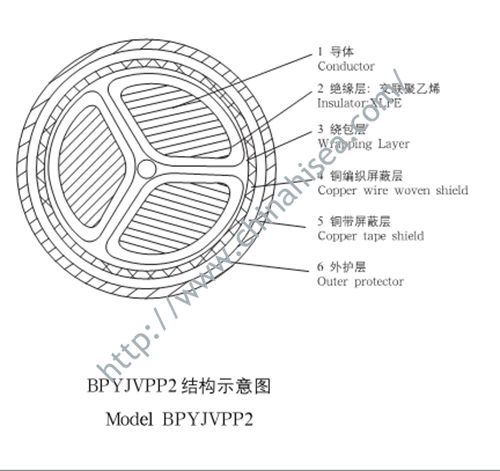 Frequency Converter cables Show