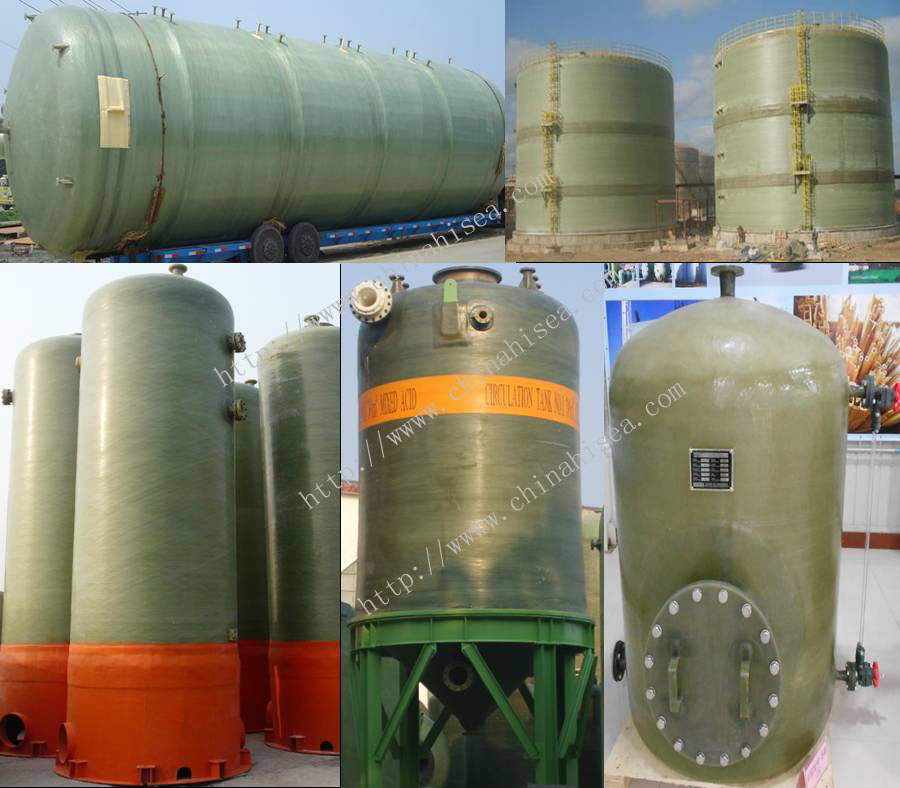 FRP Single-wall Tank
FRP Single-wall Tank
Features of FRP Single-wall Tank:
1. Lighter weight but higher strength;
2. Corrosion resistance: resisting the corrosion of various acids, alkalis, salts and many types of oils and solvents;widely applicable to various areas of chemical corrosion resistance; replacing the materials such as stainless steel and non-ferrous metals to reduce the costs;
3. Smooth inner wall surface easy to clean;
4. Good cryogenic performance: applicable to -80℃ environment;
5. Good performance in heat insulation;
6. Easy construction and convenient maintenance;
7. Accessories such as liquid level gauge, protecting rails, ladders, platforms, etc. available upon requirements;
8. Widely applied to the fields such as chlorine-alkali, polycrystalline silicon, brewage, sea water desalination, power plant desulfurization, titanium dioxide, viscose fiber, metallurgy, waste gas treatment, etc.;
9. FRP tanks customized for trucks available;
10. Types of tank: horizontal, vertical, cubic; flat bottom, dished bottom, cone bottom, open bottom;
11. Types of resins: VE, Epoxy, UPR, etc.
Specifications of FRP Single-wall Tank:
Vertical FRP Tank with Flat Bottom:
Dia. (mm)

1000

1200

1400

1600

1800

2000

2200

2600

3000

4000

Vol. (m3)

Ht. (mm)

1

1370

2

2650

1890

1440

3

2720

2080

4

2660

2730

2140

5

3380

2640

6

3140

7

3640

8

4140

3320

9

4630

3700

10

5140

4090

3370

11

5640

4490

3690

12

4880

4010

3360

15

6060

4960

4150

18

7240

5920

4940

20

8030

6550

5460

4000

25

8140

6780

4950

3840

30

8100

5890

4550

35

6880

5260

40

7770

5970

50

9650

7390

4340

60

8790

5140

70

10210

5940

80

11630

6740

90

7540

100

8340

110

9140

120

9940

130

10740

140

11540

150

12340
(Customized specifications/super big volumes available)
Vertical FRP Tank with Dished Bottom:
(SQ: Support Quantity)
Dia. (mm)

1000

SQ

1200

SQ

1400

SQ

1600

SQ

1800

SQ

2000

SQ

2200

SQ

2600

SQ

3000

SQ

Vol. (m3)

Ht. (mm)

1

1460

3

2

2370

3

1990

3

1550

3

3

4010

3

2870

4

2200

4

4

3760

4

2850

4

2280

4

5

3500

4

2770

4

6

3270

4

7

3770

4

8

4270

4

3460

4

9

4760

4

3860

4

10

5260

4

4250

4

3540

4

11

5760

4

4640

4

3850

4

12

6260

4

5040

4

4170

4

3540

4

15

6120

4

5130

4

4330

4

18

7390

4

6080

4

5120

4

20

8180

4

6720

4

5650

4

4220

4

25

8310

4

6960

4

5160

4

4100

4

30

8280

4

6100

4

4800

4

35

7050

4

5510

4

40

7990

4

6220

4

50

9870

4

7630

4

60

9050

4

70

10460

5

80

11880

5
(Customized specifications/super big volumes available)
Horizontal FRP Tank:
(SQ: Support Quantity)
Dia. (mm)

1000

SQ

1200

SQ

1400

SQ

1600

SQ

1800

SQ

2000

SQ

2200

SQ

2600

SQ

3000

SQ

Vol. (m3)

Ht. (mm)

1

1460

3

2

2370

3

1990

3

1550

2

3

4010

3

2870

4

2200

2

4

3760

4

2850

3

2280

2

5

3500

3

2770

2

6

3270

2

7

3770

3

8

4270

3

3460

2

9

4760

3

3860

3

10

5260

3

4250

3

3540

2

11

5760

4

4640

3

3850

2

12

6260

4

5040

3

4170

2

3540

2

15

6120

3

5130

3

4330

2

18

7390

3

6080

3

5120

2

20

8180

4

6720

3

5650

3

4220

2

25

8310

4

6960

3

5160

2

4100

2

30

8280

4

6100

3

4800

2

35

7050

3

5510

2

40

7990

3

6220

3

50

9870

4

7630

3

60

9050

3

70

10460

4

80

11880

4
(Customized specifications/super big volumes available)
FRP Tank Fabricated on Site:
Dia. (mm)

5500

6000

7000

8500

10000

12000

15000

20000

Vol. (m3)

Ht. (mm)

200

8450

7100

300

12660

10640

7830

400

14180

10420

7080

500

13020

8840

600

1060

700

12370

8940

800

14130

10220

900

11490

1000

12760

1200

15130

10640

1400

12410

1600

14180

9080

1800

15950

10220

2000

11350

2200

12480

7030

2400

13640

7670

2500

14180

8000
(Customized specifications/super big volumes available)
FRP Tank for Truck:
| | | | | | |
| --- | --- | --- | --- | --- | --- |
| Vol. (m3) | Major Axis (mm) | Minor Axis (mm) | Blocking End Ht. (mm) | Length (mm) | Support Qty. |
| 5 | 1600 | 1100 | 300 | 3850 | 3 |
| 6 | 1600 | 1100 | 300 | 4580 | 3 |
| 7 | 1800 | 1200 | 350 | 4390 | 3 |
| 8 | 1800 | 1200 | 350 | 4980 | 3 |
| 9 | 2000 | 1300 | 350 | 4650 | 3 |
| 10 | 2000 | 1300 | 400 | 4800 | 3 |
| 15 | 2000 | 1300 | 400 | 7650 | 5 |
| 20 | 2200 | 1500 | 400 | 8000 | 5 |
| 25 | 2200 | 1600 | 400 | 9350 | 6 |
| 30 | 2300 | 1800 | 500 | 9600 | 6 |
| 35 | 2300 | 1900 | 500 | 10580 | 7 |
| 40 | 2300 | 1900 | 500 | 12000 | 8 |
| 45 | 2300 | 2000 | 500 | 12800 | 8 |
| 50 | 2300 | 2000 | 500 | 14200 | 9 |
(Customized specifications/super big volumes available)
Pictures of FRP Single-wall Tank: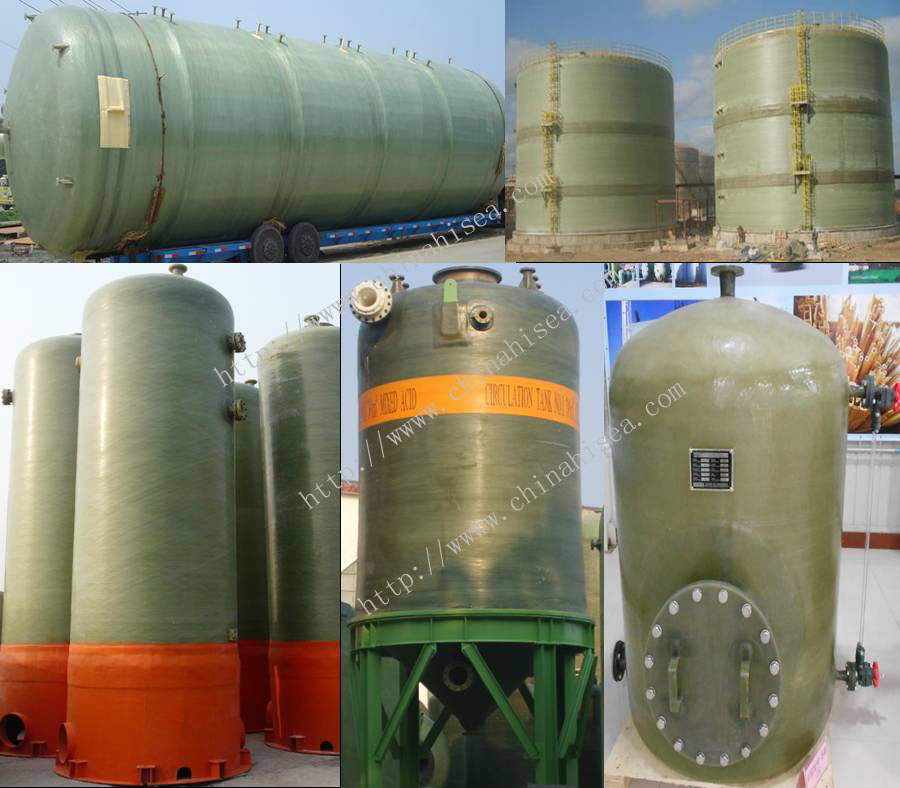 FRP Single-wall Tank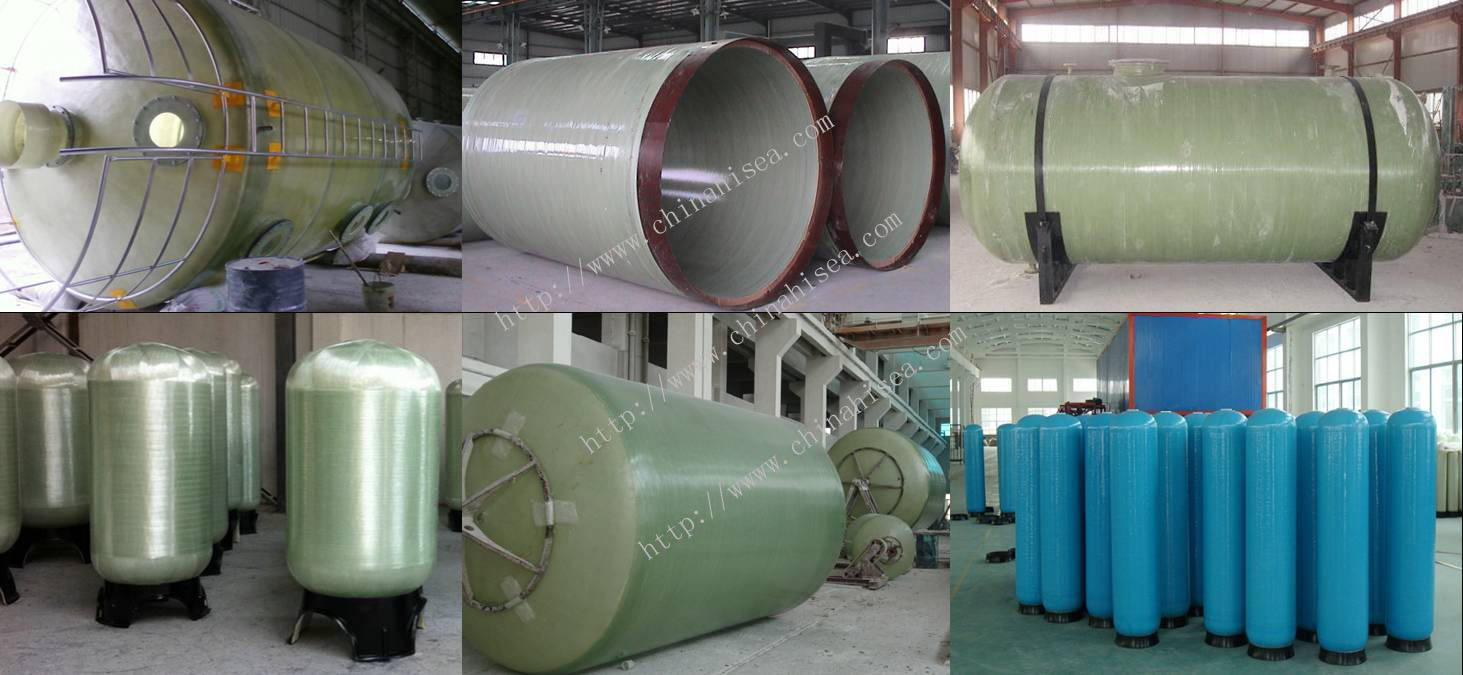 FRP Single-wall Tank in Workshop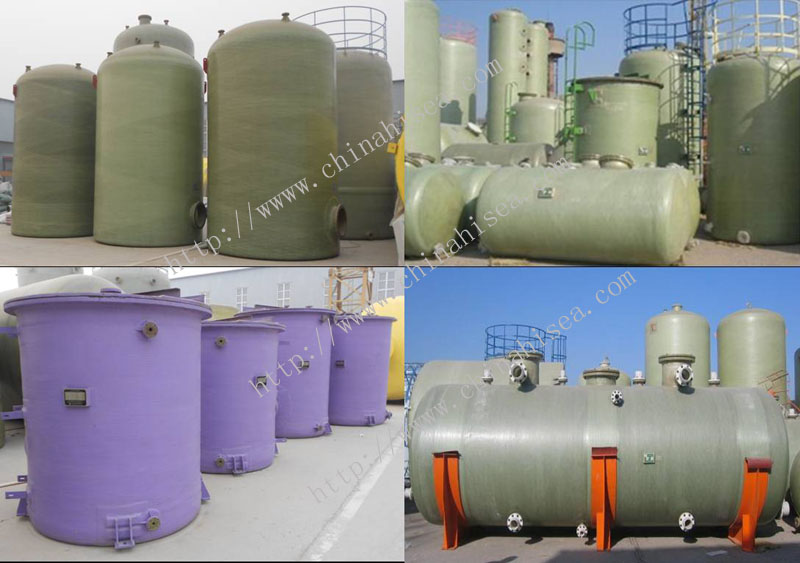 FRP Single-wall Tank in Stock Yard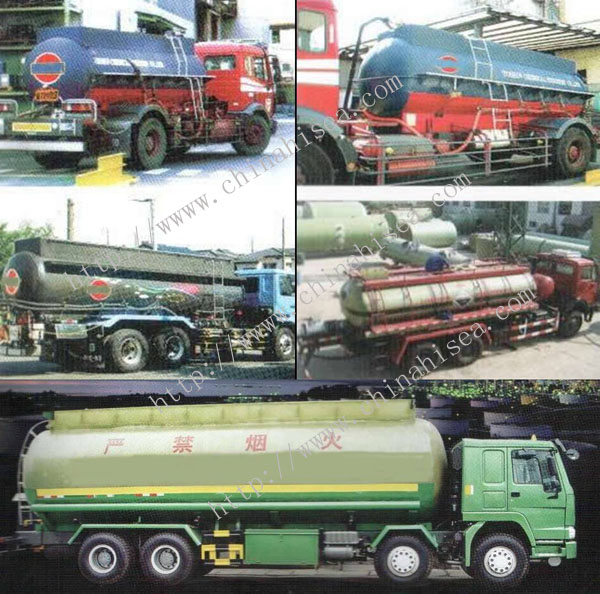 FRP Single-wall Tank for Trucks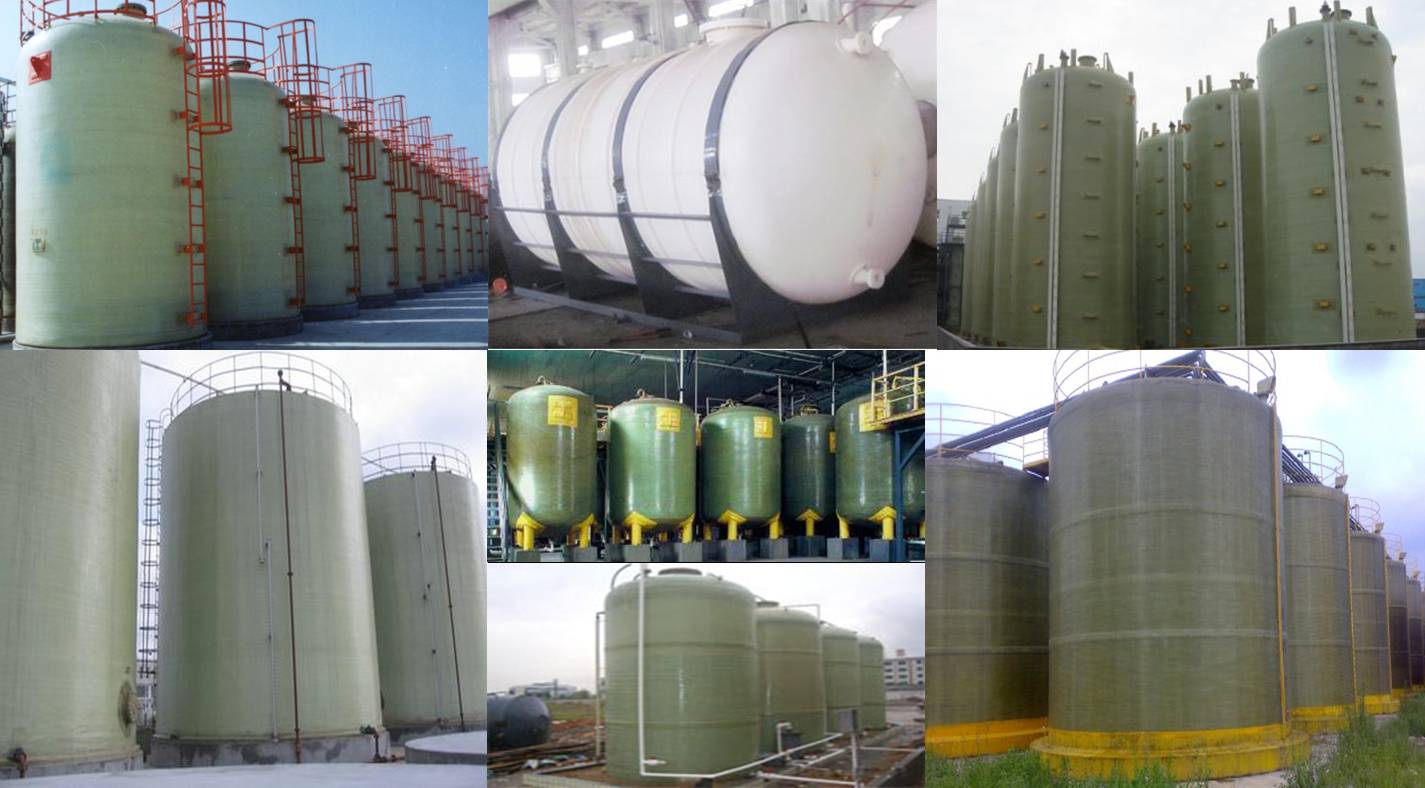 FRP Single-wall Tank on Applicaton Sites
(For more information, you are always welcome to contact us at any time in any of the following ways.)
---------------------------------
Contact:
Aiphen ZHANG - Sales Manager
Chongqing Hi-Sea Marine Equipment Import & Export Co., Ltd.
Add.: Unit 20-5, Building of Chongqing General Chamber of Commerce, No.2, Hongjin St., Yubei Dist., Chongqing 401147, China
T: +86-23-67500186 F: +86-23-67955123 E: oildept@hiseamarine.coms