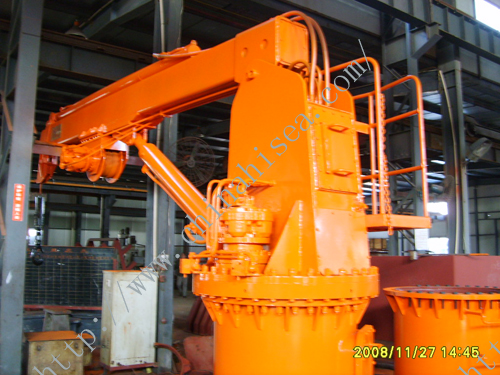 Hydraulic Telescopic Crane
Hydraulic Telescopic Crane
Taking landing working condition as design basis, marine crane is specially designed for various cargo ships.
The crane can be installed in the middle of ships or bow sides.
The crane adopts wire cable amplitude variation, planetary reducer lift winch, and rotation driving mechanism, and has reliable operation, durability, convenient maintenance and other characteristics.
This crane can be equipped with:
l Cab air-conditioning system
l Grab system
l Suspension arm projection lamp
l Touch screen display function
| | | | | | | | | | | |
| --- | --- | --- | --- | --- | --- | --- | --- | --- | --- | --- |
| Type | Safety Load(kN) | Max Working Radius(m) | Min Working Radius(m) | Hoisting Speed(m/min) | Slewing Speed(r/min) | Luffing Time(s) | Slewing Angle(°) | Permission List/Trim(°) | Hoisting Height(m) | Power(kW) |
| YQ1 | 10 | 6~12 | 1.3~2.6 | 15 | 1 | 60 | 360 | 2°/5° | 30 | 7.5 |
| YQ1.5 | 15 | 8~14 | 1.7~3 | 15 | 1 | 60 | 360 | 2°/5° | 30 | 11 |
| YQ2 | 20 | 5~15 | 1.1~3.2 | 15 | 1 | 60 | 360 | 2°/5° | 30 | 15 |
| YQ3 | 30 | 8~18 | 1.7~3.8 | 15 | 0.9 | 70 | 360 | 2°/5° | 30 | 22 |
| YQ5 | 50 | 12~20 | 2.5~4.2 | 15 | 0.75 | 80 | 360 | 2°/5° | 30 | 37 |
| YQ8 | 80 | 12~20 | 2.5~4.2 | 15 | 0.75 | 100 | 360 | 2°/5° | 30 | 55 |
| YQ10 | 100 | 12~20 | 2.5~4.2 | 15 | 0.75 | 110 | 360 | 2°/5° | 30 | 75 |
| YQ15 | 150 | 12~20 | 2.5~4.2 | 15 | 0.6 | 110 | 360 | 2°/5° | 30 | 90 |
| YQ20 | 200 | 16~25 | 3.2~5.3 | 15 | 0.6 | 120 | 360 | 2°/5° | 35 | 75*2 |
| YQ25 | 250 | 20~30 | 3.2~6.3 | 15 | 0.5 | 130 | 360 | 2°/5° | 40 | 90*2 |
| YQ30 | 300 | 30 | 3.2~6.3 | 15 | 0.4 | 140 | 360 | 2°/5° | 40 | 90*2 |
| YQ35 | 350 | 20~35 | 4.2~7.4 | 15 | 0.5 | 150 | 360 | 2°/5° | 45 | 110*2 |
| YQ40 | 400 | 20~35 | 4.2~7.4 | 15 | 0.5 | 150 | 360 | 2°/5° | 45 | 140*2 |
| YQ45 | 450 | 25~40 | 5.3~8.5 | 15 | 0.45 | 160 | 360 | 2°/5° | 50 | 140*2 |
| YQ50 | 500 | 25~40 | 5.3~8.5 | 15 | 0.45 | 170 | 360 | 2°/5° | 50 | 165*2 |