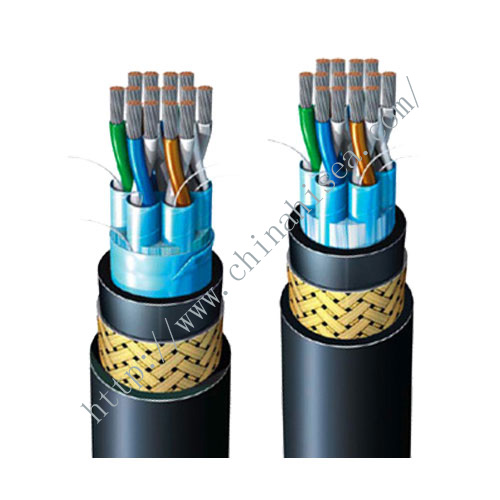 BFOU(i) S3/S7 mud resistant offshore communication cable
BFOU(i) S3/S7 mud resistant flame retardant offshore communication cable
BFOU(i) S3/S7 Mud resistant flame retardant offshore communication cable application
The cables are flame retardant , halogen free and mud resistant, suitable for instrumentation, communication, control and alarm systems.
BFOU(i) S3/S7 flame retardant offshore communication cable Standards
IEC 60092-376
IEC 60092-351
IEC 60092-359
IEC 60332-1
IEC 60332-3-22
IEC 60754-1,2
IEC 61034-1,2
NEK 606:2004
BFOU(i) S3/S7 Halogen free flame retardant mud resistant offshore power cable Main Parameter
Maximum conductor temperature:+90℃
Rated Voltage:250v
Tested Voltage:1.5kv/5min
Flame spread test on bunched cable:Category A
Smoke density of finished cable:≥60%
Bending radius : 8 × OD ( installing ); 6 × OD ( fixed installation )
BFOU(i) S3/S7 flame retardant offshore communication cable construction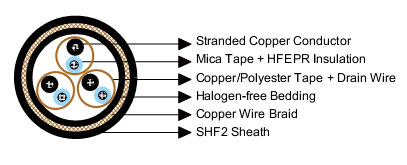 1.Conductors: Circular tinned annealed stranded copper wire to IEC 60228 class 2.
2.Insulation: Halogen free EPR compound.
3.Twinning: Colour coded cores twisted together.
4.Individual Shielding: Each pairs/triples are screened by copper backed polyester
5.tape in contact with a stranded tinned copper drain wire and wrapped with polyester
6.tape. Pairs/triples are numbered with numbered tape or by numbers printed directly on the insulated conductors.
7.Bedding: Halogen free compound.
8.Armour: Tinned copper wire braid.
9.Outer Sheath: Halogen free thermosetting compound, SHF2 (for TYPE S3). Halogen free MUD resistant thermosetting compound, SHF MUD (for TYPE S3/S7), coloured grey (blue for intrinsically safe).
BFOU(i) S3/S7 flame retardant offshore communication cable electrical characteristics
| | | | | | |
| --- | --- | --- | --- | --- | --- |
| Nominal Cross Section Area | mm2 | 0.75 | 1.0 | 1.5 | 2.5 |
| Nominal Conductor Diameter | mm | 1.1 | 1.3 | 1.6 | 2.0 |
| Max.Resistance @20℃ | Ω/km | 26.3 | 19.3 | 12.9 | 8.02 |
| Mutual Capacitance | nF/km | 85 | 90 | 100 | 110 |
| Nominal Inductance@1KHz | MH/km | 0.731 | 0.691 | 0.673 | 0.629 |
| Max. L/R@1KHz | μH/Ω | 20 | 25 | 35 | 55 |
| Working Voltage | V | 250 | 250 | 250 | 250 |
BFOU(i) S3/S7 flame retardant offshore communication cable Show