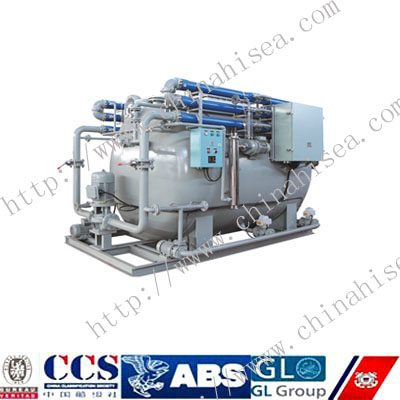 IMO Approved Sewage Treatment Unit Manufacturer
The IMO approved sewage treatment unit manufacturer and exporter, Chongqing Hi-sea Marine Equipment Import & Export Co., Ltd.
The sewage treatment unit is applicable to treat the sewage from the toilets (black water) and shower (gray water) on ships to satisfy internationalstandards for effluent discharge.
The unit can be used for sterilizing gray water on ships as well.
The unit adopts the principle of traditional aeration and contact oxidization biochemical treatment and chlorine disinfection, using activated sludge and soft stuffing medium, Due to the air pump stop and start occasionally, it can solve the nitration problem and overcome the sludge expansion caused by thread-like bacteria, which is also called 'cancer' in traditional continuous aeration treatment plant.
The Main Technical Parameters:
Model
SWCM-
15
20
25
30
40
50
60
80
100
120
150
200
250
300
400
Load
Average load (L/d)
1190
1540
1890
2310
3080
3780
4480
6020
7700
9100
11200
14700
18200
23100
30800
Peak load (L/h)
149
193
237
289
385
473
560
753
963
1138
1400
1838
2275
2888
3850
Organic load (kgBOD5/d)
0.595
0.77
0.945
1.155
1.54
1.89
2.24
3.01
3.85
4.55
5.6
7.35
9.1
11.55
15.4
Rated capacity (men)
15
20
25
30
40
50
60
80
100
120
150
200
250
300
400
Max capacity(men)
17
22
27
33
44
54
64
86
110
130
160
210
260
330
440
Electricity
AC 380V/50Hz/3φ, AC 415V/50Hz/3φ, AC 440/60Hz/3φ
Power (kW)
2.5
2.5
2.5
2.5
3.0
3.0
3.5
4.0
4.0
4.0
6.0
6.0
7.0
9.0
11
External dimension (mm) L×W×H

1870

×

1200

×

1400

1745

×

1400

×

1525

1935

×

1400

×

1560

1985

×

1500

×

1650

2400

×

1600

×

1700

2410

×

1700

×

1850
2670

×

1700

×

1850
2780

×

1900

×

2050
2795

×

2000

×

2200
3000

×

2000

×

2200
3050

×

2200

×

2300
3600

×

2200

×

2350
3880

×

2400

×

2570
4750

×

2400

×

2570
5950

×

2400

×

2570
Weight
Dry weight(kg)
1000
1000
1200
1200
1300
1450
1600
1850
2200
2300
2800
3000
3300
3700
4200
Wet weight(kg)
2283
2640
2740
3500
4400
5073
5270
6517
8268
9166
11340
13267
16538
20357
25417
Effluent standard
BOD5≤25mg/L, COD≤125mg/L, TSS≤35mg/L, coliform≤100/100ml, PH6~8.5, CL2≤0.5mg/L
The Sewage Treatment Unit Certificates: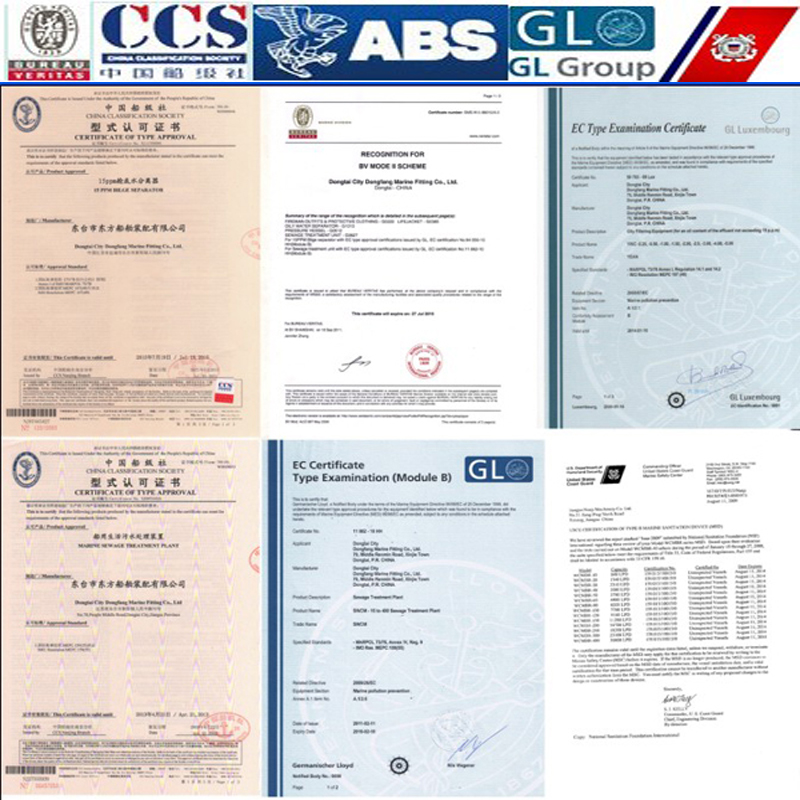 The Work-shop: