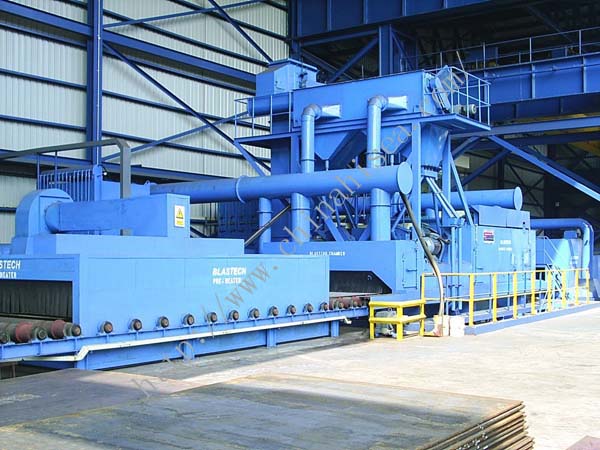 Shot Blasting Room
This machine is a multifunctional shot blasting equipment for surface treatment of steel plate and steel coated plate. It can impose a strong shot blasting on the original surface to remove oxide layers including rust pitting and rust layers as well as welding slag. Then the treated objects will reacquire smooth metallic luster surface and stress will be removed, enhancing the coating effects and corrosion resistance of steel plate and steel coated plate.
This machine is necessary for manufacturing industries of vessels, vehicles, containers and steelwork.
This machine is a high-performance roller conveyor shot blasting cleaning machine. During cleaning, the cycloid pinwheel speed reducer, which is driven by frequency control speed motor, drives roller system to transport the workpieces to the shot blasting area of the cleaning chamber, where the workpiece will go through strong blow and friction of intensive ejected shots from 8 impeller heads up and down. Then the oxide layers and dirt on the workpieces' surface will rapidly come off; the workpiece obtains a smooth surface with certain roughness; meanwhile, the workpiece stress has been largely eliminated due to intensive strong impact, reducing the deformation of the workpiece.
General Parameters
Name

Unit

Technical Data

Max loading of conveying rollers

t/m

1.5

Delivery speed

m/min

0.5~5

Working speed for steel plate

m/min

0.5~2.5

Working speed for steel profile

m/min

0.5~1.5

Annual output

t

50000 (250 working days, 8 hours / shift)

Surface quality




Sa2.5 GB8923-88

Paint film Thickness

µm

15~25

Temperature in drying chamber

℃

40-70

Compressed air consumption

cbm/h

6

Mpa

0.4~0.8

Dust Emission density

mg/cbm

80

Noise of whole equipment

dB

≤85

Power of whole line

kw

About 395

Size of whole line




Refer to general drawing
All the system: