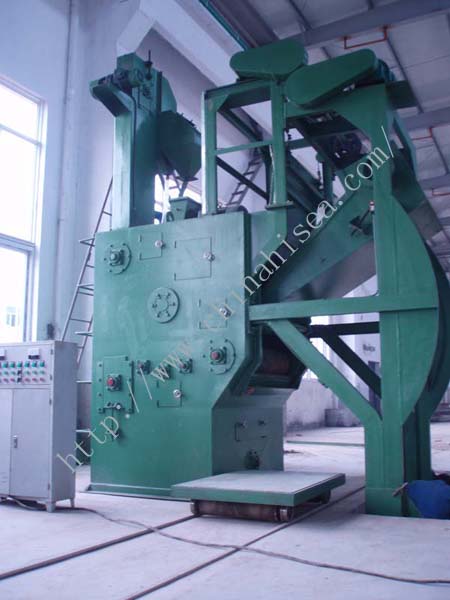 Q3210 Abrating Cleaning Chamber
This type abrating cleaning chamber are the most universal among all shot blasters as their design makes them suitable for processing parts of varying sizes in bulk loads. Work pieces from small to big metal parts or casting parts can be blasted in these machines.
The machine consists of an endless conveyor belt with high resistance to wear, abrasive separator and dust collector. These type abrating cleaning chamber are very easy to operate. The process starts with the loading of the parts on the belt either manually or through an automatic loading system. Once the door is closed the blasting cycle initiates. The wheels and the belt start spinning producing a continuous rotation of the parts ensuring that all components are exposed to the shot blasting stream for consistent cleaning. When the blasting process finishes, the machine stops automatically allowing the unloading of the parts to take place. Then, the operator moves the belt in the reverse direction to prepare the machine for a new load.
Technical Parameters:
Item

Name

QTY

Technical parameters

Remarks

1

Cleaning capacity

1

≤0.3m3and ≤600Kg

Quantity/times

2

Required workpiece

Unit weight of workpiece: ≤30Kg, L≤500mm, t≥10mm, 10mm≤∮≤300mm

Temperature≤80℃

3

Cleaning room

1

1822B×1825L×2300Hmm(max)

4

Blasting wheel

1

Blasting volume: 220Kg/min

Projection speed: 61m/s

Transmission method:belt transmission motor power:11kw

5

Elevator

1

Model: TS-15

Elevating quantity: 15t/h

Power: 2.2kw

6

Separator

1

Model: FL-15

wind speed: 4-5m/min

Full curtain wind choice

Separate result>99%

7

Shot gate

1

Cylinder control

8

Screw conveyor

1

Delivery quantity: 15t/h

Share the reducer with elevator

9

Belt loading system

1

End plate diameter:∮1000mm

Belt aperture:∮8mm

Reducer power: 1.5kw

Belt format: with character rubber belt

10

Dust collector

1

Ventilation: 3500m3/h

Blower power: 2.2KW

Vibration motor power: 0.55KW

11

Bucket loading system

1

Rise-fall speed: 6m/min

Power: 3KW

11

Total power

~20.45KW

Voltage: (optainol)

12

Metal abrasive for first time

~600Kg

Buyer need to buy extra

13

Compressed air

Air pressure: 0.4~0.6MPa

Consumption: 0.1 m3/min(buyer is responsible for this)

14

Dust emission

According to GB16297-1996, the figure should below 120mg/m3

15

The noise of equipment

According to JB/T7459.1-1999<>, the noise should below 95dB
General Drawing