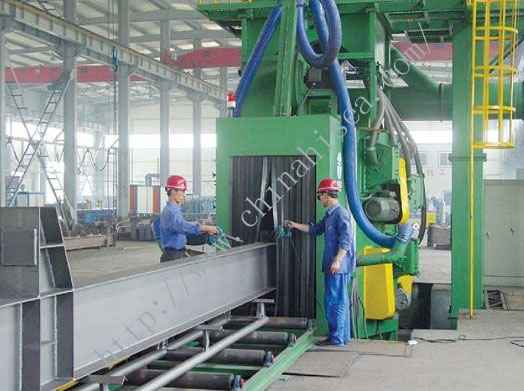 H Shaped Shot Peening Equipment
H Shaped Shot Peening Equipment:
This series H Shaped Shot Peening Equipment can reasonable structural steel and size. Not only can remove the workpiece surface rust, clean out the welding slag on the structural parts, the workpiece can also eliminate welding stress and improve the fatigue strength of workpiece increase film adhesion workpiece painting, and, ultimately, improve the surface and internal quality.
Which has the following characteristics:
1. The access door peen interlocked access door open, blast wheel does not work.
2. Shot blasting for pill gate interlock, the blast wheel not open for pill gate does not open.
3. The throwing head is equipped with top cover is open anti mistakenly open switch, shot blasting, shot blasting device can not open.
4. A projectile circulatory system failure alarm function, and any part of the system fails, its components above automatically stops to prevent projectile stuck burning power plant.
5. Take noise reduction technology, effective control of shot blasting, fans and other noise sources, improve the labor environment, noise levels ≤ 85Db (A).
Technical Parameters:
| | | | | | |
| --- | --- | --- | --- | --- | --- |
| parameter | unit | QH698 | QH6912 | QH6915 | QH6918 |
| The effective cleaning width | Mm | 800 | 1200 | 1500 | 1800 |
| The size of feed inlet | Mm | 1000*1500 | 1400*1700 | 1700*1700 | 2000*1800 |
| The length of cleaning workpiece | Mm | 1200-12000 | 1200-13000 | 1500-13000 | 2000-13000 |
| Cleaning workpiece size | Mm | 800*1200 | 1200*1500 | 1500*1500 | 1800*1600 |
| Transportation speed | m/min | 1.5-4 | 1.5-4 | 0.5-4 | 0.5-4 |
| The quantity of shot blasting | Kg/min | 8*125 | 8*180 | 8*180 | 8*250 |
| The first enclosed quantity | Kg | 4000 | 5000 | 5000 | 6000 |
| Airness capacity | m/h | 20000 | 22000 | 25000 | 25000 |
| Total power(except for dust cleaning) | kw | 90 | 130 | 180 | 180 |
Detail Parts: