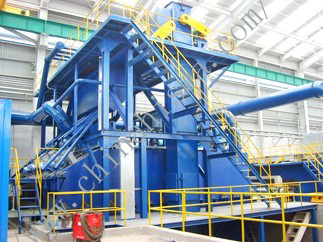 Steel Peening House
◎Shot blasting, painting of steel plates
◎Preparation surface for next procedure
◎Engineer machine, Mining machine, Chemical equipment, pressure vessel, Vehicle traffic, ship building and Building/Construction material
Uncomplicated operation, high-quality, easy maintenance and cleaning, low operating costs as well as being informed about environmental restrictions and paint developments are the keynotes for our shot blasting and painting lines.
Products, based on clear long-term technological concepts, have the technical maturity and quality to ensure maximum customer benefit!
SXY series steel peening houses are comprised of cross in-feed transverse conveying unit (option), in-feed conveying rollers, shot blasting system, dust removing system, painting system, drying system, organic gas and paint mist treatment device, out-feed conveying system cross out-feed transverse conveying unit (option) and electrical system and so on. This equipment is mainly used to do shot blasting to steel plate / profiles to get a clean surface of Sa2.5 with certain roughness. After shot blasting, the painting system will paint anti-rust coating layer on steel. This ensures no second pollution during processing.
The whole line of this production line is 58mtr.s. It is controlled by PLC electrical controller.
Technical Parameters:
Model
SXY2500
SXY3000
SXY3500
SXY4000
SXY4500
SXY5000
Size (W×T×L)
2500x60x12000mm
3000x60x12000mm
3500×60×12000mm
4000×60×12000mm
4500×60×12000mm
5000×60x12000mm
Shot blasting system
Max loading
1.5t/m
2 t/m
2t/m
2t/m
2t/m
3t/m
Working speed
1.0-3.0m/min
1.0-3.0m/min
1.0-3.0m/min
1.0-3.0m/min
1.0-3.0m/min
1.0-3.0m/min
Blasting volume
350kg/min×6
350kg/min×6
400kg/min×8
400kg/min×8
480kg/min×8
480kg/min×8
Power
22kw×6
22kw×6
30kw×8
30kw×8
37kw×8
37kw×8
Delivery capacity
126t/h
126t/h
192t/h
192 t/h
230t/h
230t/h
Lifting capacity
126t/h
126t/h
192t/h
192 t/h
230t/h
230t/h
Separating capacity
126t/h
126t/h
192t/h
192 t/h
230t/h
230t/h
Rolling brush size
900mm
900mm
900mm
900mm
900mm
900mm
Shots cleaning off
air blower
9-19No.5A
15kw×2
9-19No.5A
15kw×2
9-19No.5A
15kw×2
9-19NO.5.6A
18.5kw×2
9-19NO.5.6A
18.5kw×2
9-19NO.5.6A
18.5kw×2
Air volume for
dust collector
32000 m3/h
32000 m3/h
38000 m3/h
45000 m³/h
45000 m³/h
45000 m³/h
Painting system
Paint pump
Pressure ratio
Pressure
GRACO
32:1
0.6MPa
GRACO
32:1
0.6MPa
GRACO
45:1
0.6MPa
GRACO
45:1
0.6MPa
GRACO
45:1
0.6MPa
GRACO
45:1
0.6MPa
Spray gun
Quantity
Moving speed
206-513
2
20 -50m/min
206-513
2
20 -50m/min
206-513
4
20 -50m/min
206-513
4
20 -50m/min
206-513
4
20 -50m/min
206-513
4
20 -50m/min
Paint mist purity
Blower
Filter paper
7.5kw
Filter paper
11kw
Filter paper
15kw
Filter paper
15kw
Filter paper
15kw
Filter paper
15kw
Drying system
Temperature in
chamber
40-70℃
40-70℃
40-70℃
40-70℃
40-70℃
40-70℃
Drying type
Heat air
Heat air
Heat air
Heat air
Heat air
Heat air
Heating
Electric heat
Electric heat
Electric heat
Electric heat
Electric heat
Electric heat
Air volume
Power
6950m3/h
3kw
6950m3/h
3kw
6950m3/h
3kw
6950m3/h
3kw
6950m3/h
3kw
6950m3/h
3kw
Surface quality
Sa2.5
Sa2.5
Sa2.5
Sa2.5
Sa2.5
Sa2.5
Total power
450KW
450KW
558kw
558kw
600KW
612KW
Assembly Line General Drawing