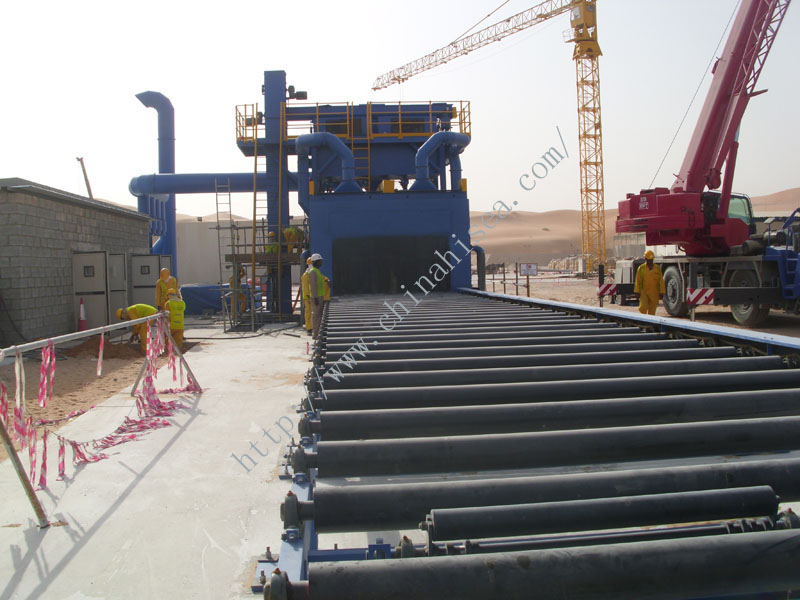 Steel Plate Shot Blasting System
Steel Plate Shot Blasting System:

The steel plate shot blasting system consists of feeding and blanking roller, shot blast machine, dust removing system, testing roller, automatic paint-spraying system, drying System, as well as electrical control system (including a workpiece detector). It is applied to remove the rust, scale and contamination on the steel surface, so as to make the surface clean, bright but with a certain coarseness, by which the paint film can attach to the steel surface more firmly, hence the surface quality and the anti-corrosion capacity of products are improved. The primer (inorganic zinc silicate) automatically pre-painted after shot-blasting, can prevent the steel from being secondarily contaminated and rusted during operation in the workshop. And, the surfaces of the products are clean, unrusted, uncontaminated for final painting.
This line, with a total length of 54m, designed and manufactured on the base of advanced experience native and abroad, has been furnished with a variety of properties, such as high technology, ideal structure, long duration, easy handling and maintenance and high efficiency.
In the electric central controlling room are installed a TV touch screen, a TV monitor, whereby the operations can be controlled intuitively and the failures are observable. Meanwhile, through the TV monitor, the feeding and blanking statuses along the pretreatment line also are in view.
In case there should be some urgencies and the machine should be stopped in no time, buttons of EMERGENCY STOP are installed at the upper blanking roller, shot blast chamber and paint sprayer in the general control room.
Assembly Line Overall Performance
Description

Unit

Details

Steel Plate

Size

Width

m

≤1200m

Length

m

6~12m

Thickness

mm

6~60mm

Structural Steel Size

mm

18000×200×200

Roller Delivery Speed

m/min

1~5

Work Speed

Degree of Steel Plate Corrosion (A)

m/min

3.6

Degree of Steel Plate Corrosion (B)

3

Degree of Structural Steel Corrosion (A)

2.4

Degree of Structural Steel Corrosion (B)

2

Derusting Quality Grade

BSa2.5(GB8923-88 orISO8501-1,1988)

Surface Roughness

μ

12.5~50

Film Thickness

μ

15~25

Material and Intensity Range of Workpieces

Marine A, B, and D steel;AH32, AH36, DH32, DH36

Supply

Power

kw

≤250kw

Compressor Air

m3/min

6~7

Pressure of Compressor Air

MPa

0.4~0.6

Work Capacity per Year

t

48000