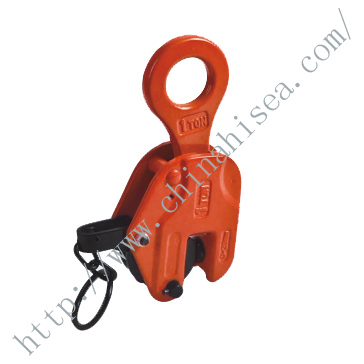 VLC Type Plate ClampsType Plate Clamps
VLC Type Plate ClampsType Plate Clamps
Product Name:
VLC Type Plate ClampsType Plate Clamps
Material:
steel
Spec:
VLC Type Plate Clamps Capacity range from 1 to
5 ton.
 Designed for vertical plate lifting.
 Easy to install with minimum headroom.
 Robust all steel construction with safety operation.
 Compact size with light weight
 The locking mechanism provides and additional safety for the operator.
 Easy to replace wear parts.
 Minimum maintenance
Application:
The clamps are designed for lifting plate.
Technical Drawing For VLC Type Plate ClampsType Plate Clamps: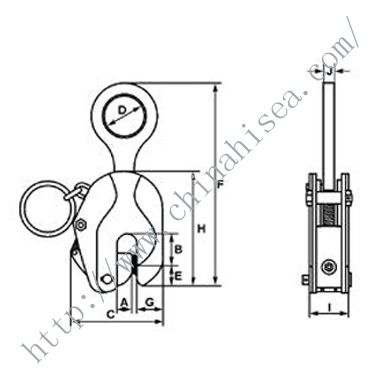 Parameters For VLC Type Plate ClampsType Plate Clamps:
Models
Lifting
Capacity (tons)
Test Load
(tons)
Jaw opening (in)
Dimensions
(in)
Net Weight (lbs)
A
B
C
D
E
F
G
H
I
J
VLC-020
1
2
0 - 0.9
0.9
1.4
4.9
2
0.9
8.7 – 10.2
1.2
6.1
2
0.6
7.9
VLC-040
2
4
0 – 1.2
1.4
1.8
6.1
2.4
1.2
9.8 – 11.6
1.5
7.5
2.4
0.7
13.2
VLC-060
3
6
0 – 1.4
1.6
2
6.9
2.4
1.4
11.7 – 14.1
1.6
8.9
2.7
0.8
20.3
VLC-100
5
10
0 - 2
2
2.3
8.6
2.6
1.6
13.9 – 16.5
2.4
10.6
3
0.9
36.4
Blue color For VLC Type Plate ClampsType Plate Clamps: