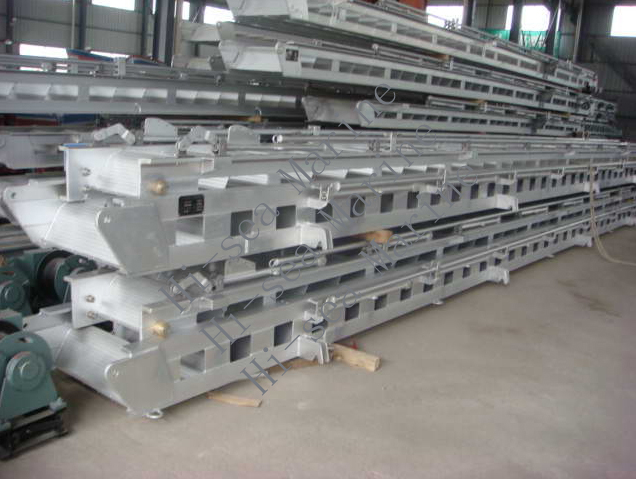 Marine Telescopic Accommodation Ladder
Marine Telescopic Accommodation Ladder
Description
One unit including: Accommodation ladder, ladder frame device, lower platform, handrail, shore roller, side roller, bracket, sheave device, turning device, davit, upper platform, shaft, bracket of upper platform, bearing seat, turn table, axle, bush, close bracket, post, Supporter.
1.oxidation treatment on aluminum material
2.After the completion of the ladder should not skew, distort , deform
3. Strength test carried our when finished.
4. With fixed arc steps, and with anti-skid slot on the surface of the steps.
5. The ladder design and specific size can be customized.
No of Step
L
L1
L2
L3
Max Height(H)
Step Space
Max use Angle
12
5600
3600
Decided when design
850-2000
3620
300-(350)
55°(60°)
14
6200
4200
4100
16
6800
4800
4590
18
7400
5400
5080
20
8000
6000
5800
22
8600
6600
6300
24
9200
7200
6800
26
9800
7800
7300
28
10400
8400
7800
30
11000
9000
8300
32
11600
9600
8800
34
12200
10200
9300
36
12800
10800
9800
38
13400
11400
10300
40
14000
12000
10800
42
14600
12600
11300
44
15200
13200
11800
46
15800
13800
12300
48
16400
14400
12800
50
17000
15000
13300
52
17600
15600
13800
54
18200
16200
14300
56
18800
16800
14700
58
19400
17400
15100
62
20600
18600
15500
66
21800
19800
15900
70
23000
21000
16300
Photos