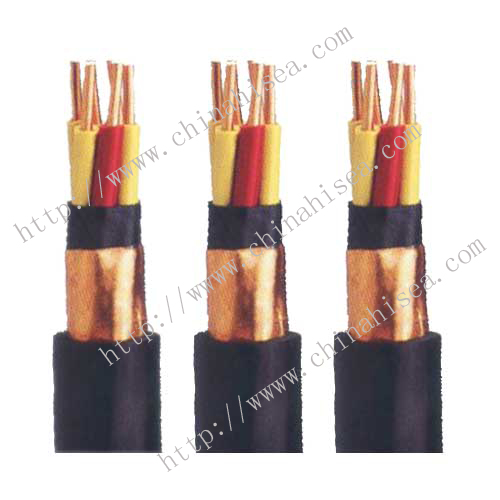 Metal shield power cable
Metal shield power cable application
This product is used in D.C and A.C power transmission with rated voltage 0.6/1KV and below.In addition to the electrical characteristics of ordinary plastic power cable,it also has the strong anti-electromagnetic interference, anti-lightning and balanced performance potential, improve power quality characteristics. Especially suitable places with sophisticated electronic devices, such as computer centers, aerospace control centers, intelligent buildings.
Metal shield power cable Service condition
1, the maximum allowable operating temperature long conductor: PVC insulated 70 ℃; XLPE 90 ℃.
2, cable short circuit (the longest duration of no more than 5s), does not exceed the maximum temperature of the conductor: PVC insulated 160 ℃; XLPE insulated 250 ℃.
3, when the ambient temperature under installation should not below 0 ℃.
4, cable bending diameter is the same as ordinary power cable
Metal shield power cable Technical performance
1, the DC resistance of the conductor to meet the requirements of GB/T3956-1997.
2, AC voltage test:Finished cable withstand AC 50Hz, 3.5KV,5min no breakdown,Soaking voltage test carried out for single core cable.
Metal shield power cable model
Model

Name

Copper

Aluminum

VV-P
YJV-P

VLV-P
YJLV-P

PVC(XLPE)insulated metal shield PVC sheathed power cable

VV22-P
YJV22-P

VLV22-P
YJLV22-P

PVC(XLPE)insulated metal shield Steel tape armored PVC sheathed power cable

VV32-P
YJV32-P

VLV32-P
YJLV32-P

PVC(XLPE)insulated metal shield Thin steel wire armored PVC sheathed power cable

VV42-P
YJV42-P

VLV42-P
YJLV42-P

PVC(XLPE)insulated metal shield Thick steel wire armored PVC sheathed power cable

ZR-VV-P
ZR-YJV-P

ZR-VLV-P
ZR-YJLV-P

Flame retardant PVC(XLPE)insulated metal shieldPVC sheathed power cable

ZR-VV22-P
ZR-YJV22-P

ZR-VLV22-P
ZR-YJLV22-P

Flame retardant PVC(XLPE)insulated metal shield steel tape armored PVC sheathed power cable

ZR-VV32-P
ZR-YJV32-P

ZR-VLV32-P
ZR-YJLV32-P

Flame retardant PVC(XLPE)insulated metal shield thin steel wire armored PVC sheathed power cable

ZR-VV42-P
ZR-YJV42-P

ZR-VLV42-P
ZR-YJLV42-P

Flame retardant PVC(XLPE)insulated metal shield thick steel wire armored PVC sheathed power cable

NH-VV-P
NH-YJV-P

-

Flame retardant PVC(XLPE)insulated metal shieldPVC sheathed fire resistant power cable

NH-VV22-P
NH-YJV22-P

-

Flame retardant PVC(XLPE)insulated metal shield steel tape armored PVC sheathed fire resistant power cable

NH-VV32-P
NHYJV32-P

-

Flame retardant PVC(XLPE)insulated metal shield thin steel wire armored PVC sheathed fire resistant power cable

NH-VV42-P
NH-YJV42-P

-

Flame retardant PVC(XLPE)insulated metal shield thick steel wire armored PVC sheathed fire resistant power cable
Metal shield power cable specification
Model

Cores

Nominal Area
mm2

Copper

Aluminum

VV-P YJV-P
NH-VV-P NHYJV-P
ZR-VV-P ZR-YJV-P

VLV-P YJLV-P
- -
ZR-VLV-P ZR-YJLV-P

1

4~300

VV-P YJV-P
NH-VV-P NHYJV-P
ZR-VV-P ZR-YJV-P
VV22-P YJV22-P
NH-VV22-P NH-YJV22-P
ZR-VV22-P ZR-YJV22-P
VV32-P YJV32-P
NH-VV32-P NH-YJV32-P
ZR-VV32-P ZR-YJV32-P
VV42-P YJV42-P
NH-VV42-P NH-YJV42-P
ZR-VV42-P ZR-YJV42-P

VLV-P YJLV-P
- -
ZR-VLV-P ZR-YJLV-P
VLV22-P YJLV22-P
- -
ZR-VLV22-P ZR-YJLV22-P
VLV32-P YJLV32-P
- -
ZR-VLV32-P ZR-YJLV32-P
VLV42-P YJLV42-P
- -
ZR-VLV42-P ZR-YJLV42-P

2

4~185

3

4~300

3+1

4
Metal shield power cable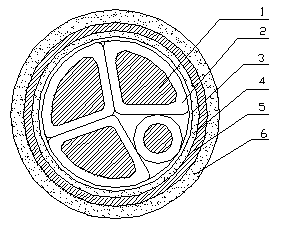 1.Conductor 2.PVC(XLPE) insulation 3.Tape 4.PVC inner sheath 5.Copper tape shield 6.PVC outer sheath