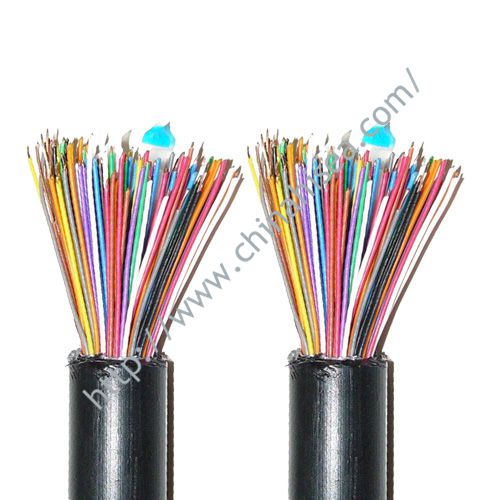 Mine Singal Cable
Mine Singal Cable
1.Application
This product is used aslow-frequency signal transmission line in coal mine underground monitoring and control system.
2.Service Condition
Cable ambient temperature is -40 ℃ ~ +50 ℃; at 25 ℃, humidity 95% ; cable laying temperature ≥ -10 ℃; cable laying bending radius PUYVR and PUYV31 ≥ 10 times the cable diameter , and the remaining models ≥ 15 times the cable diameter .
If you feel this is not what you are looking for,please kindly check more communication cable here,also you can check more cablehere,or you can use the search form on the upper right corner.
3.Mine Singal Cable Model
Model
Product Name
Structure

Application

Paires
Wire Cores
PVV22

Mine PVC Insulated Galvanized steel tape armored XLPE Sheathed Singal Cable

2-37
1/1.0

Laid in trenches, pipes can withstand greater mechanical force .

PUYV39

Mine PVC Insualted PVC Sheathed Thick Steel Wire Armored Singal Cable
1-10
1/1.38
Used as main singal cable in inclined well or vertical well
PUYV39-1
Mine PVC Insualted PVC Sheathed Steel Wire Armored Singal Cable
1-10
1/1.33
Used as main singal cable underground horizontal passage
PUYV
Mine PE Insulated Flame-Retardant PVC Sheathed Singal Cable
2-37
1/1.0

Laid in trenches, pipes can withstand normal mechanical force .

PUYVR

Mine polyethylene insulated flame-retardant PVC sheathed flexible singal Cable

1-10

7/0.30

7/0.37

7/0.40

7/0.52

Used in underground Horizontal or inclined passage
PUYVP

Mine polyethylene insulated flame-retardant PVC sheathed copper wire braided shield signal cable

1-10
1/1.38
Used where has strong interference
PUYV31

Mine polyethylene insulated flame-retardant PVC sheathed single galvanized steel wire braid armored signal cable

1-20
1/1.00
used as main singal cable underground horizontal passage
4.Mine Singal Cable Show