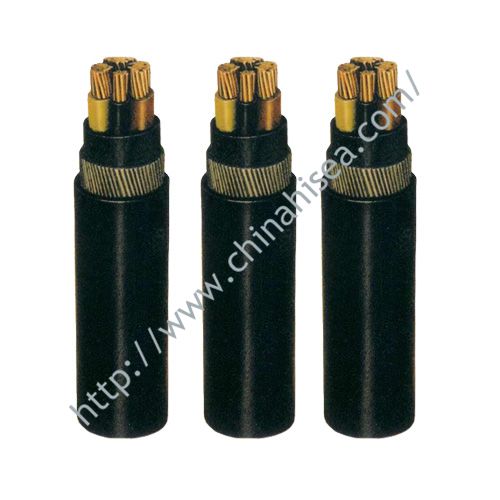 Shearer shielded monitor rubber sheathed cable
Shearer shielded monitor rubber sheathed cable
1. rated voltage Uo / U 1.9/3.3KV
2.used to power rated vlotage 1.9/3.3kv shearer and similar equiipments,draggable
3.Reiforced layer adopts galvanized steel wire and tinned copper bundle or twisted structure
4.long-term allowable working temperature of cable conductor to 65 ℃.
5.the wrapped reinforced cable minimum bend radius of the cable is 6 times the diameter of the wire while woven reinforced cable is 6 times as its diameter.
6.Ground core should connect with earth well.
7.This cable has two reinforcement ways,one is wrapped reinforcement and the other is woven reinforcement.
If you feel this is not what you are looking for,please kindly check more shearer cable here,also you can check more cable here,or you can use the search form on the upper right corner.
Shearer shielded monitor rubber sheathed cable Model
| | | |
| --- | --- | --- |
| Model | Product Name | Application |
| MCPJB-0.66/1.14 | Shearer Shield Monitor Woven Reinforced Rubber Sheath Flexible Cable | power connection for Shearer and Similar equipment rated voltage no more than 0.66/1.14kv,Draggable |
| MCPJB-1.9/3.3 | Shearer Shield Monitor Woven Reinforced Rubber Sheath Flexible Cable | power connection for Shearer and Similar equipment rated voltage no more than 1.9/3.3kv,Draggable |
| MCPJR-0.66/1.14 | Shearer Shield Monitor Wrapped Reinforced Rubber Sheath Flexible Cable | power connection for Shearer and Similar equipment rated voltage no more than 0.66/1.14kv,Protection Board Needed |
| MCPJR-1.9/3.3 | Shearer Shield Monitor Wrapped Reinforced Rubber Sheath Flexible Cable | power connection for Shearer and Similar equipment rated voltage no more than 1.9/3.3kv,Protection BoardNeeded |
1.9 3.3kv Shearer shielded monitor reinforced rubber sheathed cable specifications:
Core Number*Section(mm2)
Insulator Layer Thickness (mm)
Sheath layer thickness(mm)
Outer Diameter
Minimum insulation resistance of 20 degrees Celsius
(MΩ.Km)
Power Core
Ground Core
Control Core
Monitoring Core
Power Core
Inner Sheath
Outer Sheath
Wrapped Type
Woven Type
3*35
1*16
3*1.5
3*1.5
2.8
1.8
3.0
46.5~52.0
49.5~55.0
400
3*50
1*25
3*1.5
3*1.5
2.8
2.0
3.5
51.5~57.5
54.5~61.0
350
3*70
1*35
3*1.5
3*1.5
2.8
2.0
3.5
56.0~62.5
59.0~66.0
250
3*95
1*50
3*1.5
3*1.5
2.8
2.4
4.0
62.0~68.5
64.5~71.0
200
Note:

1.Control Conduct core nominal thickness is 0.7mm,no assessment requirements for inner sheath thickness

2.Monitoring and Control core should reinforced with steel wire or equivalent material

3.Monitoring core adopt twined tinned copper wire that maximum diameter no more than 0.21mm.

4.Control Core insulation resistance of 20 degrees Celsius should be no less than 100MΩ.Km
1.9 3.3 kv Shearer shielded monitor wrapped reinforced rubber sheathed cable structure:
1.9 3.3kv Shearer shielded monitor woven reinforced rubber sheathed cable show: