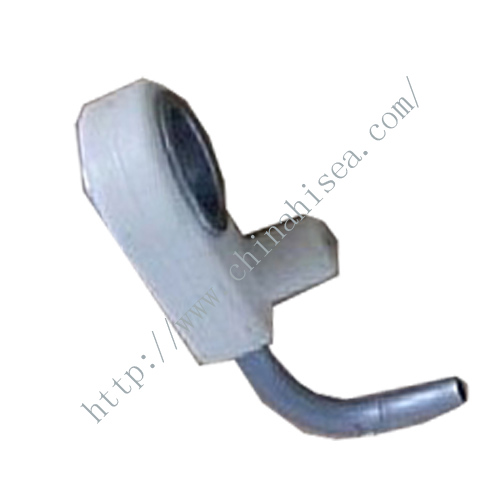 Piston cooling nozzel
Piston cooling nozzel:
More Engine Parts:
1. Cylinder Block, bushing, cylider liner kit, piston cooling nozzle

2. Cylinder Head, intake valve, exhaust valve, valve insert, valve spring, valve spring, valve collet, valve rotator, valve stem guide, cylinder head gasket

3. Crankshaft, main bearing, oil seal, vibration damper

4. Con Rod and Piston, connectng rod, piston, piston pin, piston ring, con rod bearing

5. Camshaft, camshaft gear, camshaft bushing

6. Rocker Lever, rocker lever shaf, rocker lever cover, rocker lever housing

7. Injector, injector cup, injector seal, injector adapter, barrel and plunger

8. Water Pump, sea water pump, water pump shaft, water pump impeller, water pump body
Water pump seal, ball bearing, water pump pulle, ywater pump belt, plain hose

9. Fuel Pump, acutator, gear fuel pump, fuel shutoff valve, fuel pump drive

10. Oil Pump, oil pump gear, STC valve, oil pump gasket

11. Alternator, alternator belt, alternator pulley, alternator support

12. Starting, Motor, magnetic switch, ground wire

13. Turbocharger, turbocharger housing, tube lub oil supply, turbocharger repair kit

14. Fan Hub, engine fan, fan belt, idler pulley, fan pulley

15. Manifold, intake manifold, exhaust manifold, exhaust blbow, exhaust outle connection

16. Filter, oil filter, fuel filter, water filter, air filter

17. Flywheel, wheel housing

18. Oil Pan, oil pan, dipstick, oil gauge tube, oil pan gasket

19. Oil Cooler, oil cooler housing, oil cooler core

20Thermostat, thermostat housing, thermostat seal

21. Aftercooler, aftercooler core

22. Air Compressor, compressor repair kit

23. Engine Gaskets, upper engine gaskets, lower engine gaskets

24. Tools, piston tool, cylinder liner tool, injector tool, timing toolr, epair tool

25. Manuals, part catalogue, shop manuals, operation mauals, maintance mauals

26. Electric Parts, gauge, sensor, hourmeter, magnectic pick up, tachometer, oil pressure switch, EFC governer, temperature switch

27. Muffler

28. Heater

29. Radiator

Unique Advantage of Our Company
As the authorized dealer, Chongqing Hi-sea has the unique advantage in engine parts.
Firstly, more competitive price, because we have the first hand source;
Secondly, covering a wide range, especially in CCEC parts, larger stock, and shorter delivery time;
Thirdly, equipped with the Cummins "QuickServe" online system, so we can easily and quickly find the right part for you.

Package&Delivery
Safe package to protect the parts
---Domestic package for Chinese market
---Wooden case for ocean shipping
---Carton for air shipping or express
Various ways to delivery the parts
Our Goals: Fastly, Completely and Safely delivery goods to our customers.

Warm Notice
Dear friend, welcome to our Website!
To help us quote you right parts, please kindly tell us following information:
----When you inquiry parts, please kindly tell us the Part Number(6 or7 arab numbers, like 3202210).
----If you don't have part no in hand, you can also tell us the Engine Number(8 arab numbers, like25262227).