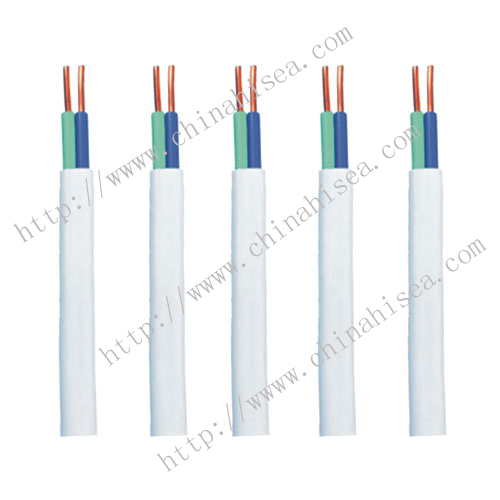 PVC insulated flat cable
PVC insulated flat cable Application
BVVB, full name is copper PVC insulated flat cables, also called "flat cable" Or "parallel cable", it's the shape of the finished product is flat rather than round, which is its biggest difference with BVV.
BVVB cables forelectrical equipment, instrumentation, telecommunications equipment, power and lighting circuits of AC rated voltage 450/750V or DC 1000V and below .
PVC insulated flat cable Service Condition
BVVB main features are as follows:
(1) Cable Uo / U is 450/750V and 300/500V.
(2) When used in the DC system, the nominal voltage of the system should not exceed 1.5 times the rated voltage.
(3) Industry standard cable laying temperature should not be less than 0 degrees, diameter (D) of less than 25mm cable
Permissible bending radius should not be less than 4D, an outer diameter of 25mm and above permissible bending radius of the cable should not be less than 6D.
PVC insulated flat cable Specification
BVVB、ZR-BVVB
(V)

Area

(mm2)

Conductor Category

Refer Outer Diameter

(mm)

20℃ Maximum
DC Resistance


(Ω/km)

70℃Minimum
Insulation Resistance


(MΩ/km)

Nominal Ampacity

(A)

2 x 0.75

1

4.6 x 7.1

24.5

0.012

13

2 x 1.0

1

4.8 x 7.4

18.1

0.011

16

2 x 1.5

1

5.3 x 8.3

12.1

0.011

20

2 x 2.5

1

6.2 x 10.1

7.41

0.010

27

2 x 4.0

1

6.9 x 11.5

4.61

0.008

38

2 x 6.0

1

7.8 x 13.0

3.08

0.0065

50

2 x 10

2

9.5 x 16.2

1.83

0.0065

69

3 x 0.75

1

4.6 x 9.6

24.5

0.012

9.5

3 x 1.0

1

4.8 x 10.1

18.1

0.011

11

3 x 1.5

1

5.3 x 11.7

12.1

0.011

13

3 x 2.5

1

6.2 x 14.0

7.41

0.010

21

3 x 4.0

1

7.1 x 16.3

4.61

0.008

27

3 x 6.0

1

7.8 x 18.2

3.08

0.0065

34

3 x 10

2

9.5 x 23.0

1.83

0.0065

55
PVC insulated flat cable Show