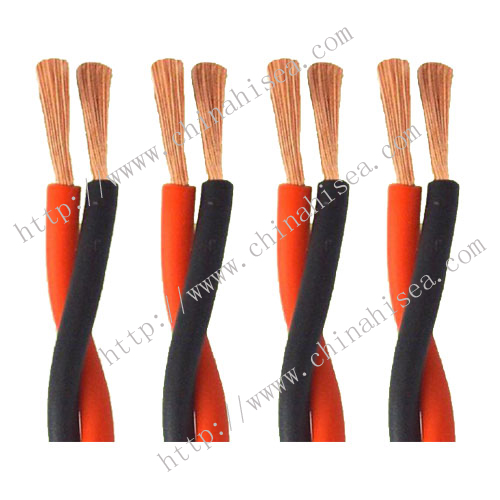 PVC insulated twisted flexible cable
PVC insulated twisted flexible cable Application
1)multi-line automatic fire detectors for fire alarm systems.
2)for household appliances, small electric tools, instruments and power lighting line. Double white core for direct access lamp cord; Red and blue core used for fire, police, etc.; red and white core for broadcast, telephone lines; red and black wire core for broadcast.
3)used to connect the amplifier and audio equipment, radio systems transmit amplified by the power amplifier audio signal processing.
PVC insulated twisted flexible cable Features
(1) Conductor: Class 5 conductor must comply with GB/T3952 (equal to IEC60228) requirements.
(2) Insulation material: PVC (ie PVC).
(3) Nominal cross-sectional area: 0.5 ~ 2.5mm2.
(4) Rated voltage: 300/300V.
PVC insulated twisted flexible cable Service Condition
(1) Operating temperature: 0 ~ 70 ℃.
(2) bending radius: not less than 6 times the cable diameter.
(3) construction standards: must be in strict accordance with the standard GB50168-2006.
PVC insulated twisted flexible cable Specification
RVS、ZR-RVS main technical parameters:
Rated Voltage

Area

(mm2)

Conductor Category

Refer Outer Diameter

(mm)

20℃Maximum
DC Resistance


(Ω/km)

70℃ Minimum insulation resistance

(MΩ/km)

Nominal Ampacity

(A)

300/300V

2 x 0.5

5

6.0

39.0

0.016

10

2 x 0.75

5

6.2

26.0

0.014

13

2 x 1.0

5

6.6

19.5

0.011

16

2 x 1.5

5

7.2

13.3

0.010

20

2 x 2.5

5

8.2

7.98

0.009

27
PVC insulated twisted flexible cable Show