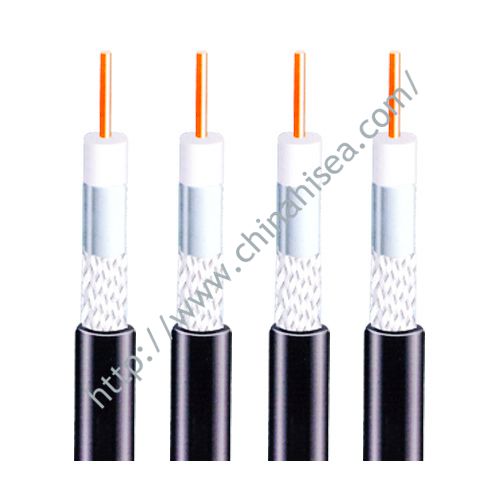 Solid RF coaxial cable
Solid RF coaxial cable
Solid RF coaxial cable application
The solid RF Coaxial cable is suitable for video surveillance,video conference and other electronic line construction, engineering decoration signal transmission,audio-visual equipment,connections,and other electronic devices,radio communication broadcasting equipment for radio-electronic equipment to transmit RF signals.
Solid RF coaxial cable service condition
1.Operating temperature -40 ℃ to 65 ℃
2.relative humidity +40 ± 2 ℃ and up to 98 percent
3.installation laying temperature not lower than -15 ℃
4.minimum bend radius allowed for indoor use isNo less than five times the cable diameter,outdoor use is not less than 10 times the cable diameter .
5.The insulation resistance of not less than 10000MΩ.KM
6.75 Ω Capacitance less than 76PF/M
Solid RF coaxial cable structure
1.The inner conductor or stranded single strand multi-strand OFC oxygen-free copper
2.polyethylene insulation
3.oxygen-free copper wire braid
4.PVC jacket
If you feel this is not what you are looking for,please kindly check more special cable here,also you can check more cable here,or you can use the search form on the upper right corner.
Solid RF coaxial cable Model
SYV-50,SYV-75,ZR-SYV50,ZR-SYV-75,NH-SYV50,NH-SYV-75,LSZH-SYV-50,LSZH-SYV-75
Solid RF coaxial cable Specification
Model
Inner Conductor number/mm
Braided Material inner/Outer
Insulation O.D. mm
Cable O.D. Mm
Sheath
Nominal Attenuation 200MHz dB/m
Nominal Resistance Ω
SYV-50-2-1
7/0.16
Copper/—
1.50±0.10
2.8±0.2
Ⅱ
0.450
50±2
SYV50-2-41
1/0.68
Copper/—
2.20±0.10
4.0±0.2
Ⅱ
0.310
SYV50-3-1
7/0.32
Copper/—
2.95±0.13
5.0±0.2
Ⅱ
0.240
SYV50-3-3
1/0.90
Copper/—
2.95±0.13
5.0±0.2
Ⅰ
0.220
SYV50-3-4
1/0.90
Copper/—
2.95±0.13
5.0±0.2
Ⅱ
0.220
SYV50-3-5
1/0.90
Copper/Copper
2.95±0.13
5.8±0.2
Ⅰ
0.220
SYV50-3-41
1/0.90
Copper/Copper
2.95±0.13
5.8±0.2
Ⅱ
0.220
SYV50-5-1
1/1.40
Copper/—
4.80±0.20
7.2±0.3
Ⅱ
0.150
SYV50-5-3
1/1.40
Copper/—
4.80±0.20
7.2±0.3
Ⅰ
0.150
SYV50-5-4
1/1.40
Copper/Copper
4.80±0.20
7.9±0.3
Ⅰ
0.150
SYV50-5-41
1/1.40
Copper/Copper
4.80±0.20
7.9±0.3
Ⅱ
0.150
SYV50-7-1
7/0.75
Copper/—
7.25±0.25
10.3±0.3
Ⅰ
0.110
SYV50-7-2
7/0.75
Copper/—
7.25±0.25
10.3±0.3
Ⅱ
0.110
SYV50-7-3
7/0.75
Copper/Copper
7.25±0.25
11.0±0.3
Ⅰ
0.110
SYV50-7-4
1/0.75
Copper/—
7.25±0.25
10.3±0.3
Ⅰ
0.620
SYV50-7-6
7/0.75
Silvered Copper/Copper
7.25±0.25
11.0±0.3
Ⅰ
0.620
SYV50-7-41
7/0.75
Copper/Copper
7.25±0.25
11.0±0.3
Ⅱ
0.110
SYV50-9-41
7/0.95
Copper/—
9.00±0.30
12.2±0.4
Ⅱ
0.095
Note:Single inner conductor dimensions are approximate and sheath materials I is -40 ℃ non- polluting PVC, II represents -40 ℃ common type PVC
Solid RF coaxial cable Show