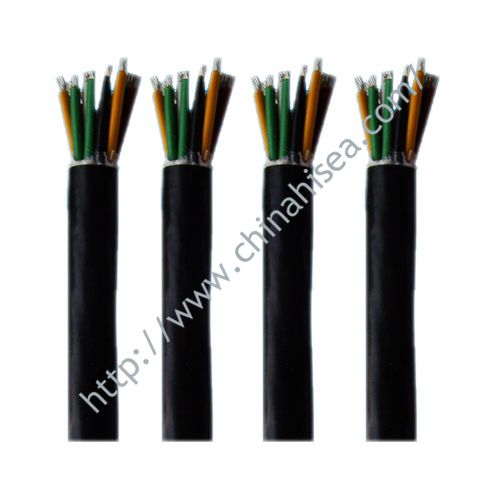 Submersible Pump Cable
Submersible Pump Cable
Submersible Pump Cable Application
This cable is suitable for various types lead wire of submersible motor (lead from underwater to above-water). This product can be equipped with waterproof joint (it can be supplied completely as request). The features of lead wire produced by this company are convenient in use, good waterproof property. Even if exist in external damage, it can also guarantee the motor is not suffered from damage caused by water. It is a new type waterproof cable.
Submersible Pump Cable Rated Voltage
450/750V
If you feel this is not what you are looking for,please kindly check more special cable here,also you can check more cable here,or you can use the search form on the upper right corner.
Submersible Pump Cable Specification
Tpye

Specification
mm²

Insulation
Thickness
mm²

Sheath
Thickness
mm²

Outer diametre of cable
mm

Max.D.C.resistance of conductor at 20℃
Ω/km

YVC

2×0.75

0.8

1.3

8

26

YVC

3×0.75

0.8

1.4

8.6

26

YVC

4×0.75

0.8

1.6

9.8

26

YVC

5×0.75

0.8

1.8

11.0

26

YVC

7×0.75

0.8

2.0

12.2

26

YVC

2×1.0

0.75

1.4

8.3

19.5

YVC

3×1.0

0.75

1.5

9.0

19.5

YVC

4×1.0

0.75

1.7

10.0

19.5

YVC

5×1.0

0.75

1.9

11.3

19.5

YVC

7×1.0

0.75

2.0

12.3

19.5

YVC

2×1.5

0.7

1.3

8.5

13.3

YVC

3×1.5

0.7

1.4

9.2

13.3

YVC

4×1.5

0.7

1.7

10.6

13.3

YVC

5×1.5

0.7

2.1

12.2

13.3

YVC

7×1.5

0.7

2.5

14

13.3

YVC

2×2.5

0.8

2.0

11.3

7.98

YVC

3×2.5

0.8

2.1

12.1

7.98

YVC

4×2.5

0.8

2.3

13.5

7.98

YVC

5×2.5

0.8

2.5

15.0

7.98

YVC

7×2.5

0.8

2.7

16.4

7.98

YVC

3×6+1×4

1/1

2.2

15.2

3.3

YVC

3×10+1×6

1.2/1

3

19.4

1.91

YVC

3×16+1×6

1.2/1

3.5

22.3

1.21

YVC

3×25+1×10

1.4/1.2

4

27.3

0.78

YVC

3×35+1×10

1.4/1.2

4

29.6

0.554

YVC

3×50+1×16

1.6/1.2

5

35.4

0.386

YVC

3×70+1×25

1.6/1.4

5

39.6

0.272

YVC

3×95+1×35

1.8/1.4

5

43.8

0.206
Submersible Pump Cable Show