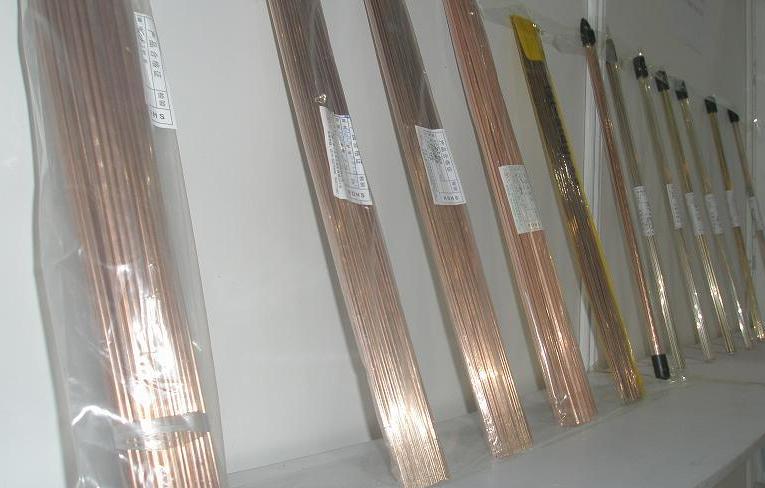 Surfacing welding rod
Surfacing welding is to weld a layer of wear-resisting, corrosion resistant, heat resistant properties of the metal layer of welding technologyon the surface of the workpiece or edge , . o repair and improve the service life of parts, the reasonable use of material, improve product performance and reduce the cost has remarkable economic benefits.
Overlaying welding work and working conditions are very complicated, it is overlaied according to the different requirements for selecting a suitable electrode. Different workpiece and surfacing electrode will use a different welding technology, to obtain satisfactory surfacing welding effect.
Surfacing Electrode
| | | | | | | |
| --- | --- | --- | --- | --- | --- | --- |
| Model | GB | Coating | Welding current | deposited metal | HR | Usage |
| D102 | EDPMn2-03 | Low hydrogen | ac/dc | 1Mn3 | HB≥220 | Surfacing welding on low hardness under normal temperature |
| D106 | EDPMn2-16 | Low hydrogen | ac/dc | 1Mn3 | HB≥220 | Surfacing welding on low hardness under normal temperature |
| D107 | EDPMn2-15 | Low hydrogen | DCEP | 1Mn3 | HB≥220 | Surfacing welding on low hardness under normal temperature |
| D112 | EDPCrMo-Al-03 | Titanium calcium | ac/dc | 2Cr1.5Mo | HB≥220 | Surfacing welding on low hardness under normal temperature |
| D126 | EDPMn4-16 | Low hydrogen | ac/dc | 2Mn4Si | HRC≥28 | In the normal temperature hardness surfacing |
| D127 | EDPMn4-15 | Low hydrogen | DCEP | 2Mn4Si | HRC≥28 | In the normal temperature hardness surfacing |
| D132 | EDPCrMo-A2-03 | Titanium calcium | ac/dc | 4Cr2Mo | HRC≥30 | In the normal temperature hardness surfacing |
| D167 | EDPMn6-15 | Low hydrogen | DCEP | 4Mn4Si | HRC≥50 | in the normal temperature,High hardness surfacing |
| D172 | EDPCrMo-A3-03 | Titanium calcium | ac/dc | 4Cr2Mo | HRC≥40 | in the normal temperature,High hardness surfacing |
| D207 | EDPCrMnSi-A1-15 | Low hydrogen | DCEP | 7Mn2Cr3Si | HRC≥50 | in the normal temperature,High hardness surfacing |
| D212 | EDPCrMo-A4-03 | Titanium calcium | ac/dc | 5Cr2Mo2 | HRC≥50 | in the normal temperature,High hardness surfacing |
| D217A | EDPCrMo-A3-15 | Low hydrogen | DCEP | 4Cr2Mo2 | HRC≥40 | in the normal temperature,High hardness surfacing |
| D227 | EDPCrMoV-A2-15 | Low hydrogen | DCEP | | HRC≥55 | Under impact load for a certain amount of wear parts of surfacing, such as machine disc cutter by the grinding surface |
| D237 | EDPCrMoV-A1-15 | Low hydrogen | DCEP | | HRC≥50 | Welding by sediment wear and corrosion damage of hydraulic machinery, scoop, mining machinery parts, etc |
| | | | | | | |
| --- | --- | --- | --- | --- | --- | --- |
| D256 | EDMn-A-16 | Low hydrogen | AC and DC | Mn13 | HB≥170 | High manganese steel surfacing |
| D266 | EDMn-B-16 | Low hydrogen | AC and DC | Mn13Mo2 | HB≥170 | Used for surfacing welding on parts of all kinds of crushers, high-manganese steel rails, buckets, bulldozers, |
| D276 | EDCrMn-B-16 | Low hydrogen | AC and DC | 2Mn13Cr13 | HB≥210 | Suitable for surfacing welding on parts of water turbines worn-out by atmospheric corrosion, |
| D277 | EDCrMn-B-15 | Low hydrogen | DCEP | 2Mn13Cr13 | HB≥210 | Suitable for surfacing welding on parts of water turbines worn-out by atmospheric corrosion,. |
| D286A | | Low hydrogen | AC and DC | Mn14Mo2 | HB≥370 | Suitable for surfacing welding on high-manganese steel. It is specially used for surfacing welding and repairing of high-manganese rails and switches, and also used for surfacing welding on impacted and worn-out parts of all kinds of crushers, bulldozers, etc. |
| D286B | | Low hydrogen | AC and DC | Mn14Ni3 | HB≥270 | Suitable for surfacing welding on high-manganese steel. It is specially used for surfacing welding and repairing of high-manganese rails and switches, and also used for surfacing welding on impacted and worn-out parts of all kinds of crushers, bulldozers |
| D307 | EDD-D-15 | Low hydrogen | DCEP | C1Cr4W18V1 | HB≥50 | Current:Able to be used for surfacing welding on cutter blanks made of medium-carbon steel (such as 45 and 45Mn steel) to make blades so as to be used as substitute solid high speed steel, and also used for surfacing welding and repairing of worn-out cutters and |
| D317 | EDRCrMoWV-A3-15 | Low hydrogen | DCEP | C1Cr3Mo4W5V2 | HRC≥50 | Current:Used for surfacing welding on all kinds of cold-punching dies and cutting tools, and also used for repairing machinery elements requiring higher wear-resistance. |
| D322 | EDRCrMoWV-A1-03 | Titanium calcium | AC DC | 5Cr5W9Mo2V | HRC≥55 | Current:Used for surfacing welding on all kinds of cold-punching dies and cutting tools, and also used for repairing machinery elements requiring higher wear-resistance. |
| D327 | EDRCrMoWV-A1-15 | Low hydrogen | DCEP | 5Cr5W9Mo2V | HRC≥55 | Current:Used for surfacing welding on cast steel or forged steel to make forging dies, and also used for repairing forging dies. |
| D337 | EDRCrW-15 | Low hydrogen | DCEP | 3Cr2W8 | HRC≥48 | Current:Used for surfacing welding on cast steel or forged steel to make forging dies, and also used for repairing forging dies. |
| D397 | EDRCrMnMo-15 | Low hydrogen | AC DC | 5CrMnMo | HRC≥40 | Current:Used for surfacing welding on cast steel or forged steel to make hot forging dies for blanks, and also used for repairing old forging dies made of 5CrMnMo, 5CrNiMo and 5CrNiSiW or surfacing welding on high strength wear-resistant parts. |
| D502 | EDCr-A1-03 | Titanium calcium | AC DC | 1Cr13 | HRC≥40 | Used for surfacing welding on sealing faces of medium temperature |
| D507 | EDCr-A1-15 | Low hydrogen | DCEP | 1Cr13 | HRC≥40 | Used for surfacing welding on sealing faces of medium temperature |
| D507Mo | EDCr-A2-15 | Low hydrogen | DCEP | 1Cr13 | HRC≥37 | Current:This is a kind of universal electrode used for surface overlaying, used for surfacing welding on axles, valves, et. Made of carbon steel or alloy steel below450℃. |
D507MoNb

EDCr-A1-15

Low hydrogen

DCEP

1Cr13MoNb

HRC≥37

Used for surfacing welding on sealing faces of medium and low pressure valves below450℃.

D512

EDCr-B-03

Low hydrogen

DCEP

2Cr13

HRC≥45

D512 is a kind of universal electrode used for surface overlaying. The surfacing layer is harder, more wear-resistant and more intractable than D502. Used for surfacing carbon steel or low-alloy steel axles, valves for overheated steam, blades of mixers,

D516MA

EDCrMn-A-16

Low hydrogen

AC and DC

2Cr13

HRC38-48

Used for surfacing welding on parts working in water, steam and petroleum below450℃, such as cast steel 25 and sealing faces of high and medium pressure valves.

D517

EDCr-B-15

Low hydrogen

DCEP

2Cr13

HRC≥45

D517 is a kind of universal electrode used for surface overlaying. The surfacing layer is harder, more wear-resistant and more intractable than D502. Used for surfacing carbon steel or low-alloy steel axles, valves for overheated steam, blades of mixers,

D547

EDCrNi-A-15

Low hydrogen

DCEP

2Cr13

HB270-320

D547Mo

EDCrNi-B-15

Low hydrogen

DCEP

1Cr20N10Si5Mo

HRC≥37

Used for surfacing welding on sealing faces of high pressure valves below600℃.

D557

EDCrNi-C-15

Low hydrogen

DCEP

1Cr18Ni8Si7

HRC≥37

Current:Used for surfacing welding on sealing faces of medium temperature high pressure valves below510℃. When welding gate valves, its service life will be longer if used together with D507Mo.

D577

EDCrMn-C-15

Low hydrogen

DCEP

10Cr14Mn14

HRC≥28


Current:Used for surfacing welding on sealing faces of medium temperature high pressure valves below510℃. When welding gate valves, its service life will be longer if used together with D507Mo.

D608

EDZ-A1-08

graphite mould

AC and DC

C4Cr3Mo3

HRC≥55

Used for welding parts of agricultural machinery, mining equipment, etc. which receive grit wear and slight impact.
Main Applications:

D628

graphite mould

AC and DC

C3Cr20Mo4

HRC≥60

Used for surfacing welding on wear-resistant surfaces, which receive slight impact loads but have excellent abrasive wear-resistance, such as hammerheads of impact coal mills, strike plates of fan coal mills, etc.

D667

EDZCr-C-15

Low hydrogen

DCEP

C3Cr30Ni4

HRC≥48

Used for surfacing welding on occasions requiring intense wear-resistance, corrosion-resistance and atmospheric corrosion-resistance, such as axle bushes of centrifugal cracking pumps in petroleum industry, parts of mining crushers, valve bonnets on diese

D687

EDZCr-D-15

Low hydrogen

DCEP

HRC≥58

D707

EDW-A-15

Low hydrogen

DCEP

C2W45MnSi4

HRC≥60