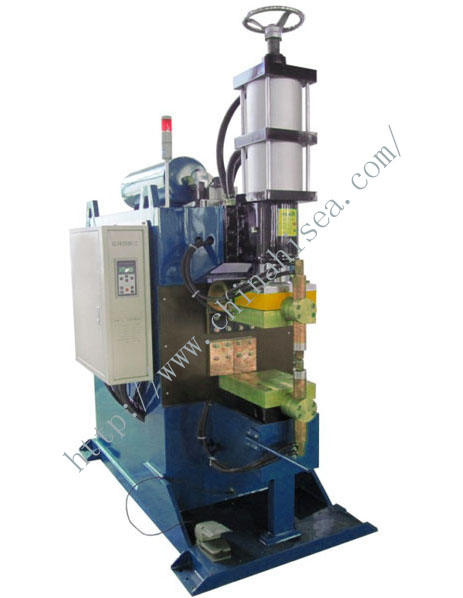 Three-phase secondary rectifier spot welder
Three-phase secondary rectifier spot welding machine:
By using high-power silicon diode groups rectifiern in the secondary of transformer, AC turns into DC.

Used for mterial:Low carbon steel, coated steel, stainless steel, heat-resistant alloy, copper, aluminum and its alloy outside, titanium, niobium, zirconium and rare metal and multi-layer steel plate,
Applied to industries: automotive, aviation, aerospace, nuclear, and radio, etc.
Advantage:
1. DC circuit makes small inductive reactance, thus power factor is highter than mchine of AC.
2. Dc heating anoids heat loss cause by the electric amplitude, and splash by large peak current,so input capacity is smaller at same thickness.
3. No electromagnetic force betwen two electrode arm, electrode pressure is stable.
4. 3 phasse input power does not affect the balance of power grid.
Reference data:
Model

parameters

HSDZ-75

HSDZ-100

HSDZ-150

HSDZ-200

parameters /KVA

75

100

150

200

lod rate /%

50

50

50

50

power

380V/50HZ/2

380V/50HZ/2

380V/50HZ/2

380V/50HZ/2

Secondary no-load voltage /V

7

8.6

11.8

14

max shot circuit current /KA

22

30

35

40

arm extension /mm

380

380

410

410

Electrode working stroke /mm

80

80

80

80

Rated electrode pressure /N

7300

7300

12000

18000

bleed pressure /MPa

0.6

0.6

0.6

0.6

cooling water flow / 1/h

8L/min

15L/min

25L/min

25L/min

cooling water pressure MPa

0.15-0.3

0.15-0.3

0.15-0.3

0.15-0.3

Maxi welding ability /mm

mild steel

4.0+4.0

4.5+4.5

5.0+5.0

4.5+4.5

aluminum

1.0+1.0

1.5+1.5

2.0+2.0

2.5+2