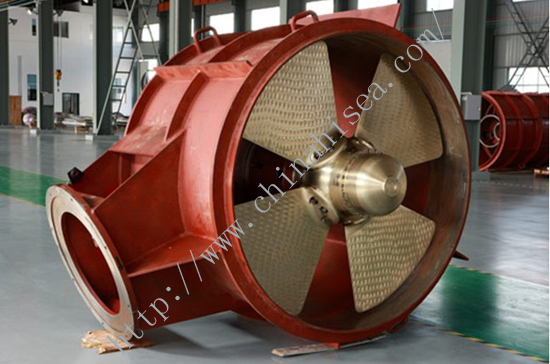 Tunnel Bow Thruster
Tunnel Bow Thruster:
Bow thrusters usually have one or more tunnels built into the bow, below the waterline in order to improve manoeuvrability. Depending on the type of vessel, the range of application for bow thrusters extends from brief docking and casting-off in ports with a limited number of operating hours every year up to continuous operation under extreme load conditions in demanding offshore applications with dynamic positioning. Allow the ship to dock without the assistance of tugboats, saving the costs of such service.
Working: The power which is transfered by the motor via coupling and reduction gearbox is generated the thrust by the propulsion setting of FP tunnel thruster, meanwhile, change the pitch angle by the instruction frequency control system. Then,change the size and direction of the thrust. When it at slow or none speed, bow thruster predigest the operation of vessel.Even when it at high speed , bow thruster still can sufficient assistant propulsion
Hi-sea Group supply power from 50KW---1000KW bow thruster .Quality management and product strict according to IACS requirement. ABS,BV,LR,RINA,CCS etc certificate supply
Mechanical part we fabricate ourself.Electric device brands can custom.
| | | |
| --- | --- | --- |
| No. | Part Description | Material |
| 1 | Blade, Hub | Nickel-aluminum bronze. Meet classification rules. |
| 2 | Drive Shaft, Gear | High class alloy steel. Tooth surface is hardened. Meet classification rules. |
| 3 | Propeller Shaft | High class alloy steel. Meet classification rules. |
| 4 | Gear Box | Cast iron. Meet classification rules. |
| 5 | Tunnel | Class B steel plate. Meet classification rules. |
| 6 | Propeller Shaft Seal, O Ring | NBR |
| 7 | Hand pump,gravity tank,coupling | standard |
| Optional | | |
| 8 | Motor brand | HengLi ,ABB,Siemens,Schneider |
| 9 | Frequency Inverter brand | Vacon, Danfoss,Siemens,Schneider |
| 10 | Central control box,control panel | Siemens electronic components |
Bow thruster power selection drawing: