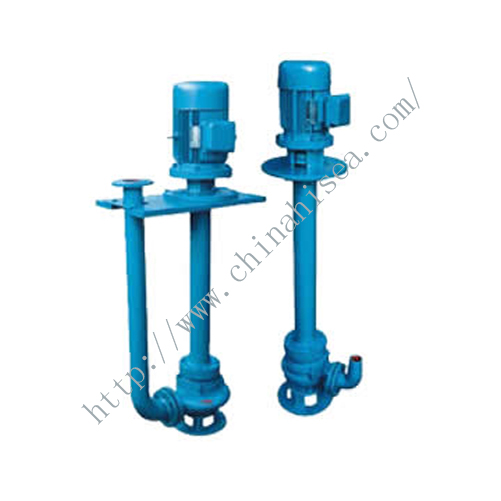 Under-water Sewage Pump
YW Under-water Sewage Pump:
Overview
The pump adopts unique single-blade or double blade round structure, which greatly enhanced the ability of dirt through the effective diameter 5 times of that of pump inlet or solid particle that diameter is 50% of that of pump inlet. Mechanical seal using a new type of tungsten carbide hard material, at the same time changed the seal to dual-sealed, so that to make it running long time in the oil interior, enable the security operation. It has Vertical structure, because the pump body is submerged in the liquid, it is easy to start, no exhaust problem. The depth can be 0.5 to 5 meters under the liquid.
Application
It uses the stainless steel material to transport the corrosion medium. The medium weight: 1~1.3kg/dm3. The medium temperature below70℃flux: 5-950m3/h, Outlet pressure5-45m, rotates speed 1450-2900r/min.
Feature
It is mainly used in petroleum, chemical industry, steel, paper making, and sugar making etc trades. It is also used to transport sewage, waste water, and city waste water with solid grain and corrosion liquid. It has the merits of compact structure, low noise, and effective energy-saving, convenient examine and repair
| | | | | | | | |
| --- | --- | --- | --- | --- | --- | --- | --- |
| No. | Typ | Diameter(mm) | Capacity(m3/h) | Head(m) | Speed (r/min) | Power (kw) | Efficiency (%) |
| 1 | 25YW8-22-1.1 | 25 | 8 | 22 | 2825 | 1.1 | 38.1 |
| 2 | 32YW12-15-1.1 | 32 | 12 | 15 | 2825 | 1.1 | 40 |
| 3 | 40YW15-15-1.5 | 40 | 15 | 15 | 2840 | 1.5 | 45.1 |
| 4 | 40YW15-30-2.2 | 40 | 15 | 30 | 2840 | 2.2 | 18 |
| 5 | 50YW20-7-0.75 | 50 | 20 | 7 | 1390 | 0.75 | 54 |
| 6 | 50YW10-10-0.75 | 50 | 10 | 10 | 1390 | 0.75 | 56 |
| 7 | 50YW20-15-1.5 | 50 | 20 | 15 | 2840 | 1.5 | 55 |
| 8 | 50YW15-25-2.2 | 50 | 15 | 25 | 2840 | 2.2 | 56 |
| 9 | 50YW18-30-3 | 50 | 18 | 30 | 2880 | 3.0 | 58 |
| 10 | 50YW25-32-5.5 | 50 | 25 | 32 | 2900 | 5.5 | 53 |
| 11 | 50YW20-40-7.5 | 50 | 20 | 40 | 2900 | 7.5 | 55 |
| 12 | 65YW25-15-2.2 | 65 | 25 | 15 | 2840 | 2.2 | 52 |
| 13 | 65YW37-13-3 | 65 | 37 | 13 | 2880 | 3.0 | 55 |
| 14 | 65YW25-30-4 | 65 | 25 | 30 | 2890 | 4.0 | 58 |
| 15 | 65YW30-40-7.5 | 65 | 30 | 40 | 2900 | 7.5 | 56 |
| 16 | 65YW35-50-11 | 65 | 35 | 50 | 2930 | 11 | 60 |
| 17 | 65YW35-60-15 | 65 | 35 | 60 | 2930 | 15 | 63 |
| 18 | 80YW40-7-2.2 | 80 | 40 | 7 | 1420 | 2.2 | 52 |
| 19 | 80YW43-13-3 | 80 | 43 | 13 | 2880 | 3.0 | 50 |
| 20 | 80YW40-15-4 | 80 | 40 | 15 | 2890 | 4.0 | 57 |
| 21 | 80YW65-25-7.5 | 80 | 65 | 25 | 2900 | 7.5 | 56 |
| 22 | 100YW80-10-4 | 100 | 80 | 10 | 1440 | 4.0 | 62 |
| 23 | 100YW110-10-5.5 | 100 | 110 | 10 | 1440 | 5.5 | 66 |
| 24 | 100YW100-15-7.5 | 100 | 100 | 15 | 1440 | 7.5 | 67 |
| 25 | 100YW85-20-7.5 | 100 | 85 | 20 | 1400 | 7.5 | 68 |
| 26 | 100YW100-25-11 | 100 | 100 | 25 | 1460 | 11 | 65 |
| 27 | 100YW100-30-15 | 100 | 100 | 30 | 1470 | 15 | 66 |
| 28 | 100YW100-35-18.5 | 100 | 100 | 35 | 1460 | 18.5 | 65 |
| 29 | 125YW130-15-11 | 125 | 130 | 15 | 1460 | 11 | 62 |
| 30 | 125YW130-25-15 | 125 | 130 | 20 | 1440 | 15 | 63 |
| 31 | 150YW145-6-7.5 | 150 | 145 | 6 | 1470 | 7.5 | 63 |
| 32 | 150YW180-15-15 | 150 | 180 | 15 | 1470 | 15 | 65 |
| 33 | 150YW180-20-18.5 | 150 | 180 | 20 | 1470 | 18.5 | 75 |
| 34 | 150YW180-25-22 | 150 | 180 | 25 | 1470 | 22 | 76 |
| 35 | 150YW130-30-22 | 150 | 130 | 30 | 1470 | 22 | 75 |
| 36 | 150YW180-30-30 | 150 | 180 | 30 | 970 | 30 | 73 |
| 37 | 150YW200-30-37 | 150 | 200 | 30 | 970 | 37 | 70 |
| 38 | 200YW300-7-11 | 200 | 300 | 7 | 1470 | 11 | 73 |
| 39 | 200YW250-11-15 | 200 | 250 | 11 | 1470 | 15 | 74 |
| 40 | 200YW400-10-22 | 200 | 400 | 10 | 1470 | 22 | 76 |
| 41 | 200YW400-13-30 | 200 | 400 | 13 | 1470 | 30 | 73 |
| 42 | 200YW250-11-15 | 200 | 250 | 15 | 1470 | 18.5 | 72 |
| 43 | 200YW300-15-22 | 200 | 300 | 15 | 1470 | 22 | 73 |
| 44 | 200YW250-22-30 | 200 | 250 | 22 | 1470 | 30 | 71 |
| 45 | 200YW350-25-37 | 200 | 350 | 25 | 1470 | 37 | 75 |
| 46 | 200YW400-30-55 | 200 | 400 | 30 | 1480 | 55 | 70 |
| 47 | 250YW600-9-30 | 250 | 600 | 9 | 980 | 30 | 74 |
| 48 | 250YW600-12-37 | 250 | 600 | 12 | 1480 | 37 | 78 |
| 49 | 250YW600-15-45 | 250 | 600 | 15 | 1480 | 45 | 75 |
| 50 | 250YW600-20-55 | 250 | 600 | 20 | 1480 | 55 | 73 |
| 51 | 250YW600-25-75 | 250 | 600 | 25 | 1480 | 75 | 73 |
| 52 | 300YW800-12-45 | 300 | 800 | 12 | 1480 | 45 | 76 |
| 53 | 300YW500-15-45 | 300 | 500 | 15 | 980 | 45 | 70 |
| 54 | 300YW800-15-55 | 300 | 800 | 15 | 980 | 55 | 73 |
| 55 | 300YW600-20-55 | 300 | 600 | 20 | 980 | 55 | 75 |
| 56 | 300YW800-20-75 | 300 | 800 | 20 | 980 | 75 | 78 |
| 57 | 300YW950-20-90 | 300 | 950 | 20 | 980 | 90 | 80 |
| 58 | 300YW1000-25-110 | 300 | 1000 | 25 | 980 | 110 | 82 |
| 59 | 300YW1100-10-55 | 300 | 1100 | 10 | 980 | 55 | 84.5 |
| 60 | 350YW1500-15-90 | 350 | 1500 | 15 | 980 | 90 | 83.1 |
| 61 | 350YW1200-18-90 | 350 | 1200 | 18 | 980 | 90 | 83.2 |
| 62 | 350YW1100-28-132 | 350 | 1100 | 28 | 740 | 132 | 78.5 |
| 63 | 350YW1000-36-160 | 350 | 1000 | 36 | 740 | 160 | 82.1 |