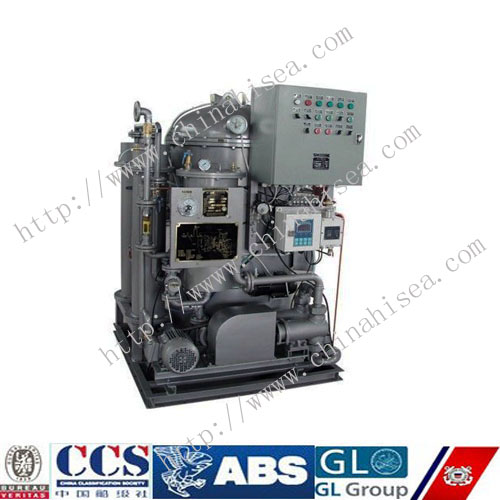 1.5m3/h Bilge Water Separator
1. Protecting the ecosystem of the oceans, ship owners' best choice, the YWC series Bilge Water Separator.
Water is the source of all life on our planet. If the balance of the extremely sensitive ecosystem of the oceans is exposed to any danger, all other ecosystems are also in great danger. This asset, which cannot be reproduced, accordingly requires the most effective protection that modern technology can offer. For this purpose, the International Maritime Organisation (IMO) and national legislative authorities have issued strict laws and directives involving fines running into eight digits in the event of failure to comply even in minor cases.
These justified regulations mean that ship owners have to cope with considerable costs and risks that cannot be managed cost-effectively with conventional separating systems. The YWC series Bilge Water Separator secure the oceans' sensitive ecosystems extremely effectively and also provide protection for the value of the ship owner's investment.
The main benefits of the separator are the high separating efficiency, continuous unmanned operation combined with pronounced service friendliness and, of course, the significantly reduced disposal costs associated with the method.
The separator meets the prevailing statutory regulations of the IMO with a residual oil content of much less than 15 ppm. The series separator has been awarded type approval according to the IMO Resolution MEPC 107(49).
2. There is one high quality Bilge Water Separator for 10-30KDWT ships, 1.5m3/hr capacity.
Model

YWC-1.5

Technical Specifications

1.5

Rated capacity(m3/h)

1.5

Oil content of the discharged water

≤15ppm

Power of the electric heater(kw)

6kw

Electrical System

380V/50Hz/φ, 415V/50Hz/3φ, 440V/60Hz/3φ, 480V/60HZ/3φ, etc.

Power of the electric motor

1.1kw

Suction head

≤6m-H2O

Pressure of the discharged water

5-10m-H2O

Outline Dimension(L*W*H)(mm)

1100*1130*1650

Base

6#

Weight (kg)

Dry Weight

1060

Wet Weight

1650
3. Sure, we also have many other models for any capacity ships.
Model

YWC-

Technical Specifications

0.25

0.5

1

1.5

2

2.5

3

4

5

Rated capacity(m3/h)

0.25

0.5

1

1.5

2

2.5

3

4

5

Oil content of the discharged water

≯15ppm

Power of the electric heater(kw)

1kw

3kw

6

6

6

6

6

12

12

Electrical System

AC 380V/50Hz/3φ, AC 415V/50Hz/3φ, AC 440/60Hz/3φ, AC 480V/60HZ/3φ, etc.

Power of the electric motor

0.37kw

0.55kw

0.75kw

1.1kw

1.1kw

1.5kw

1.5kw

2.2kw

2.2kw

Suction head

≯6m-H2O

Pressure of the discharged water

5-10m-H2O

Outline Dimension(L*W*H)(mm)

1000*600

*1250

1100*690

*1460

1050*1000

*1620

1100*1130

*1650

1900*1120

*1700

1900*1120

*1900

1700*1500

*1900

2280*1700

*1900

2590*2000

*1900

Base

5#

6#

6#

6#

8#

8#

8#

10#

10#

Weight

Dry Weight

400

600

800

1060

1260

1500

1800

2100

2500

Wet Weight

550

900

1200

1650

2260

2800

3200

3900

4600

Applicable Vessel (KDWT)

<1

1-5

5-10

10-30

30-50

50-100

100-200

100-300

>300
4. Bilge Water Separator Exhibition hall: