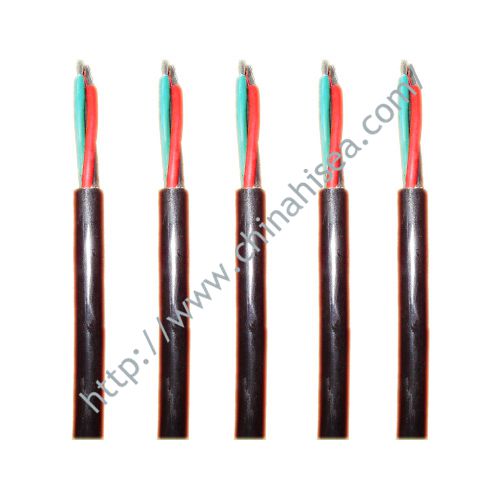 Field Cold Resistant Power Cable
Field Cold Resistant Power Cable
Field Cold Resistant Power Cable Application
This product is suitable formobile electric Equipment as power connection that rated voltage A.C 500V or D.C 1000V and Below.
Field Cold Resistant Power Cable Service Condition
Work temperature: Long term working temperature not exceed 65℃ while ambient temperature between -50℃and 50℃.
Sheath mateiral should be cold resistant rubber
If you feel this is not what you are looking for,please kindly check more special cable here,also you can check more cable here,or you can use the search form on the upper right corner.
Field Cold Resistant Power Cable Model
Model
Electric voltage graade (V)
Nominal cross sectional area(mm2)
Core number
YHD
500
1、1.5、2.5、4、6
2-8
10、16、25
2-4
Field Cold Resistant Power Cable specification
Core number×conductor nominal cross sectional area(mm2)
Outside path of
electric cable(mm)
Electric cable weight(mm)
Core number×conductor nominal cross sectional area(mm2)
Outside path of
electric cable(mm)
Electric cable weight(kg/km)
2×1.0
9.6
92
3×6
16.9
382
2×1.5
10.2
109
3×10
22.3
684
2×2.5
11.7
1148
3×16
25.3
914
2×4
12.8
187
3×25
30.9
1406
2×6
16.0
294
4×1.0
11.0
144
2×10
20.2
487
4×1.5
11.7
174
2×16
24.0
693
4×2.5
15.5
303
2×25
29.2
1065
4×4
16.8
381
3×1.0
10.1
117
4×6
19.3
513
3×1.5
10.8
141
4×10
24.1
850
3×2.5
12.4
195
4×16
29.5
1262
3×4
15.5
308
4×25
30.5
1763
Field Cold Resistant Power Cable show