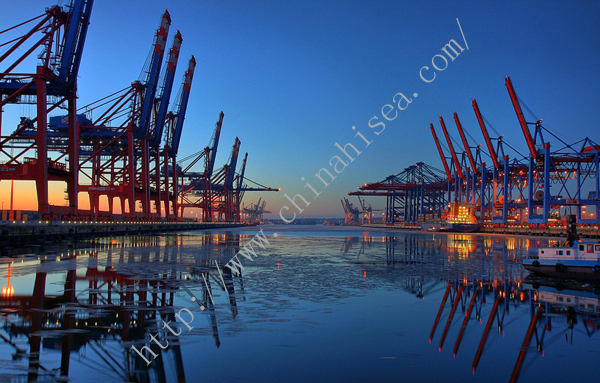 Harbor Load and Unload Crane Steel Wire Rope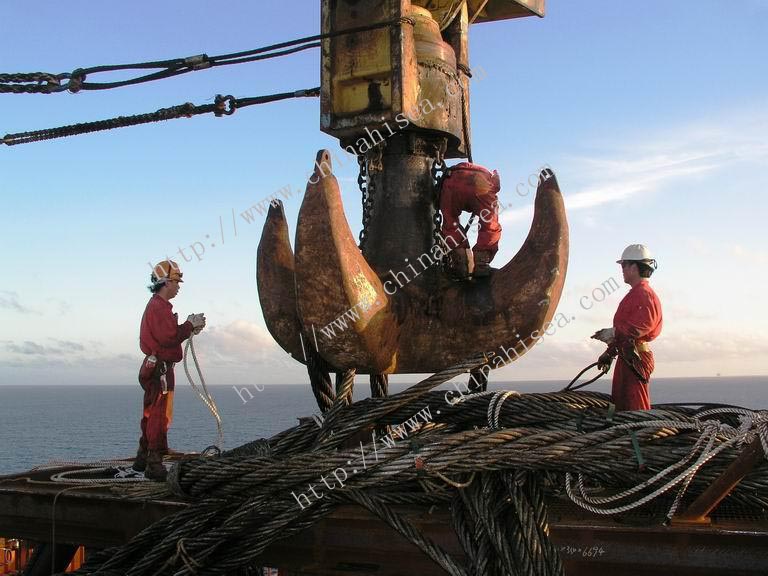 Introduction: Harbor Load and Unload Crane Steel Wire Rope is used for cranes for load and unload in harbors. Crane Steel Wire Rope is the pivotal part in every type of crane lifting work. Steel Wire Rope probably is the most frequently replace part of the lifting Equipment, but it is a critical component. There are several tips of choosing crane steel wire rope as following.
1) The crane steel wire rope is made of high strength steel drawn into filaments. The tensile strength from 1400 MPa to 2000 MPa, use high tensile strength wire rope can choose small rope diameter, then the pulley sheave and winch diameter. But the more higher tensile strength, the worse fatigue resistance will be.
2) Single strand crane steel wire rope has smooth surface and high steel-degree. It can be used as fixed cable. When the surface of wire rope using special Z-shape cross section wire, it will be quite smooth and this steel wire rope can be used as load bearing cable, which the trolley can run on.
3) The Steel Wire Rope for Crane with lifting pulley blocks, usually choose multi-strands, such as 6 strands and 8 strands.
4) Considering the wire rope diameter and lay direction, the linear contact lay has excellent quality and long life.
5) When the crane steel wire rope has to be worked in moisture or acid gas environment, galvanized steel wire rope is recommended, and stainless steel wire rope.
6) The breaking form of crane steel wire rope is worn or fatigue broken of wire. When the breaking or worn of a certain lay unit of wire exceeds the specified degree, the steel wire rope should be replaced.
Recommended Structure for Harbor Load and Unload Crane Steel Wire Rope
1) Multilayer Rotation Resistant Steel Wire Rope 18x7+FC 18x7+IWS 18x19+FC 18x19S 18x19W 34x7 18x49+IWS 35W*7 24Wx7
2) Linear Contact Lay Steel Wire Rope 6*29Fi+FC 6*29Fi+IWR
3) 4 strand Shell Type Rotation Resistant Wire Rope 4Vx39S 4Vx48s
Multilayer Rotation Resistant Crane Steel Wire Rope18x7+FC 18x7+IWS 18x19+FC 18x19W+FC 18x19W+IWS 18x19S+FC 18x19S+IWS 18x19+FC/IWS







Nominal Diameter

(mm)




Approx. Weight (kg/100m)

Nominal Tensile Strength of Rope (MPa)

1570

1670

1770

1870

1960

2160

Minimum Breaking Load of Rope (KN)

FC

IWR

FC

IWR

FC

IWR

FC

IWR

FC

IWR

FC

IWR

FC

IWR

6

14.0

15.5

17.5

18.5

18.6

19.7

19.8

20.9

20.9

22.1

21.9

23.1

24.1

25.5

7

19.1

21.1

23.8

25.2

25.1

26.8

26.9

28.4

28.4

30.1

29.8

31.5

32.8

34.7

8

25.0

27.5

31.1

33.0

33.1

35.1

35.1

37.2

37.1

39.3

38.9

41.1

42.9

45.3

9

31.6

34.8

39.4

41.7

41.9

44.4

44.4

47.0

47.0

49.7

49.2

52.1

54.2

57.4

10

39.0

43.0

48.7

51.5

51.8

54.8

54.9

58.1

58.0

61.3

60.8

64.3

67.0

70.8

11

47.2

52.0

58.9

62.3

62.6

66.3

66.4

70.2

70.1

74.2

73.5

77.8

81.0

85.7

12

56.2

61.9

70.1

74.2

74.5

78.9

79.0

83.6

83.5

88.3

87.5

92.6

96.4

102

13

65.9

72.7

82.3

87.0

87.5

92.6

92.7

98.1

98.0

104

103

109

113

120

14

76.4

84.3

95.4

101

101

107

108

114

114

120

119

126

131

139

16

99.8

110

125

132

133

140

140

149

148

157

156

165

171

181

18

126

139

158

167

168

177

178

188

188

199

197

208

217

230

20

156

172

195

206

207

219

219

232

232

245

243

257

268

283

22

189

208

236

249

251

265

266

281

281

297

294

311

324

343

24

225

248

280

297

298

316

316

334

334

353

350

370

386

408

26

264

291

329

348

350

370

371

392

392

415

411

435

453

479

28

306

337

382

404

406

429

430

455

454

481

476

504

525

555

30

351

387

438

463

466

493

494

523

522

552

547

579

603

638

32

399

440

498

527

530

561

562

594

594

628

622

658

686

725

34

451

497

563

595

598

633

634

671

670

709

702

743

774

819

36

505

557

631

667

671

710

711

752

751

795

787

833

868

918

38

563

621

703

744

748

791

792

838

837

886

877

928

967

1020

40

624

688

779

824

828

876

878

929

928

981

972

1030

1070

1130

42

688

759

859

908

913

966

968

1020

1020

1080

1070

1130

1180

1250

44

755

832

942

997

1000

1060

1060

1120

1120

1190

1180

1240

1300

1370

46

825

910

1030

1090

1100

1160

1160

1230

1230

1300

1290

1360

1420

1500

48

899

991

1120

1190

1190

1260

1260

1340

1340

1410

1400

1480

1540

1630

50

975

1080

1220

1290

1290

1370

1370

1450

1450

1530

1520

1610

1670

1770

52

1050

1160

1320

1390

1400

1480

1480

1570

1570

1660

1640

1740

1810

1920

54

1140

1250

1420

1500

1540

1600

1600

1690

1690

1790

1770

1870

1950

2070

56

1220

1350

1530

1610

1620

1720

1720

1820

1820

1920

1910

2020

2100

2220

58

1310

1450

1640

1730

1740

1840

1850

1950

1950

2060

2040

2160

2250

2380

60

1400

1550

1750

1850

1860

1970

1980

2090

2090

2210

2190

2310

2410

2550
Multilayer Rotation Resistant Crane Steel Wire Rope 34x7+FC 34x7+IWS 36x7+FC 36x7+IWS




Nominal Diameter

(mm)




Approx. Weight (kg/100m)

Nominal Tensile Strength of Rope (MPa)

1570

1670

1770

1870

1960

Minimum Breaking Load of Rope (KN)

FC

WC

FC

WC

FC

WC

FC

WC

FC

WC

FC

WC

16

99.8

110

124

128

132

136

140

144

147

152

155

160

18

126

139

157

162

167

172

177

182

187

193

196

202

20

156

172

193

200

206

212

218

225

230

238

241

249

22

189

208

234

242

249

257

264

272

279

288

292

302

24

225

248

279

288

296

306

314

324

332

343

348

359

26

264

291

327

337

348

359

369

380

389

402

408

421

28

306

337

379

391

403

416

427

441

452

466

473

489

30

351

387

435

449

463

478

491

507

518

535

543

561

32

399

440

495

511

527

544

558

576

590

609

618

638

34

451

497

559

577

595

614

630

651

666

687

698

721

36

505

557

627

647

667

688

707

729

746

771

782

808

38

563

621

698

721

743

767

787

813

832

859

872

900

40

624

688

774

799

823

850

872

901

922

951

966

997

42

688

759

853

881

907

937

962

993

1020

1050

1060

1100

44

755

832

936

967

996

1030

1060

1090

1120

1150

1170

1210

46

825

910

1020

1060

1090

1120

1150

1190

1220

1260

1280

1320

48

899

991

1110

1150

1190

1220

1260

1300

1330

1370

1390

1440

50

975

1080

1210

1250

1290

1330

1360

1410

1440

1490

1510

1560

52

1050

1160

1310

1350

1390

1440

1470

1520

1560

1610

1630

1690

54

1140

1250

1410

1460

1500

1550

1590

1640

1680

1730

1760

1820

56

1220

1350

1520

1570

1610

1670

1710

1770

1810

1860

1890

1950

58

1310

1450

1630

1680

1730

1790

1830

1890

1940

2000

2030

2100

60

1400

1550

1740

1800

1850

1910

1960

2030

2070

2140

2170

2240
Shell Type 4 strand Rotation Resistant Crane Steel Wire Rope 4Vx39S 4Vx48s




Nominal Diameter (mm)




Approx. Weight (kg/100m)

Nominal Tensile Strength of Rope (MPa)

1570

1670

1770

1870

1960

2160

Minimum Breaking Load of Rope (KN)

8

26.2

36.2

38.5

40.8

43.1

45.2

49.8

10

41.0

56.5

60.1

63.7

67.3

70.6

77.8

12

59.0

81.4

86.6

91.8

96.9

102

112

14

80.4

111

118

125

132

138

152

16

105

145

154

163

172

181

199

18

133

183

195

206

218

229

252

20

164

226

240

255

269

282

311

22

198

274

291

308

326

342

376

24

236

326

346

367

388

406

448

26

277

382

406

431

455

477

526

28

321

443

471

500

528

553

610

30

369

509

541

573

606

635

700

32

420

579

616

652

689

723

796

34

474

653

695

737

778

816

899

36

531

732

779

826

872

914

1010

38

592

816

868

920

972

1020

1120

40

656

904

962

1020

1080

1130

1240

42

723

997

1060

1120

1190

1240

1370

44

794

1090

1160

1230

1300

1370

1510

46

868

1200

1270

1350

1420

1490

1650

48

945

1300

1390

1470

1550

1630

1790

50

1030

1410

1500

1590

1680

1760

1940
Linear Contact Lay Crane Steel Wire Rope 6*29Fi+FC 6*29Fi+IWR




Nominal Diameter

(mm)




Approx. Weight (kg/100m)

Nominal Tensile Strength of Rope (MPa)

1570

1670

1770

1870

1960

Minimum Breaking Load of Rope (KN)

FC

IWR

FC

IWR

FC

IWR

FC

IWR

FC

IWR

FC

IWR

8

24.3

26.8

33.2

35.8

35.3

38.0

37.4

40.6

39.5

42.6

41.4

44.7

9

30.8

33.9

42.0

45.3

44.6

48.2

47.3

51.0

50.0

53.9

52.4

56.5

10

38.0

41.8

51.8

55.9

55.1

59.5

58.4

63.0

61.7

66.6

64.7

69.8

11

46.0

50.6

62.7

67.6

66.7

71.9

70.7

76.2

74.7

80.6

78.3

84.4

12

54.7

60.2

74.6

80.5

79.4

85.6

84.1

90.7

88.9

95.9

93.1

100

14

74.5

81.9

102

110

108

117

114

124

121

130

127

137

16

97.3

107

133

143

141

152

150

161

158

170

166

179

18

123

135

168

181

179

193

189

204

200

216

210

226

20

152

167

207

224

220

238

234

252

247

266

259

279

22

184

202

251

271

267

288

283

305

299

322

313

338

24

219

241

298

322

317

342

336

363

355

383

373

402

26

257

283

350

378

373

402

395

426

417

450

437

472

28

298

328

406

438

432

466

458

494

484

522

507

547

30

342

376

466

503

496

535

526

567

555

599

582

628

32

389

428

531

572

564

609

598

645

632

682

662

715

34

439

483

599

646

637

687

675

728

713

770

748

807

36

492

542

671

724

714

770

757

817

800

863

838

904

38

549

604

748

807

796

858

843

910

891

961

934

1008

40

608

669

829

894

882

951

935

1010

987

1070

1030

1120

42

670

737

914

986

972

1050

1030

1110

1090

1170

1140

1230

44

736

809

1000

1080

1070

1150

1130

1220

1190

1290

1250

1350

46

804

884

1100

1180

1170

1260

1240

1330

1310

1410

1370

1480

48

876

963

1190

1290

1270

1370

1350

1450

1420

1530

1490

1610

50

950

1050

1300

1400

1380

1490

1460

1580

1540

1660

1620

1740

52

1030

1130

1400

1510

1490

1610

1580

1700

1670

1800

1750

1890

54

1110

1220

1510

1630

1610

1730

1700

1840

1800

1940

1890

2030

56

1190

1310

1620

1750

1730

1860

1830

1980

1940

2090

2030

2190

58

1280

1410

1740

1880

1850

2000

1960

2120

2080

2240

2180

2350

60

1370

1500

1870

2010

1980

2140

2100

2270

2220

2400

2330

2510

62

1460

1610

1990

2150

2120

2290

2250

2420

2370

2560

2490

2680

64

1560

1710

2120

2290

2260

2440

2390

2580

2530

2730

2650

2860

66

1660

1820

2260

2430

2400

2590

2540

2740

2690

2900

2820

3040

68

1760

1930

2400

2580

2550

2750

2700

2910

2850

3080

2990

3230

70

1860

2050

2540

2740

2700

2910

2860

3090

3020

3260

3170

3420

72

1970

2170

2690

2900

2860

3080

3030

3270

3200

3450

3350

3620

74

2080

2290

2840

3060

3020

3260

3200

3450

3380

3650

3540

3820

76

2190

2410

2990

3230

3180

3430

3370

3640

3560

3850

3740

4030

78

2310

2540

3150

3400

3350

3620

3550

3830

3750

4050

3940

4250

80

2430

2680

3320

3580

3530

3800

3740

4030

3950

4260

4140

4470

85

2750

3020

3740

4040

3980

4300

4220

4550

4460

4810

4670

5040

90

3080

3390

4200

4530

4460

4820

4730

5100

5000

5390

5240

5650

95

3430

3770

4680

5040

4970

5370

5270

5690

5570

6010

5840

6300

100

3800

4180

5180

5590

5510

5950

5840

6300

6170

6660

6470

6980

105

4190

4610

5710

6160

6080

6550

6440

6950

6800

7340

7130

7690

110

4600

5060

6270

6760

6670

7190

7070

7620

7470

8060

7830

8440

115

5030

5530

6850

7390

7290

7860

7720

8330

8160

8800

8550

9230

120

5470

6020

7460

8050

7940

8560

8410

9070

8890

9590

9310

10000
Multilayer Rotation Resistant Crane Steel Wire Rope 35W*7




Nominal Diameter (mm)

Approx. Weight (kg/100m)

Nominal Tensile Strength of Rope (MPa)

1570

1670

1770

1870

1960

2160

Minimum Breaking Load of Rope (KN)

6

16.6

20.3

21.6

22.9

24.2

25.4

28.0

8

29.4

36.2

38.5

40.8

43.1

45.2

49.8

10

46.0

56.5

60.1

63.7

67.3

70.6

77.8

12

66.2

81.4

86.6

91.8

96.9

102

112

14

90.2

111

118

125

132

138

152

16

118

145

154

163

172

181

199

18

149

183

195

206

218

229

252

20

184

226

240

255

269

282

311

22

223

274

291

308

326

342

376

24

265

326

346

367

388

406

448

26

311

382

406

431

455

477

526

28

361

443

471

500

528

553

610

30

414

509

541

573

606

635

700

32

471

579

616

652

689

723

796

34

532

653

695

737

778

816

899

36

596

732

779

826

872

914

1010

38

664

816

868

920

972

1020

1120

40

736

904

962

1020

1080

1130

1240

42

811

997

1060

1120

1190

1240

1370

44

891

1090

1160

1230

1300

1370

1510

46

973

1200

1270

1350

1420

1490

1650

48

1060

1300

1390

1470

1550

1630

1790

50

1150

1410

1500

1590

1680

1760

1940

52

1240

1530

1630

1720

1820

1910

2100

54

1340

1650

1750

1860

1960

2060

2270

56

1440

1770

1890

2000

2110

2210

2440

58

1550

1900

2020

2140

2260

2370

2620

60

1660

2030

2160

2290

2420

2540

2800