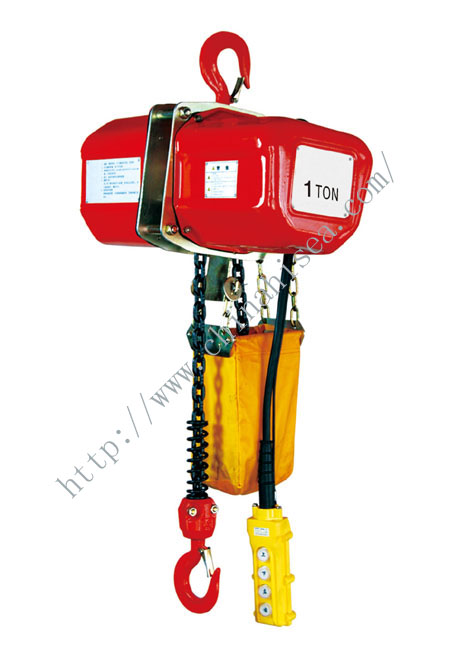 HHXG Type Electric Chain Hoist
HHXG Type Electric Chain Hoist
Product Name:
HHXG Type Electric Chain Hoist
Material:
Steel
Spec:
1.Highly effective, nature light electical machinery, non-asbestos brake systen, low energy consumption.
2. Flushes the compressed steel construction shell, is dexterous and firm.
3. The high strength safety hook, the withstanding accidental excess load will run out will not have the break, only will be distorts gradually.
4. Dexterous, artistic and durable models the system chain bag.
5. Limit switch: Hooks on hangs has the limit switch installment, cause the electrical machinery automatic stopping, instead preverits the chain link to wurpass, ensures the security.
6. Antiphase protective device: Special electric wire installment, when power-supply wiring mistake, the control circuit in unable the moment.
Parameters For HHXG Type Electric Chain Hoist:
Model
Capacity(t)
Standard Lift Hight(m)
Test Load(kn)
Moter Power(kw)
No. of falls of load chain(fall)
Load Chain Diameter(mm)
Lifting Speed(m/min)
Dimensions(mm)
Net Weight(kg)
A
B
C
D
K
Ф
F
J
P
L
HHXG-05A
0.5
3
6.3
0.8
1
7.1*21
5.8
150
112
250
245
27
45
85
17
14
550
46/52
HHXG-10A
1
3
12.5
1.1
1
7.1*21
4.3
150
112
250
245
30
50
105
26
15
590
46/52
HHXG-20A
2
3
25
1.1
2
7.1*21
2.15
173
90
250
245
38
65
136
36
22
770
60/68
HHXG-30A
3
3
37.5
1.1
3
7.1*21
1.43
186
77
250
245
56
70
164
45
30
775
68/76