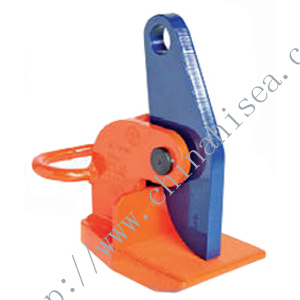 Horizontal Lifting Clamps: Jaw opening range 0 to 120mm
Horizontal Lifting Clamps: Jaw opening range 0 to 120mm
Product Name:
Horizontal Lifting Clamps: Jaw opening range 0 to 120mm
Material:
steel
Spec:
• Available in capacities of .75 thru 25 metric tons.
• Wide variety of jaw openings available: 0 to 120mm.
• Welded alloy steel body for strength and smaller size. Forged alloy
components, where required.
• Equipped with handle for easy placement.
• Individually Proof Tested to 2 times the Working Load Limit
with certification.
• Each product is individually serialized, with the serial number and Proof
Load test date stamped on body. Serial number is included on the test
certificate with maintenance and warranty logbook.
• Maintenance replacement parts are available.
• Manufactured by a ISO 9001 facility.
Application:
The IPH10E / IPH10JE horizontal lifting clamps are for use in the lifting and transfer in horizontal position of non-sagging materials or of bundles of non-sagging material.These clamps must be used in pairs or more.
Technical Drawing For Horizontal Lifting Clamps: Jaw opening range 0 to 120mm: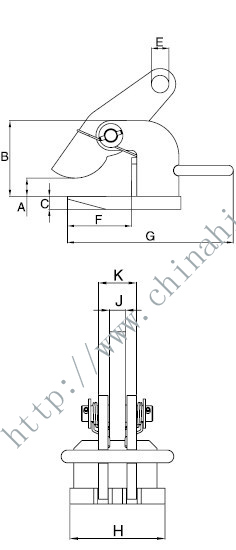 Parameters For Horizontal Lifting Clamps: Jaw opening range 0 to 60mm
Working Load Limit (Per Pair) (t)*
Dimensions
Model
IPHTONZ Stock No.
Weight Each (kg.)
(mm)
Jaw A
B
C
E
F
G
H
J
K
L
IPH10E
2
2703542
5.5
0 - 60
117
16
22
109
256
110
20
40
9
IPH10E
3
2703543
7.5
0 - 60
117
20
26
109
266
120
20
48
11
IPH10E
4.5
2703544
10.5
0 - 60
132
25
30
104
280
130
20
48
12
IPH10E
6
2703545
13
0 - 60
143
25
36
123
320
130
20
48
14
IPH10E
9
2703546
18.5
0 - 60
157
30
43
133
330
140
25
62
16
IPH10E
12
2703547
21.5
0 - 60
172
30
47
141
353
150
25
62
17
Parameters For Horizontal Lifting Clamps: Jaw opening range 60 to 120mm:
Working Load Limit (Per Pair) (t)*
Dimensions
IPH10JE Stock No.
Weight Each (kg.)
(mm)
Model
Jaw A
B
C
E
F
G
H
J
K
L
IPH10JE
3
2703553
9
60-120
177
20
26
109
266
120
20
48
11
IPH10JE
4.5
2703554
12
60-120
192
25
30
104
280
130
20
48
12
IPH10JE
6
2703555
15
60-120
203
25
36
123
320
130
20
48
14
IPH10JE
9
2703556
20.5
60-120
217
30
43
133
330
140
25
62
16
IPH10JE
12
2703557
24
60-120
232
30
47
141
353
150
25
62
17