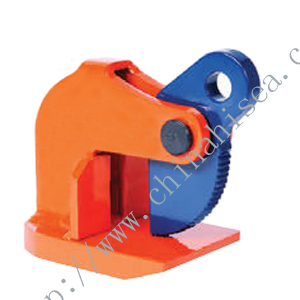 Horizontal Lifting Clamps Model IPHOZ:Jaw opening range 0 to 60mm
Horizontal Lifting Clamps Model IPHOZ:Jaw opening range 0 to 60mm
Product Name:
Horizontal Lifting Clamps Model IPHOZ:Jaw opening range 0 to 60mm
Material:
steel
Spec:
• Available in capacities of .75 thru 25 metric tons.
• Wide variety of jaw openings available: 0 to 120mm.
• Welded alloy steel body for strength and smaller size. Forged alloy
components, where required.
• Equipped with handle for easy placement.
• Individually Proof Tested to 2 times the Working Load Limit
with certification.
• Each product is individually serialized, with the serial number and Proof
Load test date stamped on body. Serial number is included on the test
certificate with maintenance and warranty logbook.
• Maintenance replacement parts are available.
• Manufactured by a ISO 9001 facility.
Application:
The IPHOZ horizontal lifting clamp is to be used for lifting and transferring, in the horizontal position, of thin sheet and other materials that will sag or bend when lifted.These clamps must be used in pairs or more.
Technical Drawing For Horizontal Lifting Clamps Model IPHOZ:Jaw opening range 0 to 60mm: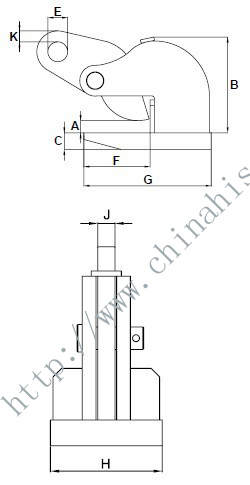 Parameters For Horizontal Lifting Clamps Model IPHOZ:Jaw opening range 0 to 60mm:
Working Load Limit (Per Pair) (t)*
Dimensions
Model
IPHOZ Stock No.
Weight Per Pair (kg.)
(mm)
Jaw A
B
C
E
F
G
H
J
K
IPHOZ
0.75
2705401
3
0 - 30
94
16
16
70
118
81
12
12
IPHOZ
1.5
2705402
5.5
0 - 45
133
16
22
125
192
100
16
12
IPHOZ
3
2705403
8
0 - 45
137
20
26
125
200
120
20
10
IPHOZ
4.5
2705404
8.5
0 - 45
138
25
30
126
220
120
20
10
With larger jaw opening
IPHOZ
6
2705405
15.5
0 - 60
171
30
36
135
235
130
20
20
IPHOZ
9
2705406
20.5
0 - 60
211
30
43
166
276
160
25
20
IPHOZ
12
2705407
38
0 - 60
217
40
47
168
294
190
25
19
IPHOZ
15
2705408
38
0 - 60
220
40
47
183
317
250
25
22
IPHOZ
25
2705199
86
0 - 2.38
169
40
47
170
300
220
32
22