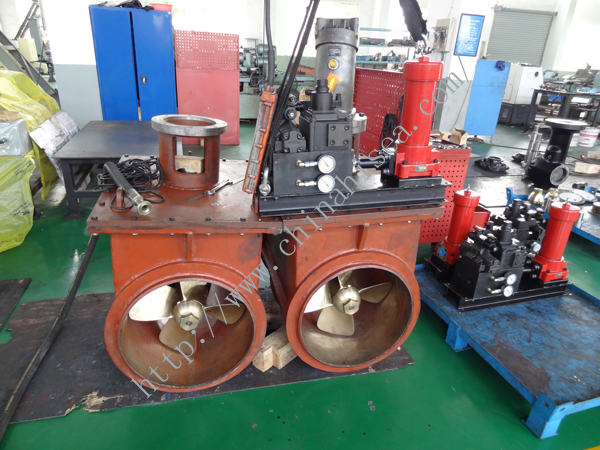 Hydraulic Bow Thruster
Hydraulic Bow Thruster:
Bow thruster use hydraulic motor control the speed.With hydraulic station.The speed is according to the flow rated.
Built in bow or stern through vessel hull, cylinder with propeller inside produce side thrust,at zero speed or low speed maneuvering of the ship.
Tunnel thruster is that the ship is sailing in a narrow channel, port of call or sailing turn, instead the traditional rudder equipment difficult to operate or can't operate, also used for ship operates in harsh environments. Such as: Water demining, laying cable.
| | | | | |
| --- | --- | --- | --- | --- |
| | Propeller diameter (mm) | Power (KW) | Max thrust (KN) | Propeller type |
| FP-600 | 600 | 20~75 | 16 | FPP |
| FP-900 | 900 | 75~210 | 33 | FPP |
| FP-1100 | 1100 | 200~330 | 46 | FPP,CPP |
| FP-1300 | 1300 | 310~470 | 66 | FPP,CPP |
| FP-1650 | 1650 | 450~760 | 108 | FPP,CPP |
| FP-1850 | 1850 | 720~1020 | 132 | FPP,CPP |
| FP-2000 | 2000 | 980~1270 | 165 | FPP,CPP |
| FP-2250 | 2250 | 1200~1550 | 235 | FPP,CPP |
| FP-2500 | 2500 | 1450~2100 | 326 | FPP,CPP |
| FP-2750 | 2750 | 2060~2480 | 378 | FPP,CPP |
| FP-3000 | 3000 | 2300~2930 | 462 | FPP,CPP |
Hydualic bow thrusters: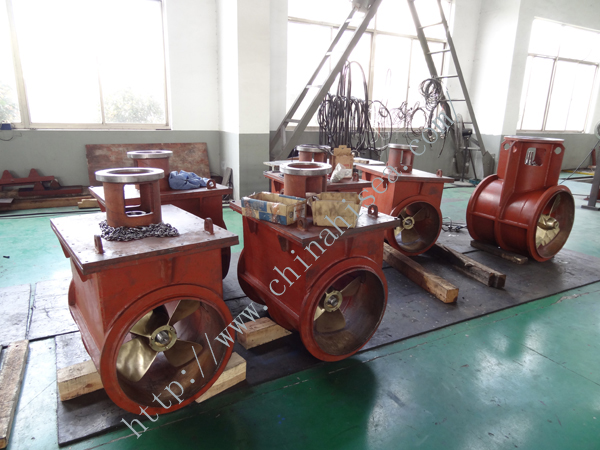 Hydraulic bow thruster general plan: