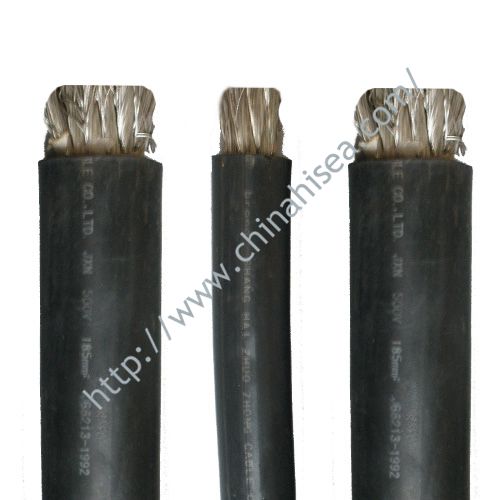 silicon rubber motor winding connection flexible cable
silicon rubber motor winding connection flexible cable
1.silicon rubber motor winding connection flexible cable Application
It is suitable for motor leading in the high temperature environment such as power generation, metallurgy, chemical industry, etc.
2.silicon rubber motor winding connection flexible cable Service Condition
The Max.Long-term operating temperature of cable is -60℃-180℃;
D.C conductor resistance complies with the stipulations of GB/T3956;
The cable is resistant to high temperature & low temperature, soft and it is resistant to corrosiveness.
If you feel this is not what you are looking for,please kindly check more special cable here,also you can check more cable here,or you can use the search form on the upper right corner.
3.silicon rubber motor winding connection flexible cable Model
| | |
| --- | --- |
| Model | Name |
| JGG | Aluminum plating copper conductor silicon rubber insulated HV motor leading cable |
4.silicon rubber motor winding connection flexible cable specification
Type

Nominal Cross-Section

mm²

Core Number/Diameter

(No./mm)

Insulation Thickness(mm)

OD(mm)

6KV

10KV

6KV

10KV

JGG

6

84/0.30

3.5

5.0

12.5

15.5

10

84/0.40

3.5

5.0

13.5

16.5

16

126/0.40

3.5

5.0

15.0

18.0

25

196/0.40

3.5

5.0

16.5

19.5

35

276/0.40

3.5

5.0

18.0

21.0

50

396/0.40

3.5

5.0

20.0

23.0

70

360/0.50

3.5

5.0

21.5

24.5

95

475/0.50

3.5

5.0

23.0

26,5

120

608/0.50

4.0

5.0

25.0

27.5

150

756/0.50

4.0

5.0

27.0

29.0

185

925/0.50

5.0

5.5

31.0

33.0

240

1221/0.50

5.5

6.0

35.0

37.0
5.silicon rubber motor winding connection flexible cable show