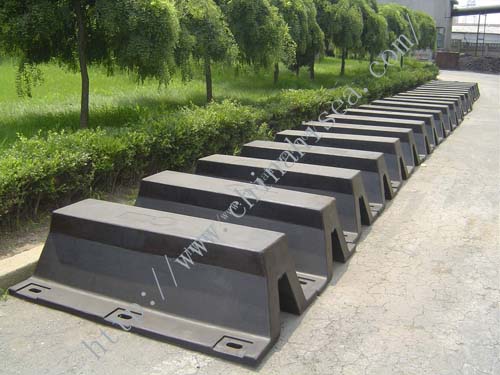 Super Arch Type Rubber Fender
Super Arch Type Rubber Fender
Feature:
1、SA-B (DA-B) Rubber fenders are equipped with head embedded plate and top impingement board, consequently it greatly reduces the surface pressure and friction coefficient.
2、The dimensions of fenders body and installation fitting are both identical with SA- (DA-A) type.
3、According to the users'needs, to make some limit adjustment to some dimensions of SA (DA) type can be formed LMD type. Its main structure and mechanical property are almost same, and can be extended to LMD-A type and LMD-B type.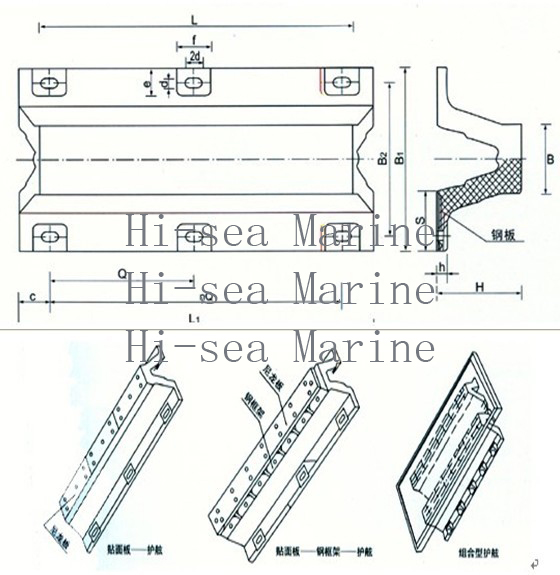 Types

Specification(mm)

H

L

L1

C

Q

n

B

B1

B2

B3

h

a

b

e

f

HS150 x 1000

150

1000

1075

110

855

1

98

240

300

96

25

50

95

25

55

HS150 x 2000

150

2000

2075

107.5

620

3

98

240

300

96

25

50

95

25

55

HS150 x 3000

150

3000

3075

107.5

715

4

98

240

300

96

25

50

95

25

55

HS200 x 1000

200

1000

1100

120

860

1

135

320

400

128

30

58

105

29

75

HS200 x 2000

200

2000

2100

120

620

3

135

320

400

128

30

58

105

29

75

HS200 x 3000

200

3000

3100

120

715

4

135

320

400

128

30

58

105

29

75

HS250 x 1000

250

1000

1125

130

865

1

164

410

500

160

33

64

125

32

90

HS250 x 2000

250

2000

2125

132.5

620

3

164

410

500

160

33

64

125

32

90

HS250 x 3000

250

3000

3125

132.5

715

4

164

410

500

160

33

64

125

32

90

HS300 x 1000

300

1000

1150

140

870

1

225

490

600

195

33

70

140

35

105

HS300 x 2000

300

2000

2150

137.5

625

3

225

490

600

195

33

70

140

35

105

HS300 x 3000

300

3000

3150

145

715

4

225

490

600

195

33

70

140

35

105

HS400 x 1000

400

1000

1200

150

900

1

300

670

800

260

40

82

165

41

120

HS400 x 2000

400

2000

2200

147.5

635

3

300

670

800

260

40

82

165

41

120

HS400 x 3000

400

3000

3200

150

725

4

300

670

800

260

40

82

165

41

120

HS500 x 1000

500

1000

1250

160

930

1

375

840

1000

325

45

94

180

47

140

HS500 x 2000

500

2000

2250

157.5

645

3

375

840

1000

325

45

94

180

47

140

HS500 x 3000

500

3000

3250

156

730

4

375

840

1000

325

45

94

180

47

140

HS600 x 1000

600

1000

1300

170

960

1

450

1010

1200

390

54

100

195

50

160

HS600 x 2000

600

2000

2300

167.5

655

3

450

1010

1200

390

54

100

195

50

160

HS600 x 3000

600

3000

3300

170

740

4

450

1010

1200

390

54

100

195

50

160

HS800 x 1000

800

1000

1400

180

1040

1

600

1340

1600

520

72

136

270

68

260

HS800 x 2000

800

2000

2400

180

680

3

600

1340

1600

520

72

136

270

68

260

HS800 x 3000

800

3000

3400

180

760

4

600

1340

1600

520

72

136

270

68

260

HS1000 x 1500

1000

1500

2000

200

800

2

750

1680

2000

650

90

136

290

68

300