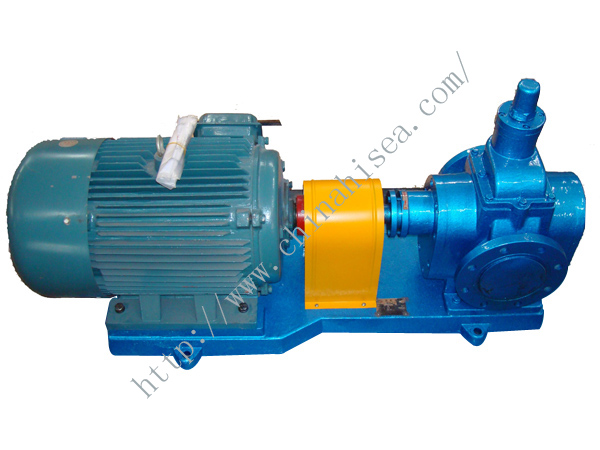 Oil Booster Pump (YCB)
YCB Series Oil Booster Pump:
Medium
It applies to delivering non-corrosive luricating-oil or equivalent liquid without solid particles and fibres at temperature below 80℃and with the viscosity of 5×10-6~1.5×10-3m2/S(5-1500cSt).It can be applied to hydraulic transmission system.
Applacation Scope
In oil delivery system, it exploits the performance of transfer pump or booster pump.
In fuel supply system, it has the function of dilivery, pressurization and injection.
In hydraulic transmission system, it can be applied as hydraulic pump to supply hydraulic power.
In all industry fields, it can be lubricating pump.
Structure Features
YCB series gear pumps are mainly composed of gears, axles, pump body, pump cap, bearing sleeves and axle-end seals, etc. The gears are adoped double circular teech shape(sinusoid shaped ), which makes less wear on gear face.Compeared involute gear, YCB gear pump has the prominent advantage that tooth profile dont slid relatively. So it has stable work, low noise, long service life and high efficiency. This pump has got rid of traditonal design and has enter a new period in designing, production and application.
It is also designed with safty valve against overload. The pressure of safety valve's full return flow is 1.5 times higher than the rated exhaust's pressure. According to circumstances, the pressure of safety valve also can be adjusted within allowance range of exhaust pressure. Please be note the safty valve can't be applied as pressure-reducing valve for long time working. You may install pressure-reducing valve separately on pipe-line if needed.
There are two kinds of axle-end seals, mechanical seal and packing seal, which can be chosen according to the clients' requirement or application circumstance.
Power
kw


Capacity Q

speed
n r/min


Exhaust
Pressure
Mpa

(NPSH)
r m

Efficiency
η %


Motor

m3/h

FrequencyHz

Power
kw


Power
kw

YCB0.6-0.6

0.6

910

0.6

5.5

32

50

0.75

Y90S-6

1.0

1390

50

0.75

Y80L2-4

0.7

1130

60

0.75

Y90S-6

1.2

1710

60

0.75

Y80L2-4

YCB0.6-2.5

0.6

910

2.5

7.0

70

50

1.1

Y90L-6

1.0

1400

50

1.5

Y90L-4

0.7

1130

60

1.1

Y90L-6

1.2

1710

60

1.1

Y90S-4

YCB1.6-0.6

1.6

910

0.6

5.5

42

50

0.75

Y90S-6

2.5

1400

50

1.1

Y90S-4

1.9

1130

60

1.1

Y90L-6

3.0

1710

60

1.5

Y90L-4

YCB1.6-2.5

1.6

940

2.5

7.0

71

50

2.2

Y112M-6

2.5

1440

50

4

Y112M-4

1.9

1150

60

2.2

Y112M-6

3.0

1750

60

4

Y112M-4

YCB3.3-0.6

3.3

940

0.6

5.0

60

50

1.5

Y100L-6

5.0

1420

50

2.2

Y100L1-4

4.0

1150

60

1.5

Y100L-6

6.0

1730

60

2.2

Y100L1-4

YCB3.3-2.5

3.3

960

2.5

7.0

72

50

5.5

Y132M2-6

5.0

1440

50

7.5

Y132M-4

4.0

1170

60

4

Y132M1-6

6.0

1750

60

7.5

Y132M-4

YCB4-0.6

4.0

940

0.6

5.0

60

50

1.5

Y100L-6

6.0

1420

50

2.2

Y100L1-4

4.8

1150

60

2.2

Y112M-6

7.2

1730

60

3

Y100L2-4

YCB4-2.5

4.0

960

2.5

7.0

72

50

5.5

Y132M2-6

6.0

1440

50

7.5

Y132M-4

4.8

1170

60

5.5

Y132M-6

7.2

1750

60

7.5

Y132M-4

YCB8-0.6

8.0

960

0.6

5.0

61

50

3

Y132S-6

12.0

1440

50

5.5

Y132S-4

9.6

1170

60

4

Y132M1-6

14.4

1750

60

5.5

Y132S-4

YCB8-2.5

8.0

970

2.5

7.0

75

50

11

Y160L-6

12.0

1460

50

15

Y160L-4

9.6

1170

60

11

Y160L-6

14.4

1760

60

15

Y160L-4

YCB10-0.6

10.0

960

0.6

5.0

62

50

4

Y132M1-6

15.0

1440

50

5.5

Y132S-4

12.0

1170

60

5.5

Y132M2-6

18.0

1750

60

7.5

Y132M-4

YCB10-2.5

10.0

970

2.5

7.0

76

50

11

Y160L-6

15.0

1470

50

15

Y160L-4

12.0

1170

60

11

Y160L-6

18.0

1770

60

18.5

Y180M-4

YCB20-0.6

20.0

970

0.6

5.0

68

50

7.5

Y160M-6

24.0

1170

60

7.5

Y160M-6

YCB25-0.6

25.0

970

0.6

5.5

69

50

11

Y160L-6

30.0

1170

60

11

Y160L-6

YCB30-0.6

30.0

970

0.6

5.5

70

50

11

Y160L-6

36.0

1170

60

11

Y160L-6

YCB40-0.6

40.0

970

0.6

5.5

72

50

15

Y180L-6

48.0

1180

60

15

Y180L-6

YCB50-0.6

50.0

970

0.6

5.5

72

50

22

Y200L2-6

60.0

1180

60

22

Y200L2-6

YCB60-0.6

60.0

1470

0.6

5.5

72

50

22

Y180L-4

YCB80-0.6

80.0

980

0.6

5.5

72

50

30

Y205M-6