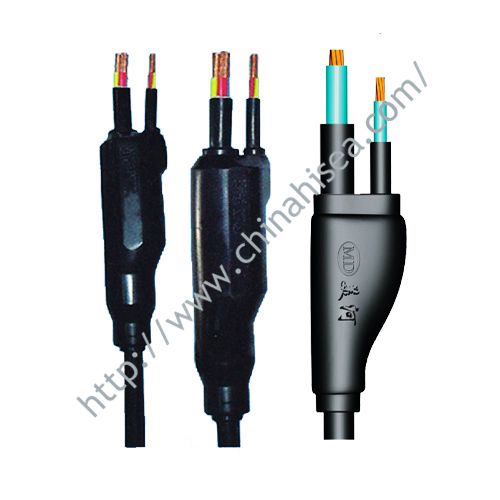 Prefabricated Branch Cable
Prefabricated Branch Cable
Safety in power supply
1 Trunk cable conductor without joint has good continuity and reduces trouble spots.
2 Branch joint made through whole course mechanical processing in the factory greatly reduces poor quality phenomena due to manmade factors.
3 Branch joint of rational structure and made through advanced LYZ workmanship has little contact resistance and cannot be affected by thermal expansion and cold shrinkage.
4 Pressing mould jacket processed in short time avoids variation of contact resistance owing to oxidization of copper core at the joint position which is exposed in the air for long time.
5 Branch joint has strict technical standard, inspection requirement, and quality control system as well.
Simpleness in installation, low requirement to environment, and convenience in construction
1 Small land-covering area facilitates effective use of floorage.
2 Low requirement to environment and low requirement to installation precision.
3 Simpleness in installation and low requirement to installation technology.The installation period is short only 1/10 or 1/20 of that of bus duct. The labor strength for installation is small.
4 Small bending radius greatly reduces installation difficulty and reduces space size.
Excellent shock resistance, air tightness, water proofing quality and flame resistance
1 Excellent shock resistance.Generally, the bus duct joint connected mechanically will be loose upon the wall is shocked. But GQFZ series prefabricated branch cable will not be affected. Especially passing through building sedimentation slots, no measure is need.
2 Excellent air tightness and water proofing quality. It can supply power normally in damp environment and be laid in the open air or underground.
3 NH type prefabricated branch cable can remain normal power supply operation for 90 min under flaming condition.
Free of maintenance
1 High once opening rate of prefabricated branch cable after being installed according to stipulated ways.
2 While normally work, prefabricated branch cable system is free of maintenance generally.
If you feel this is not what you are looking for,please kindly check more
special cable
here,also you can check more
cable
here,or you can use the search form on the upper right corner.
Prefabricated Branch Cable Model
Number

Name

Model

Single Core

3 Cores Twisted type

4 Cores Twisted type

5 Cores Twisted type

1

PVC insulated andf sheathed prefabricated branch cable

FZ-VV

FZ-VV-3

FZ-VV-4

FZ-VV-5

2

PVC insulated andf sheathed flame retardant prefabricated branch cable

FZ-ZRVV

FZ-ZRVV-3

FZ-ZRVV-4

FZ-ZRVV-5

3

PVC insulated andf sheathed fireproof prefabricated branch cable

FZ-NHVV

FZ-NHVV-3

FZ-NHVV-4

FZ-NHVV-5

4

XLPE insulated PVC sheathed prefabricated branch cable

FZ-YJV

FZ-YJV-3

FZ-YJV-4

FZ-YJV-5

5

XLPE insulated PVC sheathed flame retardant prefabricated branch cable

FZ-ZRYJV

FZ-ZRYJV-3

FZ-ZRYJV-4

FZ-ZRYJV-5

6

XLPE insulated PVC sheathed fireproof prefabricated branch cable

FZ-NHYJV

FZ-NHYJV-3

FZ-NHYJV-4

FZ-NHYJV-5
Prefabricated Branch Cable Technical Parameter
600/1000V single core XLPE / PVC cable
Conductor

Insulation Thickness

mm

Sheath thickness

mm

Outer Diameter

mm

Weight

kg/km

A.C Test Voltage

kV/5Min.

20℃

Maximum DC resistance(Ω/km)

Note

Nominal

Cross-section

mm2

No.&Dia. or type No/mm

Dia.

mm

cosθ=1

cosθ=0.9

cosθ=0.8

Unbalanced load carrying capacity

(40 ℃)A

6
10

7/1.04
7/1.35

3.1
3.7

0.7
0.7

1.4
1.4

8.0
8.5

105
150

3.5
3.5

3.08
1.83

61
85

3.93
2.33

3.61
2.17

3.25
1.96

58
80

16
25
35
50
70

Round tight
Pressure wire

4.7
5.9
7.0
8.5
10.1

1.4
1.4
1.4
1.4
1.4

9.5
11.0
12.0
13.5
15.0

210
310
410
555
760

3.5
3.5
3.5
3.5
3.5

1.15
0.727
0.524
0.387
0.268

113
150
180
265
290

1.47
0.93
0.67
0.49
0.34

1.39
0.90
0.67
0.51
0.37

1.27
0.84
0.63
0.48
0.36


105
140
170
230
265

95
120
150
185
240

11.7
13.2
14.7
16.4
18.6

1.1
1.2
1.4
1.6
1.7

1.4
1.6
1.6
1.6
1.7

17.0
19.0
21.0
23.0
26.0

1020
1260
1570
1920
2470

3.5
3.5
3.5
3.5
3.5


0.193
0.153
0.124
0.0991
0.0754

345
405
460
530
640

0.25
0.20
0.16
0.13
0.10

0.28
0.24
0.20
0.18
0.15

0.28
0.24
0.21
0.19
0.16

325
380
435
500
595

300
400
500
600

20.8
24.1
26.9
30.2

1.8
2.0
2.2
2.4

1.8
2.0
2.2
2.4

29.0
32.0
36.0
40.0

3090
4080
5080
6390

3.5
3.5
3.5
3.5

0.0601
0.0470
0.0366
0.0283

725
845
970
1120

0.08
0.06
0.05
0.04

0.13
0.12
0.10
.09

685
795
920
1070
600/1000V four -core twisted type (300mm2 and below ) XLPE / PVC cable
Conductor

Insulation Thickness

mm

Sheath Thickness

mm

O.D.

mm

Weight

kg/km

A.C Test Voltage

kV/5Min

20℃

Maximum DC resistance of (Ω/km)

*1
40℃Ampacity

A

Impedance Z Ω/km

Note

Nominal Cross-section

mm2

No.&Dia. or Type

No/mm

Dia.

mm

cosθ=1

cosθ=0.9

cosθ=0.8

Unbalanced load carrying capacity

(40 ℃ )A

6
10

7/1.04
7/1.35

3.1
3.7

0.7
0.7

1.4
1.4

19.3
20.5

430
620

3.5
3.5

3.14
1.87

53
72

4.01
2.38

3.68
2.21

3.31
2.00

45
61

16
25
35
50
70

Round tight
Pressure wire

4.7
5.9
7.0
8.5
10.1

1.4
1.4
1.4
1.4
1.4

23.0
26.5
29.0
33.0
36.5

860
1270
1680
2270
3110

3.5
3.5
3.5
3.5
3.5

1.17
0.742
0.534
0.395
0.273

95
125
150
185
230

1.50
0.95
0.68
0.50
0.35

1.41
0.92
0.68
0.51
0.37

1.29
0.85
0.63
0.49
0.36


6814
105
130
160
205

95
120
150
185
240

11.7
13.2
14.7
16.4
18.6

1.1
1.2
1.4
1.6
1.7

1.4
1.6
1.6
1.6
1.7

41.0
46.0
51.0
55.5
63.0


4170
5150
6410
7840
10080

3.5
3.5
3.5
3.5
3.5


0.197
0.156
0.126
0.101
0.0769

280
325
380
440
535

0.25
0.20
0.16
0.13
0.10

0.28
0.24
0.20
0.17
0.15

0.28
0.24
0.21
0.18
0.16

250
290
335
385
455

300
400
500
600

20.8
24.1
26.9
30.2

1.8
2.0
2.2
2.4

1.8
2.0
2.2
2.4

70.0
77.5
87.0
96.5

12610
16650
20730
26080

3.5
3.5
3.5
3.5

0.0601
0.0470
0.0366
0.0283

625
735
865
1010

0.08
0.06
0.05
0.04

0.13
0.11
0.10
0.09

525
605
700
800
Prefabricated Branch Cable Show