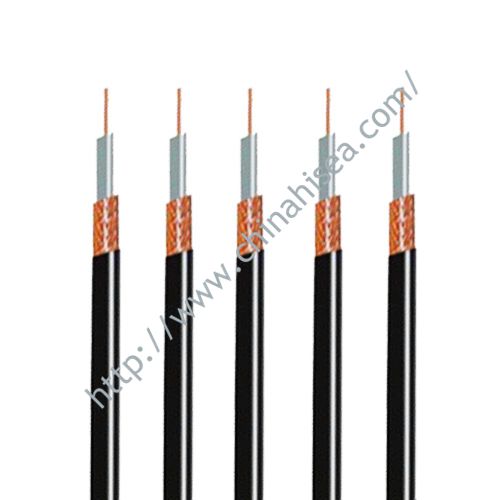 Soild PE Insulated radio frequency cable
Soild PE Insulated radio frequency cable
Soild PE Insulated radio frequency cable Application
The cable is applicable for radio freguency signal transmission of radio communication and relative electronic Equipment.
Soild PE Insulated radio frequency cable Service Condition
1. Operating temperture: SYV、SYWV、SYKV series -40℃~+70℃.
2.Relative humidity: 98% at temp of 40℃.
3.Min. installation temperature: -15℃.
4.Min bending radius: not lees than 5 times of cable diameter in indoor,not less than 10 times of cable diameter in outside.
If you feel this is not what you are looking for,please kindly check more special cable here,also you can check more cable here,or you can use the search form on the upper right corner.
Soild PE Insulated radio frequency cable Model
| | |
| --- | --- |
| Model | Name |
| SYV | PET insulated sheathed solid balance-type radio frequency cable |
Soild PE Insulated radio frequency cable specification
Model

inner conductor

insulation diameter
(mm)

Outer Conductor

sheath(mm)

weight(kg/km)

core No./
diameter(mm)

outer diam-
eter(mm)

type

Man.outer
diameter(mm)

nominal thi-ckness(mm)

Min thick-
ness(mm)

outer dia-meter(mm)

SYV-50-1

7/0.09

0.27

0.87±0.05

single braied

1.40

0.29

0.20

1.9±0.1

7.56

SYV-50-2-1

7/0.15

0.45

1.5±0.1

single braied

2.10

0.43

0.30

2.9±0.1

15.45

SYV-50-2-2

1/0.68

0.68

2.2±0.10

single braied

3.10

0.56

0.40

4.0±0.2

30.92

SYV-50-3

1/0.90

0.90

3.0±0.15

single braied

3.85

0.60

0.45

5.0±0.25

45.48

SYV-50-5-1

1/1.37

1.37

4.6±0.20

single braied

5.50

0.9

0.6

7.0±0.3

83.18

SYV-50-5-2

1/1.37

1.37

4.6±0.20

single braied

6.20

0.9

0.6

7.8±0.3

120.2
Soild PE Insulated radio frequency cable Show