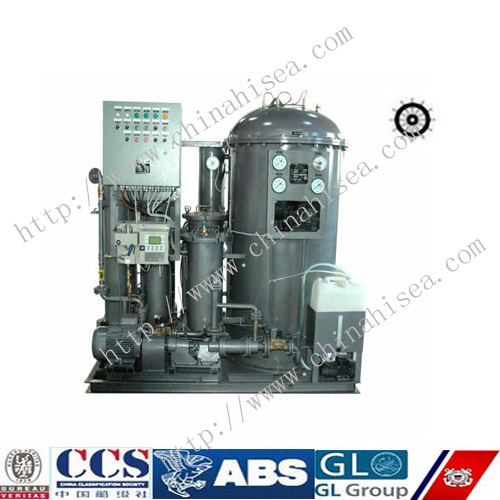 3.00m3/h Marine Bilgewater Separator
1. Marine Bilgewater Separator
The marine bilgewater separator can be used to treat oily bilge water in order to make it reach the requirements of IMO.MEPC.107 (49) resolution, which is also called 15ppm bilge separator.It contains type approved 15ppm bilge water separator, 15ppm bilge alarm andAutomatic shut down Device.
2. What is Bilgewater?
Bilgewater is created by leaks of salt water, cooling water, fuel oil and lube oil, by the dewatering of sedimentation and sludge tanks, by the draining off of various cleaning processes and also by particles of soot and dirt. Before there is any question of discharging this into the sea, IMO regulations specify that this explosive mix has to be treated so intensively that its residual oil content is below 15 ppm. However, this minimal pollution cannot be realized cost-effectively using conventional separation techniques.

3. Marine Bilgewater Separator Technical Principle
The marine bilgewater separator adopts the combination of 1st stage, cone plate gravity and coalesce separation; 2nd stage, fiber filter and 3rd stage, membrane permeation in order to make the treated bilge water to reach the requirements of discharge standard of the resolution of IMO MEPC.107 (49).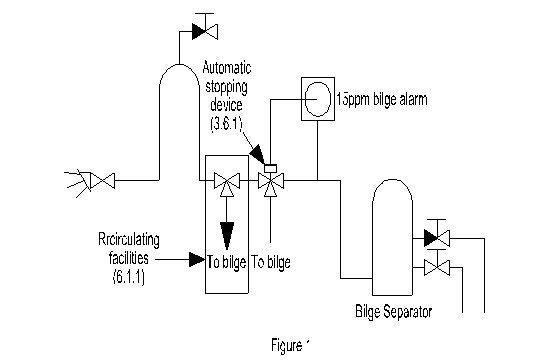 As shown inthe enclosed drawing,bilgewater comes into the 1st stage coalescer separator because of the suction of the Feeding pump, that is in a vacuum negative pressure, and it effectively prevents the problem that the bilgewater is difficult to be separated because of the emulsion caused by feed pump under pressure. The liquid coming out of Feeding pump is adsorbed and filtered by the 2nd stage fiber filter, and then goes into the 3rd stage membrane to reach the discharge standard.
There is a 15ppm bilge alarm in the ship cabin to measure the oil content of effluent. If it finds that the oil content of effluent is in an excess of limit, the oil content meter can make order to switch turn it into the 3rd stage, membrane treatment process.
The oil content meter will give an alarm if finds the oil content of effluent is above limit, and the unqualified water pneumatic three-way valve VS6 is opened automatically, so that the unqualified water is return to bilge, not to the overboard.
4. Technical Data:
Model

YWC-3.00

Technical Specifications

3.0

Ratedcapacity(m3/h)

3.0

Oil content of the discharged water

≤15ppm

Power of the electric heater(kw)

6kw

Electrical System

380V/50Hz/φ, 415V/50Hz/3φ, 440V/60Hz/3φ, 480V/60HZ/3φ, etc.

Power of the electric motor

1.5kw

Suction head

≤6m-H2O

Pressure of the discharged water

5-10m-H2O

Outline Dimension(L*W*H)(mm)

1700*1500*1900

Base

8#

Weight(kg)

Dry Weight

1800

Wet Weight

3200
5. Certificate Sample: