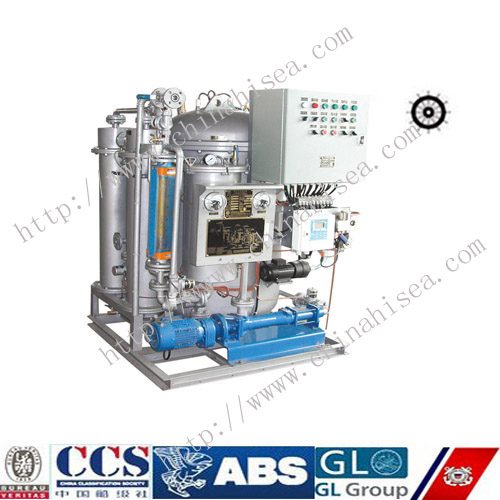 4.00m3/h Oil Water Separator
1. Application:
Every ship, whether it is a container ship, an oil tanker or a freighter, produces bilgewater which poses an acute disposal problem. The IMO (International Maritime Organization) specifies that bilgewater may be discharged into the sea only if its residual oil content is below 15 ppm.
This Oil Water Separator can be used to treat bilgewater in order to make it reach the requirements of IMO.MEPC.107 (49) resolution, which is also called 15ppm bilge water separator.It contains type approved 15ppm bilge water separator, 15ppm bilge alarm andAutomatic shut down Device.

2. Principle:
The Oil Water Separator adopts the combination of 1ststage, cone plate gravity and coalesce separation; 2ndstage, fiber filter and 3rdstage, membrane permeation in order to make the treated bilge water to reach the requirements of discharge standard of the resolution of IMO MEPC.107 (49).
3. Main Parameter Data:
Model

YWC-4.00

Technical Specifications

4.0

Rated capacity(m3/h)

4.0

Oil content of the discharged water

≤15ppm

Power of the electric heater(kw)

12kw

Electrical System

380V/50Hz/φ, 415V/50Hz/3φ, 440V/60Hz/3φ, 480V/60HZ/3φ, etc.

Power of the electric motor

2.2kw

Suction head

≤6m-H2O

Pressure of the discharged water

5-10m-H2O

Outline Dimension(L*W*H)(mm)

2280*1700*1900

Base

10#

Weight (kg)

Dry Weight

2100

Wet Weight

3900
4. The Storage: