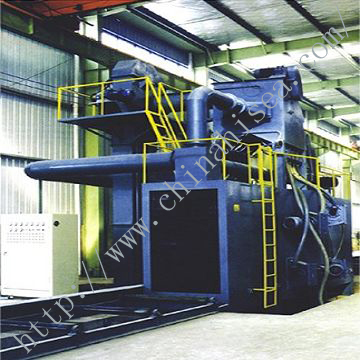 H-Beam Shot Blasting Machine
H-Beam Shot Blasting Machine:
HP8016(HP1018) H-Beam steel structure, section shot blasting machine belong to the table roller type shot blasting machine, suitable for the field of construction, ship-building and bridge industry, etc.

Mainly used in eliminating the stress and cleaning the surface rust of the large H and I beam steel, great size H-beam steel.
The H-bem Shot Blasting Machine, composed of shot blasting chamber, sealed auxiliary chamber before and after, before and after the roller conveyor shot blasting assembly, the pill material circulation purification system, dedusting system and electrical control part.
Technical Parameters:
Dimensions of the work piece being cleaning

Cross section(W*H)

800*1600mm

Length of the working piece

15000mm

Production Rate(Passing Speed of the Working Piece)

400~2500mm/min

Impeller Head

Type

Q034

Quantity

8

Shot Blasting Capacity

8*280kg/min

Power Rate

8*11kw

Elevator

Lifting Capacity

120t/h

Power Rate

7.5kw

Longitudinal Spiral Conveyer

Conveying Capacity

120t/h

Power Rate

5.5Wkw

Separator

Separating Capacity

120t/h

Ball-cleaning System

Load-carrying Capacity

4293m³/h

Input/output Roller Way

Load-carrying Capacity

1000kg/m

Power of Motor

2*2.2kw

Delivery Rate

400~4000mm/min

Length of the Roller

13000mm

Shot Material in Volume at the First Time

5000kg

Dust-removing System

Blowing Wale

1600m³/h

Power Rate

15kw

Power

AC/380V/50HZ

Total Rate

About 138kw
The Workshop: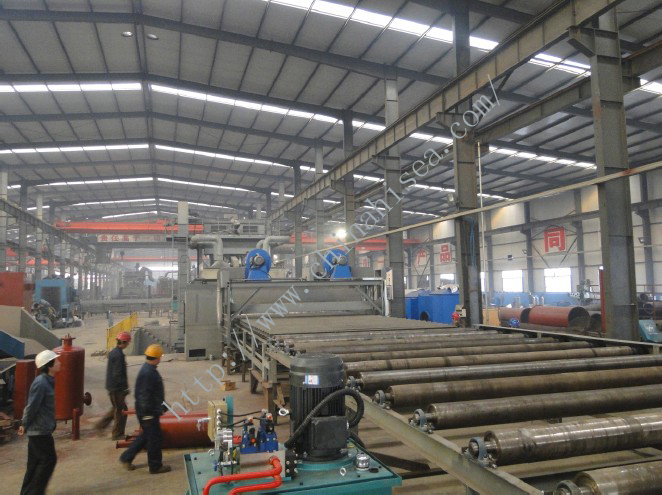 The Packing: